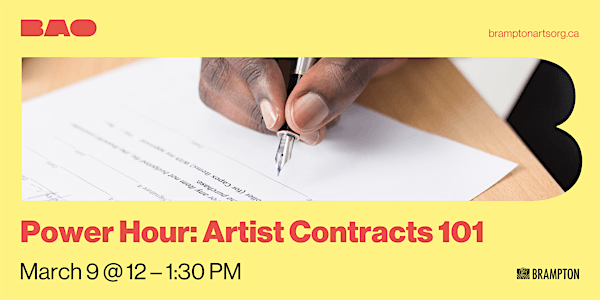 Power Hour: Artist Contracts 101
Learn contract fundamentals to make sure your contracts are working for you. A recording will be provided to all registrants.
By Brampton Arts Organization (BAO)
Date and time
Thu, Mar 9, 2023 9:00 AM - 10:30 AM PST
About this event
In this interactive workshop for artists and arts workers, you will learn the fundamentals of what makes up a contract, how to best vet your own contracts, and, most importantly, gain the skills to draft your own agreements.
Jasmine Spei will go over best practices and share how creativity can help break down the barriers of traditional contractual language.
A little bit of contract literacy can help you make sure your contracts are working for you!
This workshop will be recorded and made available to all who register.
Accessibility:
Those who require additional assistance or support to participate are welcome to send us a request. Please request this assistance at least three days in advance of the event. To do so, or for any additional information please contact bao@brampton.ca
Jasmine Spei is a recovering lawyer with a theatre degree who has spent over 15 years working in the cultural industries. She has worked in labour relations for both union (screenwriters) and management (theatre producers) sides. Her consulting work has partnered her with organizations such as PGC, Mass Culture, The Koffler Centre of the Arts and #aftermetoo. She is most passionate about bringing her ability to demystify dense legal language and her training in mediation directly to cultural workers through tailored skills building and interactive education workshops.
About the organizer
The Brampton Arts Organization (BAO), previously the Arts, Culture & Creative Industry Development Agency (ACCIDA), is a unique organization incubating within the City of Brampton. BAO champions Brampton's diverse creative community and advocates for the city's creatives. BAO aims to build a thriving, confident, and valued creative scene and cultural ecology in the heart of Brampton. In this, BAO is a key partner in fulfilling the City's ambitious vision for arts, culture and creative industries as articulated in the City's strategic vision and Culture Master Plan.