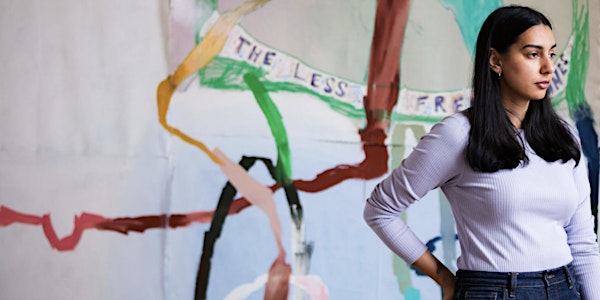 Power Hour: Developing a Career in the Arts with Russna Kaur
Workshop with Brampton-raised, Vancouver-based visual artist Russna Kaur, whose work is currently featured on PAMA's new outdoor banners.
About this event
Join us for a workshop with Brampton-raised, Vancouver-based artist Russna Kaur.
Russna Kaur: Maze of control and the slightest chaos is currently on view till January 9, 2023 on the Peel Art Gallery, Museum and Archives (PAMA) outdoor banner exhibit.
Learn how Kaur became a painter, what prompted her to pursue an MFA, what she learned along the way, and how she continues to challenge herself by asking what comes next.
Kaur will speak to building a network after school, applying for opportunities, being an active participant in your local art community, making yourself vulnerable through your work, putting your work out into the world, and exhibiting your work.
If you are wondering where to take your art practice next, or are struggling to understand where to go, this is the workshop for you.  
Accessibility:
Those who require additional assistance or support to participate are welcome to send us a request. Please request this assistance at least three days in advance of the event. To do so, or for any additional information please contact accida@brampton.ca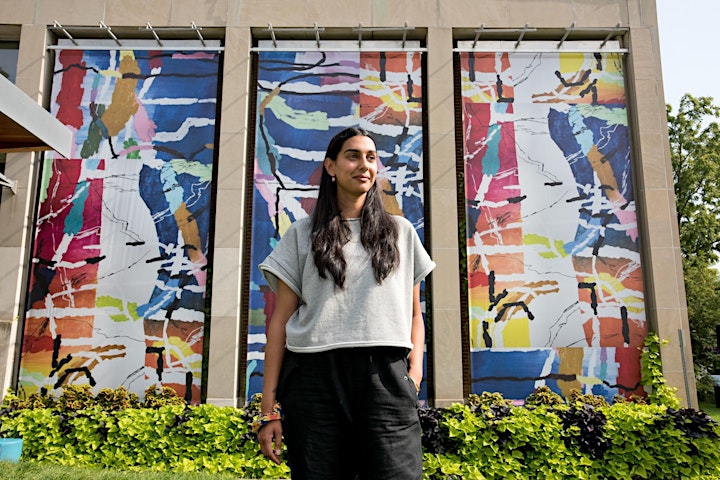 Russna Kaur is an artist living and working in Vancouver, Canada. Selected solo exhibitions include at Wil Aballe Art Projects (2021); A Room With A View Gallery in Toronto (2021); Veil of Tears at Trapp Projects in Vancouver (2019); and She was there for a while… at The Fort Gallery in Langley (2019). Selected group exhibitions include at Gordon Smith Gallery of Canadian Art (2022); at Mónica Reyes Gallery (2021); Holding a line in your hand at Kamloops Art Gallery (2021); Keep for Old Memoirs at Young Space Spring 2020 Online, curated with Celine Mo of VICTORI+MO Gallery in New York, NY (2020); Leaning Out of Windows at Emily Carr University of Art + Design (2020); and the heart is the origin of your worldview at Art Toronto with Cooper Cole (2019). In 2021, she was commissioned to create an artwork for the second instalment of the Boren Banner Series, public art initiative at the Frye Art Museum, Seattle.
Kaur is the recipient of the Takao Tanabe Painting Prize (2020) for emerging painters in British Columbia and the IDEA Art Award (2020). She was awarded the Gathie Falk Visual Arts Scholarship (2019), the University Women's Club of Vancouver Graduate Scholarship (2017), an Audain Faculty of Art Graduate Teaching Fellowship (2018) and was shortlisted for the Social Sciences & Humanities Research Council (SSHRC) Canada Graduate Scholarship (2018). She has been an artist-in-residence at the Burrard Arts Foundation (2020) in Vancouver which concluded in a solo exhibition, Suddenly her lips sharpened – it was splendid. Kaur received the Centrum Emerging Artist Residency (2020) in Port Townsend, Washington.
Her work is a part of several collections including the Audain Art Museum, Vancouver Art Gallery and Surrey Art Gallery. She holds an MFA from Emily Carr University of Art + Design (2019), and an BA (Honours) with a studio specialization from the University of Waterloo (2013).