Power Of WOW! With Jack Canfield and Raymond Aaron - Toronto, ON Canada
Description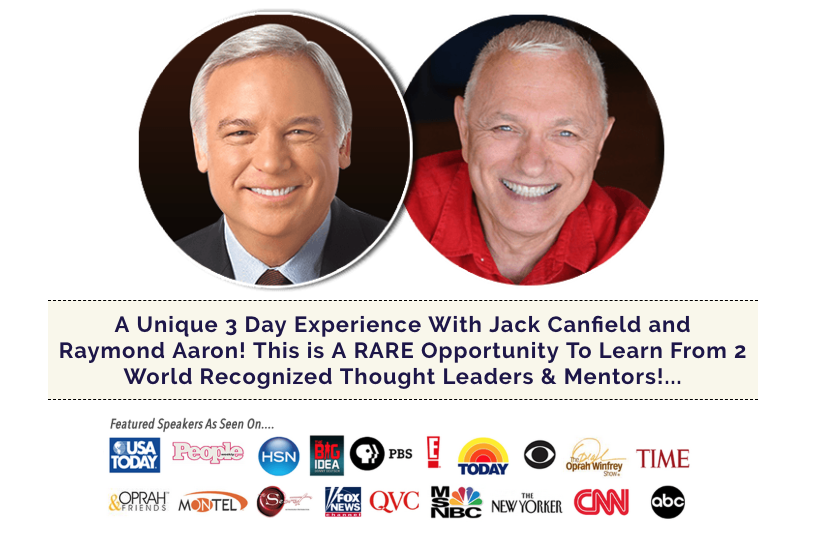 Jack and Raymond
are in development of their next bestselling book,
'The Power Of WOW'. Come, celebrate with Jack and Raymond as they share powerful strategies & wisdom for creating an extraordinary life... and become part of the journey of this new book.
Be A Part Of Jack and Raymond's Newest Book!
Not only can you learn from two Masters of Success... this is also your chance to play a big part of it! We're looking for powerful stories of WOW to share with the world. You may even have your name in the upcoming book!
---
What To Expect At The Power Of WOW Conference…

How to take control of your lifestyle

so you can eliminate worries and spend time with your friends and family doing the things you love!
What you can do NOW to live your dreams

and prepare for perfect retirement. (At any age you choose.)

How to achieve your goals in work, health, and life!

Learn negotiation secrets to get the very best deal in any situation.

How top performers reprogram their minds – so you can adopt the mindset of a high achiever!

How to dramatically increase your results in every area of life.

The one unknown ingredient that the wealthy use but others do not.

Learn the fascinating difference between transactional change versus transformational change.

Learn the 3 prerequisites for giant transformational increases to your income & wealth

Most people retire broke — learn the one giant mistake they make so you won't make it any more.

How to earn more in a month than you earned all last year!

Learn the secret to increasing your income by 100% to 1000%

The secret to taking an exotic one-week vacation every month!
How to find the right deals and having funding in place so you can close on your deal
The Top 10 mistakes that all newbie entrepreneurs and investors make- so you can avoid them.
If you at all care about your financial future... do all you can to attend.
This event will sell out.General Still Available.VIP over half full.Elite Sold Out.

---
This Is Unlike Any Event Or

Conference You'll Ever Experience...
World Class Faculty
Never before has this line up been put together. It was assembled with YOU in mind. I've brought together the greatest wealth teachers of our time to pour into several lifetimes worth of wisdom. Don't miss this opportunity to learn from the masters.
Practical Strategies You Can Use NOW!
You'll learn what works NOW. The information you'll gain is proven, not just theory. Again, you're learning from the MASTERS – who are amazing in their fields.
"A" Level Networking
This level of teachers attracts only the highest quality students. That said, you'll be surrounded by market leaders and top individuals who are here to learn from the very best. Imagine the connections you'll gain from a room full of A-Level players looking to connect with people just like you.
You'll Meet Authorities & Industry Experts In Nearly Every Niche Imaginable…
As part of The Power Of WOW! you'll be part of a massive Author Book Launch where several leading authorities in their perspective fields will be releasing their books to the world. (Including book signings and meet and greets.)
PLUS: VIP Level Attendees Will Join Our Speakers and VIP Guests For A Private VIP Only Networking Reception.
---
ABOUT JACK CANFIELD
Jack Canfield is an award-winning speaker and an internationally recognized leader in personal development and peak performance strategies. For over 40 years, he has been teaching entrepreneurs, educators, corporate leaders, and people from all walks of life how to create the life they desire. As the beloved originator of the Chicken Soup for the Soul® series, he's taught millions of individuals his modernized formulas for success, and now certifies trainers to teach his content and methodology all over the world.
Jack is the author and co-author of more than 150 books (66 are bestsellers) with more than 100 million copies in print in 47 languages around the world. His bestselling book, The Success Principles: How to Get From Where You Are to Where You Want to Be has been hailed as the new self-improvement classic, now containing 67 of the most powerful secrets to success known to mankind. In 2014, SUCCESS magazine named him "One of the Most Influential Leaders in Personal Growth and Achievement."