Description
***** Please note that this is a VanWIT member only event; you can purchase a membership here *****

It is often challenging for people to step outside of their comfort zone to take risks and try new things, but there is power in listening to other people's experiences and hearing that there is no right answer for your career.
Leadership Circles are designed to inspire people to take the next step in their career by highlighting the journey of successful senior leaders in technology, and VanWIT is excited to announce that the first Leadership Circle in our 2018/2019 program will be hosted by Angela Baldonero, Chief of Staff at Cisco Systems Inc.
Leadership Circle Host
---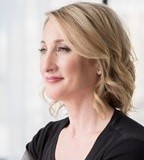 Angela Baldonero, Chief of Staff – Strategy & Planning, Cisco Systems Inc

Angela has lived and worked in Washington D.C., New York, and San Francisco in various Senior Vice President roles within the hospitality and technology industries, specifically at Return Path Inc., Avigilon, and Kimpton Hotels. This gives her a unique perspective and capability in building a full lifecycle customer experience enabled by technology. She is now responsible for leading the strategic development and tactical execution of the business model as well as working with the team to build a scalable, sustaining enterprise business.