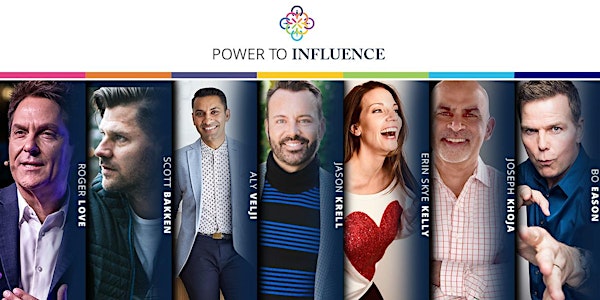 Power to Influence
When and where
Location
The Westin Calgary Airport 671 Aero Drive Northeast Calgary, AB T2E 8Z9 Canada
Description
THE POWER TO INFLUENCE
Master your message, define your story. Change your world.
Join us for the BEST speaker training program in Canada!. This is the opportunity of a lifetime to learn from and work with professionals who have coached Demi Lovato, Anthony Robbins, Bradley Cooper and more. Join us Friday September 20 & Saturday Sepetember 21 in Calgary, for the Power to Influence.
This 2-day world-class training will prepare you to be a master of communication and influence. Perhaps you've dreamed of building a speaking career. Maybe you want to nail your next sales presentation. Maybe you just want more confidence when you are in social settings. This weekend will give you all the tools you need from the world's leading authorities on mastering speaking, communicating, and the power of positive influence.
AS AN ADDED BONUS we will be choosing ONE graduate from the 2 day program to speak on stage at the Power of Success in Toronto, October 30th, with Tony Robbins. One participant from the Power to Influence will be selected to showcase their skills in this once-in-a-lifetime opportunity to introduce one of our keynote speakers at the October 30th event.
WHAT YOU WILL LEARN:
To clearly define your and craft your message

Connect with your audience in first 90 Seconds

What makes a powerful and compelling presentation

Little known secrets of world best speakers.

How to influence your audience with TOP FIVE MUST DO'S

Why certain presentations WOW and others FAIL

How to market yourself to agents and get bookings

Steps to creating referral business

What products and services to market

How to write and promote your book

Hollywood's secrets to engage your audience

What to include in your press kits

4 Simple steps to connect with any audience

How to use humor in your presentation

What many speakers do in their presentations that you SHOULD NEVER DO

Power of Questions to convey your message

Nail the next presentation

Develop your presence & create Charisma

Utilize the power of neuroscience

Strengthen your communication and eliminate the "um", "ah" and "you know"

How to give a webinar presentation

Cure the dread of public speaking

Structure your presentations like a story

Master the Art of the elevator pitch

Six ways to look and feel more confident

Check list for more effective presentations
WHO SHOULD ATTEND:
Executives
Business Owners
Coaches
Aspiring Authors
Media Personalities
Key Influencers
Entrepreneurs
Educators
Entertainers
Sales Professionals
Authors
Speakers
Sales Trainers
Financial Advisors
Public Relations
Comedians
Anyone who desires to have more confidence in their communication.
Your hosts for the weekend:
ROGER LOVE
We are bringing you Tony Robbin's vocal coach! Roger Love is recognized as one of the world's leading authorities on voice. No other vocal coach in history has been more commercially successful in both the speaking and singing fields. Love has vocally produced more than 100 million CD sales worldwide, written three top selling books, created numerous best-selling audio and video programs, and appeared as a regular in four major network TV shows. He lectures around the world on singing and speaking vocal transformations. He works with other influencers such as Rachel Hollis, Brendon Burchard, Chalene Johnson, Dr. John Gray and more. You know him because he taught Reese Witherspoon how to sing in "Walk the Line" and most recently Bradley Cooper in "A Star Is Born." But he will teach *you* how to get your voice to deliver the results you want, so you can master your personal influence.
"It wasn't until I met Roger Love that I gained 100% certainty that my voice would perform the way I expect and need it to."
– Anthony Robbins Author / Motivational Speaker
The STYLE GUYS - Aly Velji + Jason Krell
When presenting from the stage, or an office boardroom, it's important to consider your over all personal brand. Jason Krell & Alykhan Velji are style experts, writers, presenters and spokespeople. This team travels the globe extensively as part of their ongoing research to discover all things style. They have a weekly segment on Virgin Radio and can be seen around the world on E! Network's 'Celebrity Style Story' and Cosmo TV's 'Styleography.' They make regular appearances on several other television news programs across Canada including the Marilyn Denis show, and they will have you laughing and learning as you discover your personal style, and how to work it.


SCOTT BAKKEN
Scott Bakken is passionate about creating spaces where people can connect and build authentic relationships. Scott founded Socality, a creative online community designed to connect and develop cultural contributors to use social media for community impact. He also started Travel and Camp Collective, a small group of creators that share resources and guides on all things travel! Scott has helped brands and organizations with the development of their social platforms providing consulting services to those who are interested in growing their social presence. Some of his clients include American Express, Rogers, Canon, Google, Eddie Bauer, Ford and more.


BO EASON
Bo Eason is a former professional American footbal player who played safety for four seasons for the Houston Oilers. An internationally recognized expert in high-stakes storytelling, Bo Eason trains people on using their personal stories to achieve high-impact results. He's a master on stage, and he'll help you unlock your words to create maximum impact. Bo and his wife Dawn live in Southern California and have three children: Eloise, Axel and Lyla Bo.
"I've shared the stage with Tony Robbins, Sir Richard Branson and the Dalai Lama. I am convinced that Bo Eason is the greatest speaker to grace the stage in decades." Brendon Burchard, CEO of Experts Academy & New York Times Bestselling Author
JOSEPH KHOJA
Described by many as a catalyst for positive change and a champion for continuous improvement, Joseph Khoja has dedicated the better part of 25 years to the principle of modeling success by learning from both triumphs and failures. He began his career in 1992 as sales representative and workshop facilitator promoting Tony Robbins live events in Canada and the United States. Over the years his travels took him to Abu Dhabi and Dubai (United Arab Emirates) where he played a lead role in the launch of the Abu Dhabi World Leadership Summit featuring former President Bill Clinton, Sir Richard Branson and the late Benazir Bhutto. During his professional career, Joseph has delivered approximately 1000 keynotes and workshops to audiences ranging from senior executives, entrepreneurs, human resource professionals, sales and marketing leaders and business consultants. His experience has taught him to recognize the power of communication as an enabler of relationships built on trust, respect and positive influence. In a world increasingly dominated by complexity, Joseph has simplified the blueprint for delivering presentations that engage, inspire and empower others to new levels of achievement!
ERIN SKYE KELLY
Erin Skye Kelly has terrible stage fright, general human awkwardness, and yet she manages to sell out her own 3-day conferences called Transformation Weekend. Now in it's 9th year, Transformation Weekend started because rather than waiting for someone to hire Erin to speak, she figured out how to create her own success. Erin will walk you through how to overcome common obstacles in this industry, how to communicate your message effectively, how to have massive impact, and she'll walk you through how she went from hosting her own mini-seminars to teaching on stage with Tony Robbins at Power of Success. She strongly believes that if a small-town girl from the prairies can do it, you can do it.
YOUR BIG BREAK : THE CONTEST
We will be choosing one participant from the weekend to speak on stage at Power of Success in Toronto on October 30, 2019. The opportunity is not transferable if you become unavailable. The winner will be selected through a voting process and the final decision is up to Power of Success Inc. Everyone will have the opportunity to participate, and the winner will be narrowed down, and announced Saturday afternoon. The winner is responsible for their own travel and accomodations for this opportunity.
Because of the intense nature of this content, the days are structured as follows:
8 am start on Friday - A hot lunch will be provided, and you'll have time for a supper break to recharge. We will wrap Friday night around 9:00pm.
8 am start on Saturday - A nourishing hot lunch will be provided again, and we will finish around supper time on Saturday. You may be invited to participate in an optional VIP meet and greet on Saturday evening, so it might be wise not to make plans.
Tickets are non-refundable. In the event you experience illness or a family emergency, you are welcome to transfer your ticket to a loved one, much like you might do if you had concert tickets that you could not use at the last minute.