Description
POWER UP! ACHIEVE ANYTHING YOU WANT!
WITH DOUG DANE
Keynote Speaker, International Consultant for Bob Proctor
Proctor Gallagher Institute
---
Every year most people say, "This is going to be the year!" And every year nothing changes! Why is that? Wouldn't you like to know why and change this once and for all? Isn't this YOUR year to achieve exactly what you want?
Do you find yourself in the SAME SPOT you were last year?

Are you frustrated because you KNOW you could be doing better?

Do you find yourself WISHING you could finally make the change?
There is a secret to success but most people don't know what it is.
Doug Dane will teach you how to make the changes you need in order to accomplish any goal. The good news is that you can POWER UP and make a decision today and take quantum leaps and prepare to be amazed as your achievements rise up to meet you.
Here's The Secret!
The secret to your success lies in the power of your mind! The problem is, most of us approach goals in entirely the wrong way. Your thinking is the starting point of all of your success. Doug will teach you how to program your mind to unleash your infinite potential so you can start creating the life you want and deserve!
In this seminar, you will:
Define your goal with absolute precision.

Understand how to create Success Habits that will catapult you way beyond your current results!

Shift your thinking and elevate your results into high gear - Permanently!

POWER UP! your Mindset

POWER UP! your Results

POWER UP! your Life
It's time to make your move!
It doesn't matter if you are looking to build a business, do something new or multiply your income, this special evening with Doug Dane will set you on a course that could change your life forever! You'll leave motivated and inspired and ready to take charge!
Seating is limited and will sell out quickly so buy your tickets now!
NETWORKING: 6:00 p.m. - 6:45 p.m. EVENT: 7:00 - 9:30
---

MEET DOUG DANE
If you are ready for a BIG change Doug Dane can show you how!
Doug Dane has spent over 25 years coaching people to improve their results. He is a Keynote Speaker and the International Sales Director for Bob Proctor and the Proctor Gallagher Institute. Doug teaches businesses and individuals how to multiply their results using Bob Proctor's proven system, Thinking Into Results. Doug spent 27 years in business as an entrepreneur, small business owner and as an executive working for banks. For 10 years he was searching for the secret to his success and he found it. There is a formula for success! Doug Dane is one of Bob Proctor's top teachers and coaches.
"There is an exact science to goal achievement and all you have to do is understand the science and you're whole world will change, mine sure did." - DOUG DANE
Doug is an authority on getting results.
Doug Dane is a cognitive authority on getting results! And he has a HECK of a story!
In April 2003 Doug went public with his life story and it appeared on the front page of The Toronto Star newspaper. Since then he has had a remarkable ride. Doug has appeared on national TV with Canada AM, he was featured on TV Ontario's Person 2 Person program with Paula Todd and his story is featured in her best-selling book , "A Quiet Courage".
Today he is a successful entrepreneur, coach and keynote speaker. Doug is a certified Thinking Into Results facilitator working alongside Bob Proctor. Bob calls Doug The "Stuckbuster"; he's an expert at getting people unstuck.
He teaches corporations and individuals what's getting in the way to achieving big results. "If you want to increase sales, it's actually got nothing to with selling", says Doug. According to Doug, the secret to achieving big results is to change the way you think. "If you change your mind, you can change your results; if you change your mind you'll change your life."
He doesn't just talk the talk, he is living proof that anything is possible. Doug has a unique perspective on what it takes to change your results.
For 58 years Bob Proctor has been teaching people the secret to success and human potential in any area of your life. Doug will show you how you can get results that stick, permanently! Doug is living proof that anyone can Think and Grow Rich. Don't limit your potential, see what Doug can do for your future starting today!
---
POWER UP! ACHIEVE ANYTHING YOU WANT!
Produced by:
Millionaire Mentors Events
Partners and Founders Pazit Perez and Carolyn Flower
MILLIONAIRE MENTORS is a thought leadership premium inner circle of inspired and creative minds who are focused on wealth and abundant creation. This group is for those who are ready to step into the power of their own ability to create the life they want and to live by thinking and doing things in a certain way.
This circle of influence was conceived by Pazit Perez and Carolyn Flower to inspire and empower its members to tap into their vision, master their thinking, and expect abundant results. Premium Mastermind members are introduced to material and book study based on millionaire mentors and clarity of their teaching to encourage students to embrace and take charge of their vision and voice to:
Imagine, Discover. Believe. Inspire. Empower. Achieve.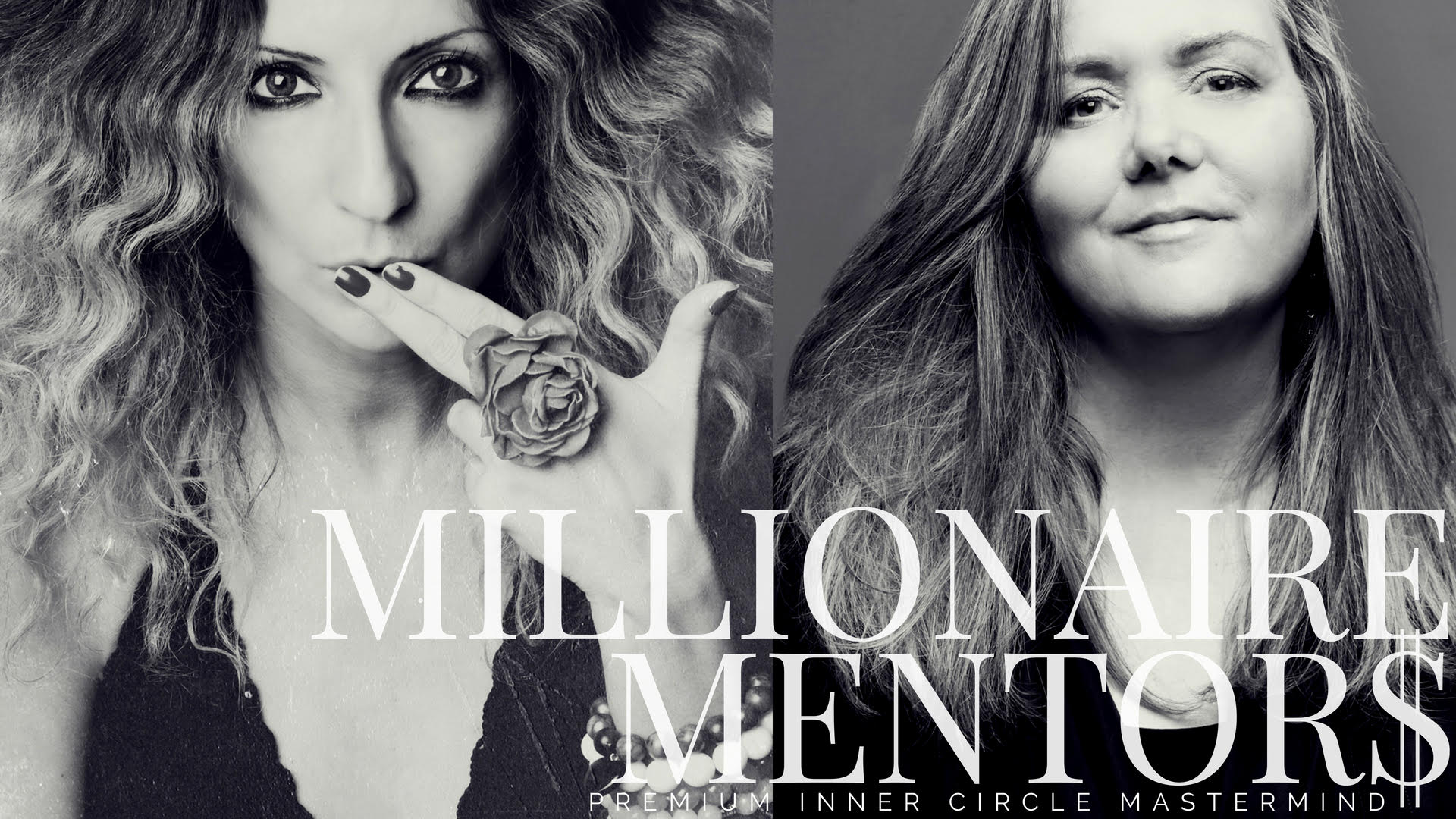 Meet Pazit Perez
World Class Leading Edge Award-Winning Vision Portrait, Expert (Miami, Fl)
She helped people like Patrick Coté-UFC Analyst at RDS, Jerome Williams-NBA retired basketball player who last played for the Knicks and Dany Vachon-Business Investor in Dragons' Den show. You can view her work at pazitperez.com. Pazit was Featured on Breakfast TV, Global TV, BusinessCoffeeTV, CJAD800, Success.com, Huffington Post, Thrive Global, Medium, MTLBlog, Genos. Pazit is the first #1 Law of Attraction VISION photographer and helps people rebrand their identity through portraits so they can identify with their vision of success today, to power up achieving their goals and dreams in...record time.
Since then, she vowed to spend the rest of her life teaching these principles to increase the life of others and continues to help many globally create, build and live richer lives exactly the way they picture it to be.
Owner and Founder of Vision Portraits®, IHaveADreamAcademy, and Winners Mindset Cards
Author of The Little GOLDEN SECRETS to Get Anything You F***in' Want
Partner and Founder of the Grow Rich and Millionaire Mentor Events.
Meet Carolyn Flower
Master Life Story and Legacy Creator (International)
She is a bestselling author, thought leader and intuitive empowerment coach and trainer who weaves expertise in the personal, professional, author and family discovery and development into her 26-year practice. She believes that every individual's story matters and the powerfully inspiring impact of sharing this gift brings to the world. She passionately builds belief in others and guides them using thought energy and mind-set creative principles to reimagine and rediscover their own unique value and inner wealth.
She helps people BE more by inspiring them to SEE more of their own potential. By celebrating their significance and how each life chapter has led them purposefully and serendipitously to their "now", they gain clarity toward the beacon that beckons them to develop their own author(ity) signature story and redefine their future and legacy. What's YOUR story? Your vision holds the key. She brings a fierce authenticity and a focus forward philosophy to ignite one's ability to intentionally imagine, create, change, grow and transform any area of life and walk in the footsteps of your wildest dreams.
"The weaving of every new story has been made possible by the context of earlier stories. When we realize this with humility, we become more careful to lay claim that this next version of our story will change everything. Perhaps, in this humility, we find the seed for our healing and deeper awakening." - Anneloes Smitsman
Author of Gravitate 2 Gratitude and the forthcoming Family Ever After ® with Mascot Books.
Creator of the Pathways to Publishing Academy ©
Partner and Founder of Millionaire Mentor Events.
FAQs
How can I contact the organizer with any questions?
Please email carolyn@carolynflower.com with any questions concerning this event.