Powerful Tools for Caregivers Webinar - FREE ONLINE Workshop Series
Sales Have Ended
Registrations are closed
Thank you for registering for the Powerful Tools for Caregivers webinar. Here's what you need to know: • You will be emailed a link to attend prior to the first week of the webinar • Follow the onscreen prompts. You do not need an account to access the program but you may be directed to download a free app. Once the meeting is launched, please activate your device's camera and speakers • Please log in 10 minutes early on our first day. If you have questions regarding the program, please contact me at the number or email below. weCHC Chronic Disease Self-Management Program , toll free 1-855-259-3605 ehodgson@wechc.org
Sales Have Ended
Registrations are closed
Thank you for registering for the Powerful Tools for Caregivers webinar. Here's what you need to know: • You will be emailed a link to attend prior to the first week of the webinar • Follow the onscreen prompts. You do not need an account to access the program but you may be directed to download a free app. Once the meeting is launched, please activate your device's camera and speakers • Please log in 10 minutes early on our first day. If you have questions regarding the program, please contact me at the number or email below. weCHC Chronic Disease Self-Management Program , toll free 1-855-259-3605 ehodgson@wechc.org
Feeling stretched caring for a loved one?
About this event
YOU ARE A CAREGIVER IF:
You provide care for a family member or friend in their home of yours or from a distance
Attend appointments with another person
Assist with grocery shopping, laundry and other household chores
Accompany others on social outings and activities
LEARN ABOUT:
Reducing stress
Better communication of feelings
Increase the ability to make tough decisions
Taking care of themselves
FREE WEBINAR SERIES
Tuesdays starting Arpil 13 - May 18, 2021
9:30am - 11:00am
WEEKLY ATTENDANCE IS EXPECTED - SESSIONS WILL NOT BE RECORDED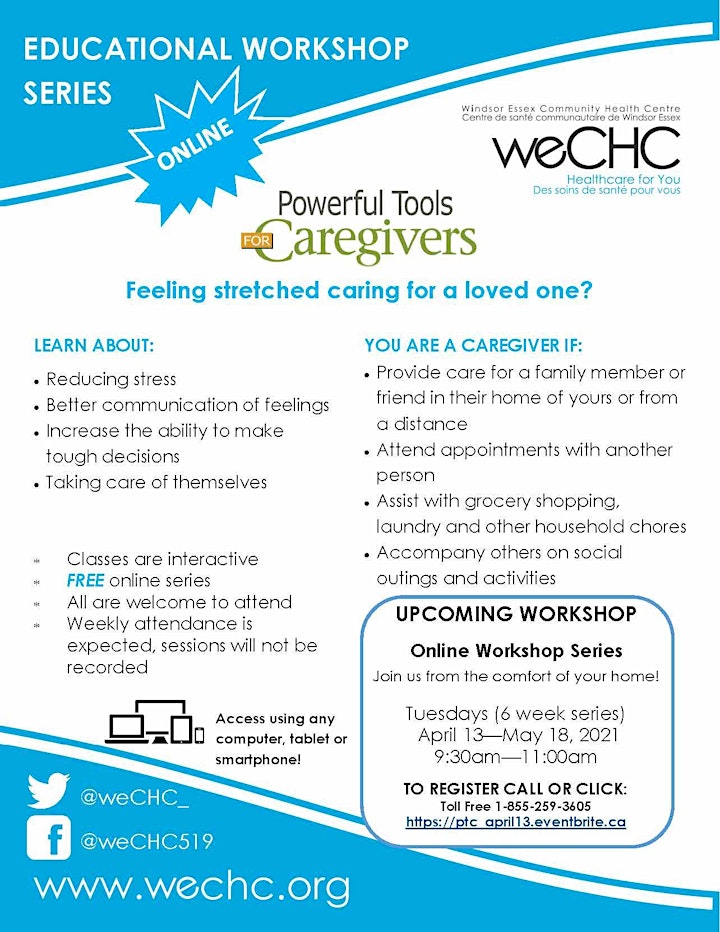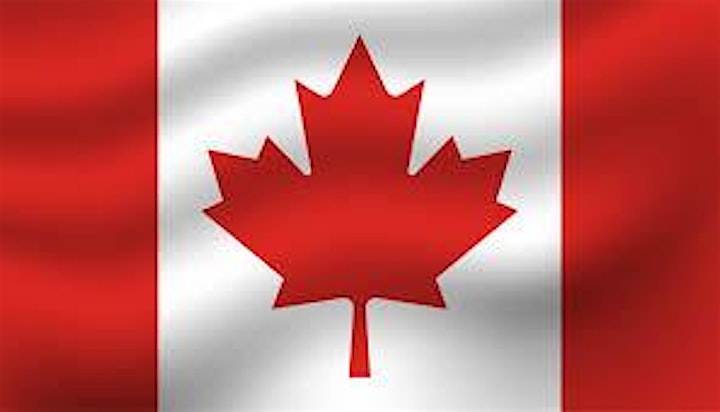 Organizer of Powerful Tools for Caregivers Webinar - FREE ONLINE Workshop Series
Windsor Essex Community Health Centre (weCHC) was formed as a result of the amalgamation of Teen Health and Sandwich Community Health Centres in 2009.
As a community Health Centre our Mission is desiging and delivering  an accessible, inclusive and collaborative approach to providing primary care, illness prevention and health promotion.
The Chronic Disease Self Management Program
The Windsor Essex Community Health Centre is the Erie St. Clair LHIN lead for the Chronic Disease Self Management Program.  The program is divided into two streams:
1) Community Education Workshops
2) Healthcare Provider Continuing Education Workshops
1. Community Education Workshops Include:
The Chronic Conditions Self-Management Program will teach participants how to (6 weeks, 2.5 hours):
Improve communication with your healthcare provider
Positive thinking, guided imagery and relaxation techniques
Action planning, problem solving and setting personal goals
The Chronic Pain Self-Management Program will teach participants how to (6 weeks, 2.5 hours):
Light exercises to improve strength and flexibility
Techniques to deal with stress, pain, depression and improve sleep
Fatigue management, pain medication and treatments
The Diabetes Self-Management Program will teach participants how to (6 weeks, 2.5 hours):
Learn to manage blood sugar levels and prevent complications
Healthy eating, light exercise, foot care and dealing with difficult emotions
Gain confidence with medication management
 Diabetes, Healthy Feet & You (1 week, 2.5 hours):
Led by peers who have experienced firsthand diabetic foot related complications
Focus on prevention of diabetic foot related complications
Education surrounding when to seek guidance of a health care professional
Information on local foot care resources
Very participative - participants will do a hands on foot exam on themselves
Powerful Tools for Caregivers (6 weeks, 1.5 hours):
Learn the imortance of and how to reduce stress

Techniques to communicate needs to family members and healthcare or service providers

Communication in challenging situations

Recognizing the messages in emotions, dealing with difficult feelings and making tough caregiver decisions
2. Healthcare Provider Continuing Education Workshops Include:
Choices & Changes: Motivating Healthy Behaviors (4.5 hours):
Explore the role of a health care professional as a facilitator of change
Identify specific strategies to assess the motivation to change
Understand the skills needed to influence behavior change
Demonstrate essential techniques to influence change
Brief Action Planning (4.5 hours): 
Learn how to assess patients' confidence and commitment to engage in health behavior change
Learn skills to influence change in patients' health behaviors
Learn techniques to use in clinical settings to promote adherence to treatment plans and encourage follow-up for reflection, reassurance and next steps