Description
You have high aspirations for your team, but nothing sidelines your season's goals like athlete injury or repeated player concussions.
In this hour long PowerUp Seminar, physiotherapists Codi Isaac & Marlyn Bravo delve into the topics of sport injury prevention and concussion prevention + management.
Keeping Your Team Injury Free This Season
Injury prevention is important. There's a growing interest in screening programs to identify athlete weaknesses. Functional Movement Systems (FMS) screening is a popular framework for sport prevention screening. Marlyn will give an overview of FMS and the key tests included. As well, she will answer these important questions:
Why should I screen my athletes using FMS?
How are tests scored and how does this relate to injury risk?
How can we change our athletes' FMS scores?
You'll walk away with an understanding of who's most at risk for injury on your team based on evidence rather than hunches. Plus you'll understand how you can implement customized corrective exercise programs to help your athletes.
Concussion Prevention & Management: Follow the Evidence
Concussions suck. And they can really add a lot of uncertainty to your coaching program. Even though there's more awareness of concussions in sport, it's easy to get overwhelmed with what to do. In this introductory session Codi explains the key signs and symptoms of concussion along with the the prevalence & prognosis of concussions in sport. Most importantly she'll arm you the answers you need about baseline testing and whether your team needs it.
Who is this seminar for?
Amateur & Professional team coaches
Team trainers
Association executives
Space is limited. Register now!
Questions? Email info@isaacphysio.com
About the Presenters
Codi Isaac
Codi graduated from the University of Alberta in 2007 with a Master of Science in Physical Therapy. Since her graduation, she has worked in private practice and sporting environments. Her expertise is restoring function and participation in life, work and recreational activities for her patients. She consistently carves out time for post-secondary learning; advanced cervical, shoulder, hands, kinesiotaping, concussion, vestibular, sports, functional movement screening and manual therapy skills are among her courses and advancements. In addition to her Masters of Science she also has vestibular training.
As a Team Physiotherapist and Trainer both professionally and volunteer, Codi has worked with the following:
New Zealand Black Ferns Rugby Club

Tim Horton's Brier

Hockey Alberta

Strathcona Minor Hockey Association

Sherwood Park Minor Hockey

Sherwood Park Kings Athletic Club

Camrose Minor Hockey Association

Sherwood Park District Soccer Association

Salto Gymnastics Club

Leduc Rugby Club

Alberta Summer Games

Alberta Winter Games.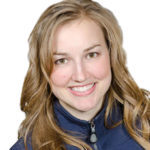 Marlyn Bravo
Marlyn graduated with a Master of Physical Therapy degree from the University of Saskatchewan in 2010. She has since completed her Level 2 FMS (Functional Movement Systems) and Level 1 SFMA (Selective Functional Movement Assessment), which are focused at assessing and correcting an individual's fundamental movement patterns. Marlyn is also an ART (Active Release Techniques) provider.
Marlyn has a special interest in sports injury prevention and management, as well as performance enhancement. Much of her interest in sports comes from having a sport background. Marlyn has played high school volleyball, winning two provincial championships, and was a member of the University of Alberta rowing team. She was also a member of the Alberta rowing team at the Canada Summer Games in 2005 and has completed 4 marathons.