Description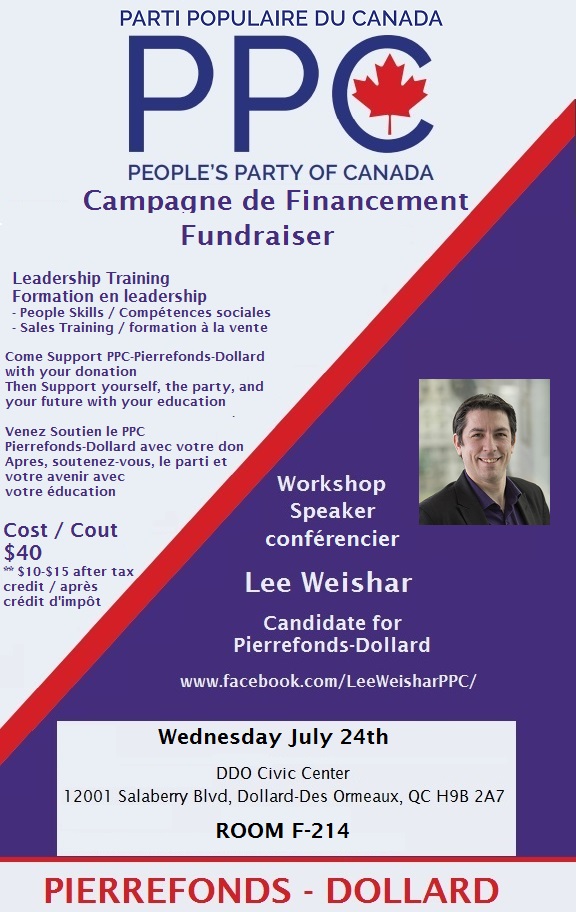 Come for spectacular evening, worth a $1000 donation! ...but pay only $40 (actually more like $10-15 after the tax credit)
Tonight's event will feature leadership and sales training by the PPC Candidate for Pierrefonds-Dollard, Lee Weishar
In this event you will support PPC-Pierrefonds-Dollard with you donation, and yourselves, your party, and your future, with your education!
You will learn about leadership, people skills, how to influence others and sell them on your ideas.
There will also be a Q&A with the candidate at the end.
The training session will start at 7pm in room F-214, but we will begin gathering in center of the civic centre at 6:30pm (so you can be shown where the room is), and head to the room at 6:55
---

Venez pour une soirée spectaculaire, valant un don de 1000 $! ...mais payer seulement 40 $ (en fait plus comme 10-15 $ après le crédit d'impôt)
Ce soir, Lee Weishar, candidat au concours PPC pour Pierrefonds-Dollard, organisera une formation en leadership et en vente.
Dans cette evenement, vous soutiendrez PPC-Pierrefonds-Dollard avec votre don, et vous-même, votre parti et votre avenir, avec votre éducation!
Vous apprendrez le leadership, les compétences interpersonnelles, comment influencer les autres et comment vendre vos idées.
Il y aura également une période de questions avec le candidat à la fin
La session de formation débutera à 19 heures dans la salle F-214, mais nous commencerons à nous réunir au centre du centre municipal à 18h30 (pour que l'on puisse vous montrer où se trouve la salle) et nous dirigerons vers la salle à 18h55.