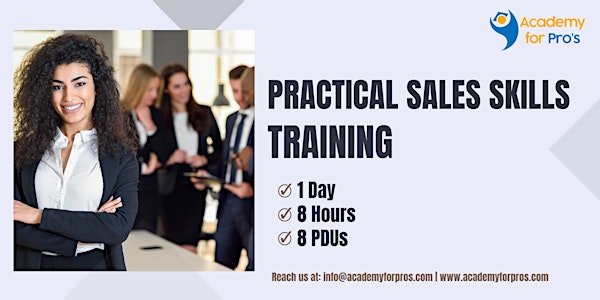 Multiple dates
Practical Sales Skills 1 Day Training in Fairfax, VA
Our classroom training provides you the opportunity to interact with instructors and benefit from face-to-face instruction.
Date and time
February 17 · 9am - December 1 · 5pm EST
Location
For venue details reach us at: info@academyforpros.com +1 469 666 9332 Fairfax, VA 22030
Refund Policy
Refunds up to 7 days before event
About this event
Certificate: Course Completion Certificate Language: English
Duration: 1 Day Credits: 8
Course Delivery: Classroom / Virtual
Course Overview:
This practical sales skills training has been developed for salespeople or people who are required to sell as part of their role. This course is applicable for both people relatively new to sales as well as those who have a lot of experience as the content is flexible enough to adapt to suit the audience.
If you want your team to exceed sales targets and gain instant results, this sales training is for you!
Course Contents:
The core aim of this sales skills training is to provide you with a set of tools that can be practicably used in your role as salesperson
The skills provided are simply a collection of valuable methods of achieving sales. There are many tips and techniques that will be incredibly useful and will help you personally develop a successful sales approach whilst enhancing your performance.
Course Topics:
The skills have been produced from many year's experience in sales and have been tried and tested in a business environment.
Introduction, the 80:20 Rule – Why 20% of salespeople produce 80% of the business
The Perfect Salesperson – What makes a perfect salesperson and how do the participants individually compare? An exercise which helps the participants appreciate that they need to develop further
Goal Setting – Why and how to set personal performance goals. Followed by an exercise on setting these goals
Build Trust – Developing trust and rapport with a prospect and understanding why this is crucial to their success.
Ask the Right Questions – Developing questioning skills and realising that it is often questions that will develop sales rather than a just a good pitch. With example questions
Engage the Customer – Understanding the life time value of a customer, serving them better and ensuring they perceive the value of the relationship
Be Specific – Adapting their approach to suit the individual customer with an activity related to identifying the specific benefits to the customer
Make Your Customer Smarter – Realising that customers are now more willing to be educated on products and services and often have already researched prior to the sales conversation. How to deal with this with regards the participants specific products/service
Maximise Your Efficiency – Learning from missed sales and developing further skills to overcome this
Catch Yourself Doing it Right – You can learn from good stuff too!
Know Your Products – An in-depth look at specific products and how to educate themselves in order to maximise sales through product knowledge
Develop a Competitive Advantage – A series of questions that will put the participants one step ahead of the competition
Handle Objections – Identifying typical objections and preparing responses to them in order to practice until they are welcomed with open arms. Also includes set techniques to overcome objections
Ask for the Business – Ensuring the participants can spot buying signals and know how to respond to them in order to lead the prospect to close. Specific advice on closing questions
Follow Up After the Sale – Ensuring that the complete sales process is seamless and the participants understand their responsibilities with regard to creating an exceptional customer experience
Apply the Skills in Your Role – A session on ensuring the learning from the session is practically applied in the participants role.
Course Feature:
At the end of this sales skills training course your participants will be able to:
Explain what sets the best salespeople apart
Follow set personal goals to sales success
Use a series of practical sales skills to increase their selling potential
Practically apply these skills to their sales role
Certification:
Once after the training you receive course completion certificate from Academy for Pros
Who can Attend?
Anybody who is interested in learning Practical Sales Skills.
Note:
However, catering to the demands of busy professionals, our virtual training programs are as effective as face-to-face learning. Reach us at info@academyforpros.com for dates and details of Instructor Led Live Virtual Sessions.
If you would like to get this course customized and delivered exclusively for your group, we have an On-Site Training Option you can reach us at info@academyforpros.com for more details about on-site or corporate training.
Offers:
Groups of 3 people 10% Discount
Groups of 5 people 15% Discount
Groups of 10 people 20% Discount
About the organizer
We deliver training solutions to Corporate, Government Agencies, Public sectors, Multinational organizations and Private Individuals. Our Primary focus is to train in a wide range of areas from IT Technical, Personal Development, Human Resources and Management Courses to Project, Program and IT Service Management.
We have most experienced trainers in the Industry. Our Trainers are highly skilled in their subject areas and are uniquely positioned to provide participants with deep industry experience. They are motivated to transfer knowledge through practical support post and pre-training to provide participants with additional support outside the classroom.