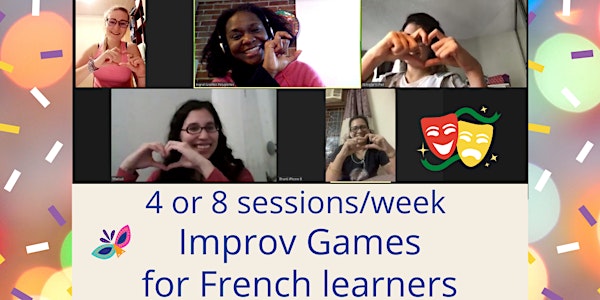 Practice French with Fun & Improv - Online - 1 or 4 or 8 Sessions Series
Give your books and learning app a break! Time for you to speak and use your French words! These sessions series will make the difference!
Refund Policy
Refunds up to 7 days before event
Eventbrite's fee is nonrefundable.
About this event
Welcome to the Improv for French learners sessions series!!
Improv for French learners series are for those who are serious about improving their French speaking and willing to do it while having fun.
When you are starting to learn a language, you want to see quick progress to keep your motivation up. And it's known that learning is better if you play.
With this technique, you will practicing French with improv games. Each session will give you more and more to quickly leave shy's island and land on confidence's country.
Come and experience French with us... you will see how fun it is to speak it.
We will determine your level with a 20 minutes assessment and you will be with other participants at your level.
IMPORTANT : The dates will be determined with all the participants in your group all together.
This package includes:
- 8 Sessions of 1h30 (2 sessions per week)
or
- 4 Sessions of 1h30 (1 session per week)
or
PRIVATE - One-on-One of 1h on the day and time that suit you
- Only 4 participants per group to give you more opportunity to speak
- A common theme, which links the sessions, to make sure that there is progression and that previous sessions are mastered.
- Possibility for a private video at the beginning for you to see your progression.
- E-social at the end (an online activity with participants at different levels from other sessions)
What you will get from this workshop:
1- Explore the language with basics and complex situations and expressions
2- Build your confidence and being at ease while speaking French
3- Learn handy words and make complex sentences (based on a specific theme)
4- Create your own story by using words that would come to you naturally
5- Time to practice, to speak in French with some funny Improv games
6- Meet new people and be part of a community
7- A lot of laughs, fun and more laughs online
Be ready to act out and play with your French! 1 hour 30 per session of pure fun!
If you are not sure and you want to try there is a possibility to pay only the 1st session.
After your decision to continue, the $35 will be deducted from the $190 (4 sessions) or $340 (8 sessions) full price!
Any question on this package feel free to reach out to Ingrid :) She is super mega nice and cool :D
ingrid@griottespolyglottes.com
A très bientôt !