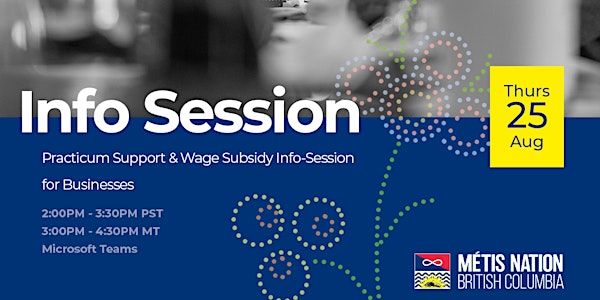 Practicum Support & Wage Subsidy Info-Session for Businesses
Info session for businesses
About this event
Join our info session on Thursday, August 25th at 2:00 PM!
This session is for Metis and non-Metis businesses who would like to learn more about the Practicum Support and Wage Subsidy Program we have to offer to your Metis new hires!
Speaker:
MNBC's Ministry of Skills-Training, Employment and Post-Secondary Education: Dennis Juarez
WAGE SUBSIDY PROGRAM 
Designed to encourage employers to hire qualified Métis talent, this program provides financial incentives in the form of a wage subsidy. 
PRACTICUM / INTERNSHIP / APPRENTICESHIP SUPPORT 
Designed to encourage employers to offer on-the-job practical experience to Métis trainees and provide financial support to qualified clients while gaining valuable training and/or mentorship.