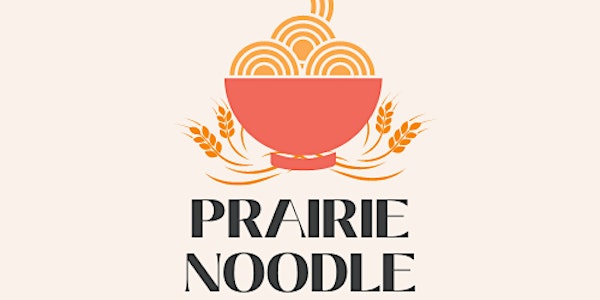 Prairie Noodle: Tsukemen Session (Sat Aug 13)
Ramen that's made in-house and fresh. These aren't your instant noodles...
When and where
Location
Four Sisters Kitchen and Table 318 3 Avenue #105 Strathmore, AB T1P 1V9 Canada
About this event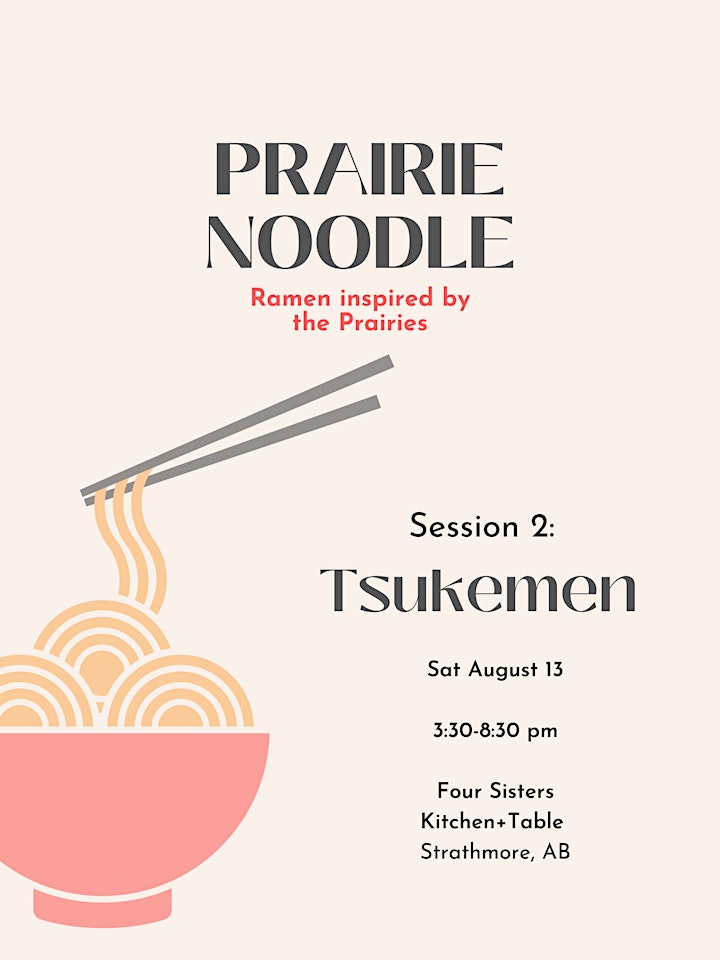 Welcome to the Prairie Noodle pop-up restaurant! Working with the good folks at Four Sisters Kitchen + Table, we are putting on another night of Japanese cuisine!
What's on the menu?
Tsukemen Ramen (20$): This is dipping ramen that serves thick cold noodles alongside a hot bowl of seasoned broth. It's a great way to enjoy ramen when the weather is hot, making it very popular in the Summer. This is a chicken and pork-based broth, served up up with a slice of pork chashu, nori, scallion, a hard-boiled egg, and nearly double the amount of noodles in a normal bowl. *CASH or CREDIT
Cupcakes($3.50-$4.00): Beau Gateau from Beaumont, AB coming down to bake up some cupcakes. We will have: Chocolate, Vanilla Sprinkle, and Gluten-Free Chocolate available for purchase. *CASH or CREDIT
Origin Beer: Beer is a common drink to go with ramen in Japan, and we are proud to be partnering with Origin Brewery which will be on-site selling beverages. *CASH ONLY*
Payment will be taken at the restaurant upon arrival. Cash or Credit Only, accepting Visa, Mastercard, Amex, and Discover. There is an ATM at the Fast Gas about 50m away.
Reservations and Seating Times:
By ordering a ticket through Eventbrite you will guarantee your reservation at the specified seating time. Purchases and transactions for food and beverage will happen at the restaurant at the time of your reservation.
Doors open for the first seating at 3:30 pm
Seating 1: 3:30 pm - 4:30 pm
Seating 2: 4:45 pm -5:45 pm
Seating 3: 6:00 pm - 7:00 pm
Seating 4: 7:15 pm - 8:15 pm
Early: Due to limited capacity, we will not be able to seat you in advance of your reservation.
Late/No Show: We reserve the right to give your seats over to another customer if you are more than 15 minutes late for your reservation. If you are unable to make your reservation please contact us so that we can offer your space to another customer.
Other Details:
Setup:
If the weather is nice, folks will have the option to sit inside or outside for their meal. If the weather isn't ideal service will take place indoors. With limited indoor capacity, you will very likely be sharing a table with one or two other customers, so that we can ensure everyone has a place to eat.
Alcohol and Beverages:
Drinks are not included in the price of the ticket but will be available for purchase through Origin Brewery. They will be onsite with a selection of beers. Water (free) will be provided to customers.
Allergies and Substitutions:
This meal contains the following: Sesame, Wheat, Gluten, Egg, Sake, Pork and Seafood.
Rejoice gluten-free friends! We will have a limited amount of gluten-free ramen and cupcakes that will be available through pre-order. The gluten-free ramen will use a rice-based ramen noodle, the broth will be modified for gluten-free as well. I've tested the gluten-free cupcakes and can say that they are amazing!
For GF Ramen, please contact me directly after purchasing your tickets via email.
Unfortunately, there are NO substitutions or alterations for this meal.
Health and Safety:
We will have a cozy, close-quarters space much like a lot of the ramen shops in Japan! Physical distancing will not be possible so if you are feeling ill please stay home and contact us about a ticket transfer or refund.
Have any other questions? No worries, send us an email or message!
prairienoodleshack@gmail.com
IG: @prairienoodleshack