Sales Have Ended
Registrations are closed
Stay tuned... there will be more opportunities to join a PRC Escape Zoom soon.
Sales Have Ended
Registrations are closed
Stay tuned... there will be more opportunities to join a PRC Escape Zoom soon.
Introduction to solid foods for babies 4-9 months
About this event
Theme: Feeding your baby- Intro to solids
Join Susan and Stephanie, our Dietician from Sandy Hill Community Centre to help you get started with your babies' first solid foods. Stephanie will give you ideas on foods to start with and how to make your own baby food, different textures and foods to avoid. She will be able to answer all your questions related to nutrition and allergies.
We look forward to seeing you (virtually, that is).
Please be aware that our virtual services are currently only available to Canadian Residents. If you are interested in attending our virtual events and do not live in Canada, please contact info@parentresource.ca. We are always looking for opportunities to expand our services and reach.
www.parentresource.ca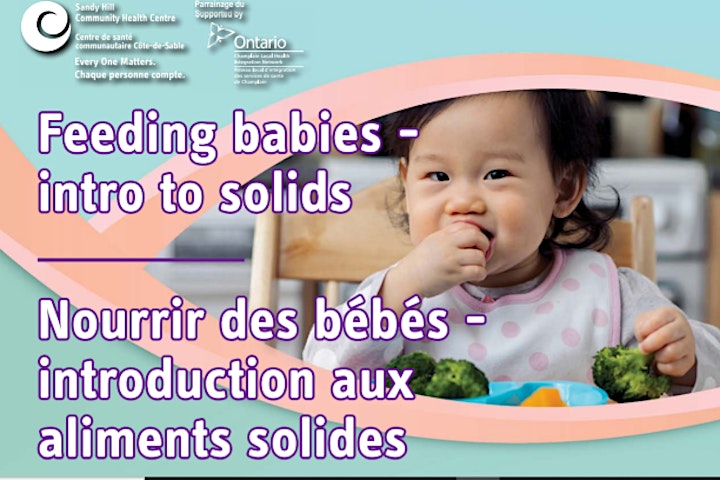 Organizer of PRC'S Virtual Parent Info Session - Feeding your Baby -Intro to Solids
 The Parent Resource Centre (PRC) helps build confident, resilient families in Ottawa.
We provide engaging high-quality programs, a wide variety of social services and supportive resources for children, youth, parents and frontline professionals in a welcoming environment.
As a children's charity, the Parent Resource Centre (PRC) is a leader in family support programs and comprehensive training for professionals. With a focus on child development, parent support, training and research, the PRC aims to have a lasting impact on the well-being of children. By using best-practices, we offer a holistic approach to support children, parents and caregivers, as well as front-line service providers who work with and nurture our children.
The PRC is committed to high quality, accessible programs, and provides relevant parenting information that makes a tangible difference in families' lives. Our service area includes greater Ottawa and the surrounding counties.
With more than 40 years of service in the child and youth sector, the PRC is considered a destination for children, parents, caregivers and professionals.  
 www.parentresource.ca