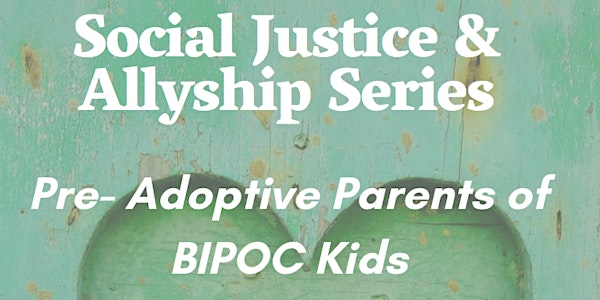 Pre-Adoptive Parents of BIPOC Kids: Social Justice & Allyship Series
A 5-part anti-racism series designed for pre-adoptive parents of BIPOC kids
About this event
Throughout the last few months, a new lens has been shown on the persistent, dehumanizing racism faced by BIPOC throughout the world, but most notably in North America.
If you're a pre-adoptive or prospective adoptive parent considering adoption transracially (parenting a child of a different race than your own), you may be wondering how to think about these incidents or talk to your future child about them. You may be wondering if adopting transracially is the right decision for you and your family or considering how best to be prepared to be an anti-racist parent and raise anti-racist children.
This five-part series will: 
educate you on social justice and allyship, 
guide you through owning your role and responsibility as the future parent of a BIPOC child, 
discuss how to show up as an anti-racist advocate in your life, family, and community,
provide insight on how to shape your future child's life and community as one that is anti-racist and inclusive, and
have conversations with your child, family, and community about social justice, human rights and the history of adoption.
This course is specifically designed for pre-adoptive and prospective adoptive parents. You may be considering adopting a child transracially either domestically or internationally, currently in an adoption process, or already matched with a child.
DELIVERY FORMAT:
5 sessions via Zoom (live & interactive discussions and presentations)
2 hours each session
Group setting
Max. 6 participants/families in a group
COST:
$450.00 + taxes per family (maximum two participants per family)
$400.00 + taxes per person  (if a single parent)
COURSE MATERIALS:
A resource list and study materials will be distributed prior to the course.
SCHEDULE:
All times in Eastern Time (ET)
Every other Wednesdays from 7:00-9:00pm - September 30, October 14, October 28, November 11, November 25
FACILITATORS:
Kara Eusebio, MPA  and Karyn Arnauld-Bakelaar, M.A. Bios are available below.