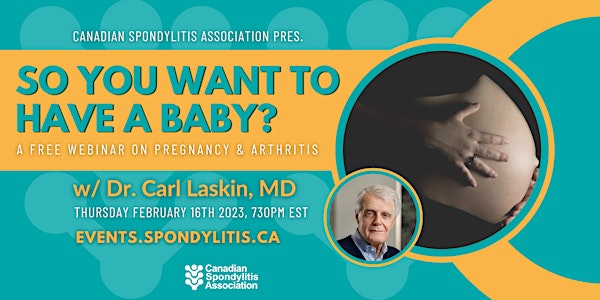 Pregnancy & Arthritis
Join the CSA and Dr. Carl Laskin for a very special webinar on arthritis and pregnancy
By Canadian Spondyloarthritis Association
When and where
Date and time
Thu, Feb 16, 2023 4:30 PM - 5:30 PM PST
About this event
The CSA is excited to host Dr. Carl Laskin for a very special webinar on arthritis and pregancy. Dr. Laskin, who is a rheumatologist that specializes in pregnant patients, will provide valuable information on the interaction of medicine as well as will be answering any questions you may have. We encourage you to submit your questions ahead of time.
Topics will include:
Family planning and discussions with your doctor
When will I be ready to go forward and try to get pregnant?
Is spondylitis and other rheumatic diseases associated with fertility problems?
If I get pregnant, what are my next steps?
What can I expect during pregnancy regarding my underlying spondylitis?
Are there special considerations regarding labour and delivery? Will I need a cesarian section?
After delivery, will my spondylitis flare?
Now my child is 2 years of age and my partner and I are planning another pregnancy. How should I proceed?
About the organizer
Website: http://www.spondylitis.ca