Become SAP S/4 HANA Finance Certified Professional SAP S/4 HANA Finance Training from North American SAP Consultant
About this event
(Second Career Ontario Funding up to $28,000 available for retraining if you are currently laid off or laid off and working part-time 20Hrs/per week or on Employment Insurance.)
Please call now to check eligibility for the Ontario Government grant at 905-268-0958 or email us at info@iibscollege.ca
Today SAP S/4 HANA Finance (Simple Finance) has become a standard product for SAP ERP and is also used as a growing financial management and accounting solution. This is currently demanded on a large scale by most of the upper-class financial organizations all over the world.
Companies need to integrate and upgrade to S/4 HANA resulting in huge demand for SAP finance professionals who can execute the successful and smooth transition from SAP R/3 to S/4 HANA. These upgrades mean that the demand for S/4 HANA professionals will continue to grow in the SAP job market. IIBS College is the preferred school for the last 15+ years to learn and prepare for SAP FI certification.
Training will be delivered by a Professional facility serving large Canadian organizations for more than 10 years.
IIBS College, a private training registered college has 15+ years of the strong history of delivery professional training to 30,000 students and helped students in securing job.
SAP S/4 HANA Finance (SAP FI) course contents
• Learn SAP S/4 HANA
• Positioning of Finance processes in the SAP S/4HANA Finance solution
• You can demonstrate how SAP S/4 HANA helps in the digital transformation
• You can easily use SAP S/4 HANA using SAP Fiori UX with other client technologies
• The course designed to provide step by step guide to begin your career as a Business Analyst
• Get access to LMS (Learning Management System) & get Regular Assignments
• Internal Review along with assessment
• Resume Prep
• All in-class convenient training sessions-Small class size
Our other relevant course
Business Intelligence |SAP Analytics Cloud | Quality Assurance | Business Analysis | SAP S/4 HANA Sourcing and Procurement (SAP MM) | SAP S/4 HANA Sales and Distribution (SAP SD) | Data Analyst | Reporting Analyst | Data Scientist
About IIBS College –
15 + years training experience
Registered private college
ISTQB® (International Software Testing Qualifications Board)
Authorized test center for Scantron and Kryterion
For more details about the schedule call us at 905-268-0958 or email at training@iibs.ca or info@IIBSCollege.ca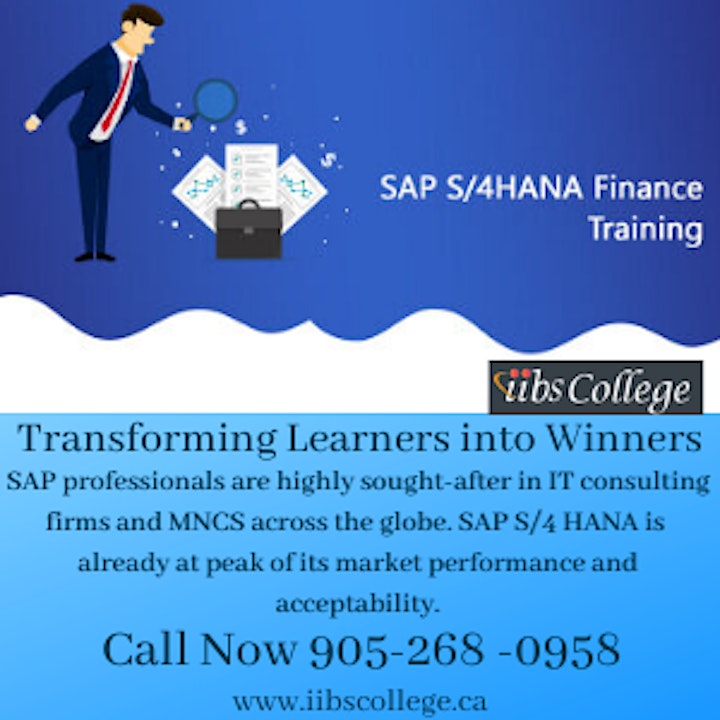 Organizer of Prepare for high paying jobs: Get certified in SAP S/4 HANA Finance