Location
Urban Bee Educational Apiary
5300 34b Avenue
Delta, BC V4L 2P1
Canada
Refund policy
Contact the organizer to request a refund.
Eventbrite's fee is nonrefundable.
Sales Have Ended
Registrations are closed
This workshop is currently full, please feel free to request to be added to a waitlist in case of any cancellations. We also recommend following our Eventbrite page for any new postings, and subscribing to our newsletter on our website here: www.urbanbeesupplies.ca.
This live workshop provides practical, in-the-field guidance on fall beekeeping preparation and management. Only 6 participants per session!
About this event
Please Note: This workshop is intended for beekeepers who have or had their own hives and have some basic beekeeping experience. We will assume and require you know at least the basics of beekeeping.
---
This field day is complemented by a webinar taking place on Thursday, August 11th from 6:30 PM - 8:30 PM. While it isn't mandatory, it would be a very helpful review of the theory that applies to this workshop before attending. For more details and to register, check it out here: https://www.eventbrite.ca/e/preparing-for-the-fall-beekeeping-webinar-registration-392819191777
Event Summary:
Join us for a live beekeeping field day workshop led by instructor Julia Common, taking place at the Urban Bee Educational Apiary. In this workshop you will be performing inspections and management of hives with Julia to get them ready before the Fall.
We have two sessions planned for the same day taking place at different times. Both sessions are very small events, with 6 participants maximum each.
This field day will involve inspections of hives checking for common concerns that occur at this time of year and typical management practices such as: honey harvesting from the hive, application of mite treatments such as formic acid, and managing for nectar flow dearth and preventing robbing.
August is a critical month - if not THE critical month- for mite control and testing! If you are unsure or intimidated by applying treatments for mites and mite testing, this is the workshop for you.
The goal of this workshop is for you to feel confident to begin executing your Fall preparation and management. Often by the time we get into September many beekeepers find they are performing their Fall prep too late, and as a consequence colonies and beekeepers may encounter difficulties. We hope this workshop will help you feel motivated and in control of your Fall management, and that you will see your colonies survive and thrive this Fall any beyond!
(photo credits for banner image: Rusty Beekeeper)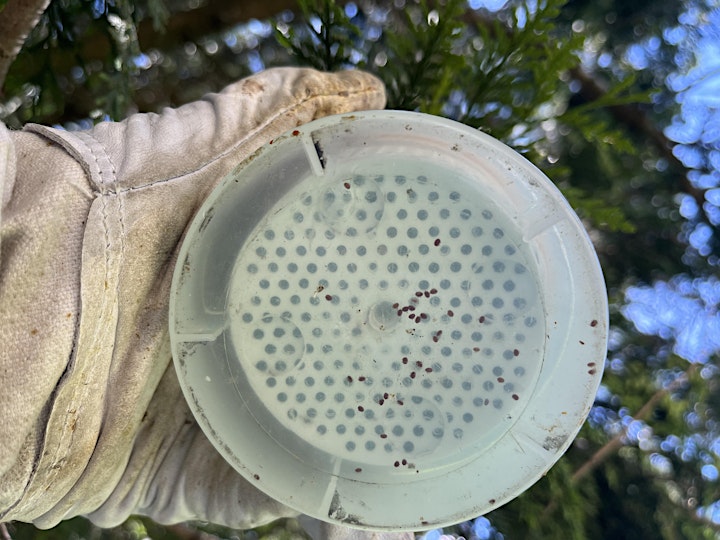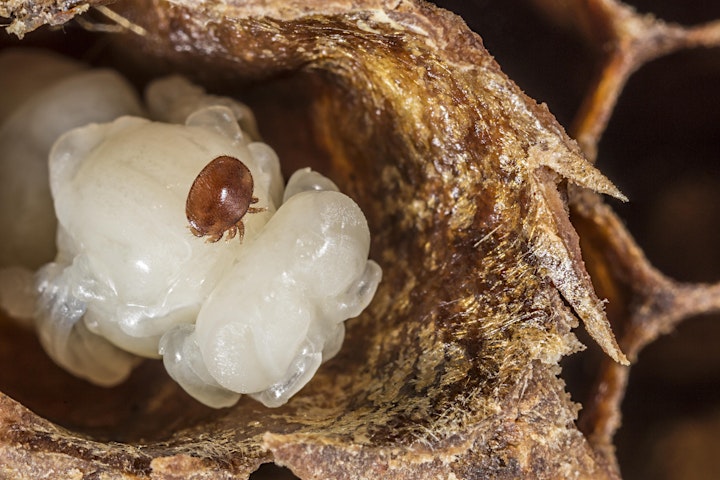 Above, in descending order: Photo of varroa mites from an alcohol wash inside a Varroa EasyCheck (photo credits: Rusty Beekeeper), then photo of mite on developing bee pupa.
August is a critical month - if not THE critical month- for mite control and testing! If you are unsure or intimidated by applying treatments for mites and mite testing, this is the workshop for you.
Who is this course for?
This workshop is intended for current beekeepers who are newer to beekeeping, or who are looking for a refresher or a little help in their beekeeping practices at this time of year. It is a great option if you are facing challenges or confusion with your hive(s) and could use some mentorship and other hives to compare yours against.
Please note this workshops requires you to bring your own protective clothing (suit/jacket/veil and beekeeping gloves). It is required that your clothing be freshly laundered to prevent the spread of disease into the educational apiary. It will also be required that you sign a waiver of liability.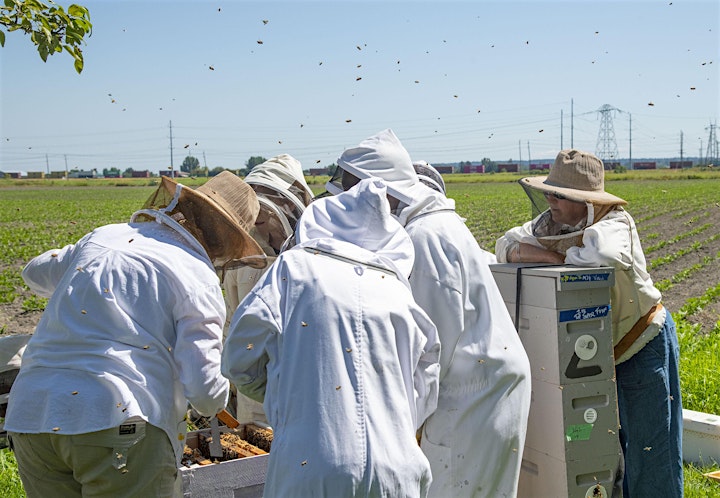 Above: Field Day participants inspecting with guidance from Julia Common (photo credit: Rusty Beekeeper).
Who is the instructor?
Julia is a Vancouver, BC-area beekeeper with over 40 years of experience. She is a BCHPA certified instructor, BC Regional Director for the Western Apicultural Society, and member of the Canadian Association of Professional Apiculturalists. Formerly the co-founder and chief beekeeper of Hives for Humanity, Julia's current focus lies in her research, pollination work, and livestock production through her new operation 'Bees Actually'. Julia is also a frequent speaker at local bee clubs, providing knowledge and insight in her unique voice to hundreds of local beekeepers year after year.
Julia has many years of experience helping new and hobby beekeepers. Through her work with Hives for Humanity she came to understand very well the unique challenges and considerations of urban beekeeping. However, the bulk of her hives have remained in rural Ladner, and with experience in crop pollination she also understands the unique challenges of countryside beekeeping.
Regardless of your setting, Julia knows what is most helpful for "newbees" making their management decisions and is inspired to help them become thoughtful and successful beekeepers. You will love her enthusiastic teaching style, and she is very well known for her fun & insightful presentations.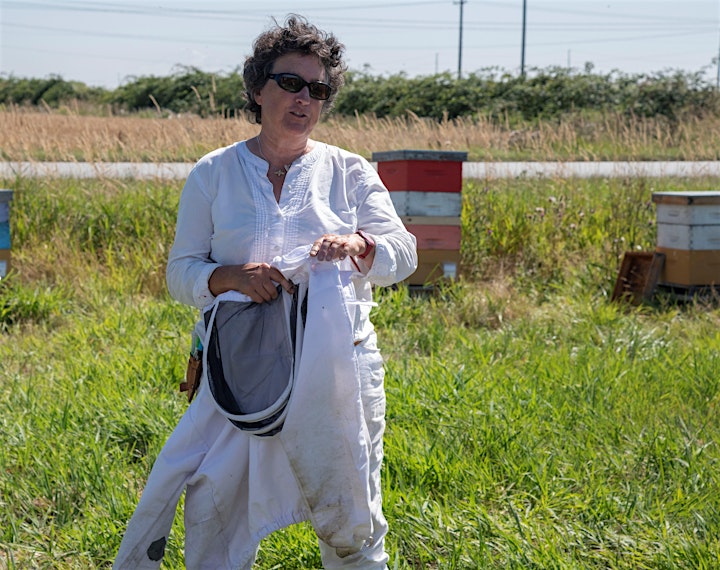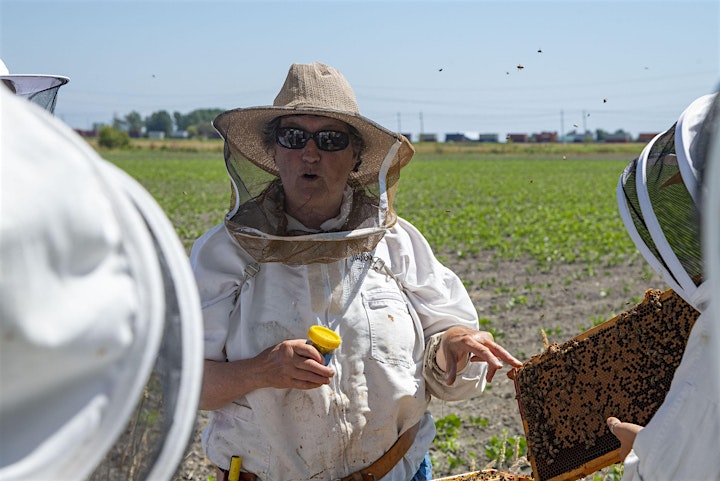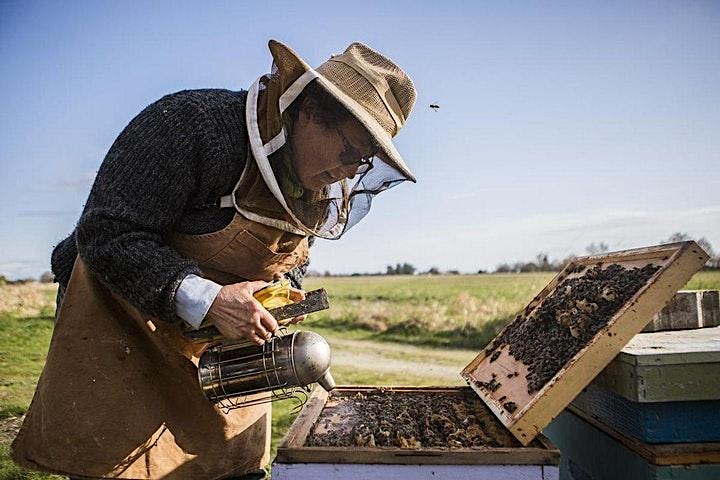 Above: Instructor Julia Common teaching (photo credits: Rusty Beekeeper), & Julia performing a hive inspection.
Where is this event?
This field day workshop takes place at the Urban Bee Educational Apiary located at 5300 34b Avenue in Delta, BC. This apiary was set-up and is maintained specifically for the purpose of facilitating beekeeper education, with the goal of being able to offer hands-on learning and mentorship throughout the year to local beekeepers. We hope this will help new beekeepers take up their new passion with greater ease and help support hobby apiarists in their pursuit of joyful and sustainable beekeeping!
As the educational apiary is set-up specifically for learning - ie not for honey or other types of production - it is an easy place for a new beekeeper to just relax and just do their best while learning, without having to be stressed about possibly causing difficulties to a hive owner when mistakes inevitably happen. We still expect everyone to be gentle and respectful with our bees! But because your education is our only goal for these hives, you won't have to feel guilty for an honest mistake, and we hope that will make your learning all the easier and more fun!
The educational apiary is located at the same address as our store, and there will be access to the Urban Bee retail space if you want to visit or purchase anything. You will also have easy access to washrooms and other amenities like readily available drinking water - the value of which you know if you've been in a beekeeping suit on a hot day!
When you arrive to the property look for the yellow house with the wrap-around veranda (this is a heritage house). The hives are located a short distance away and you can't miss them. Julia will either start the session on the house veranda or at the hives. If you have any trouble finding where to go when you arrive, just come into our shop and our staff will help you find the right spot.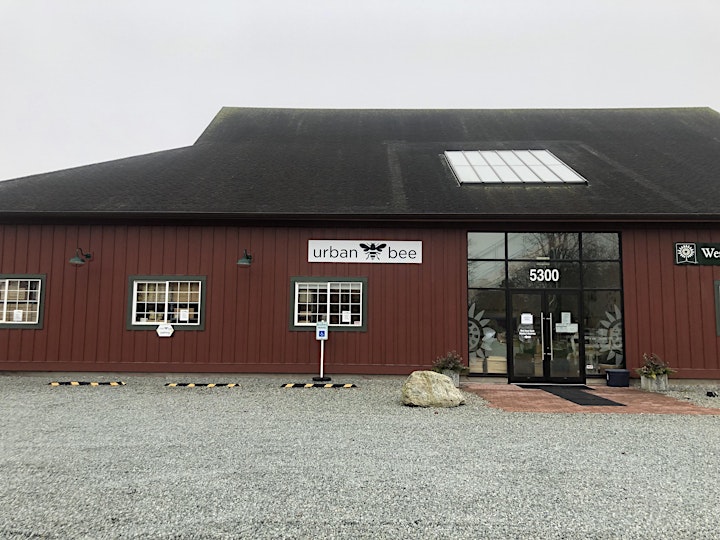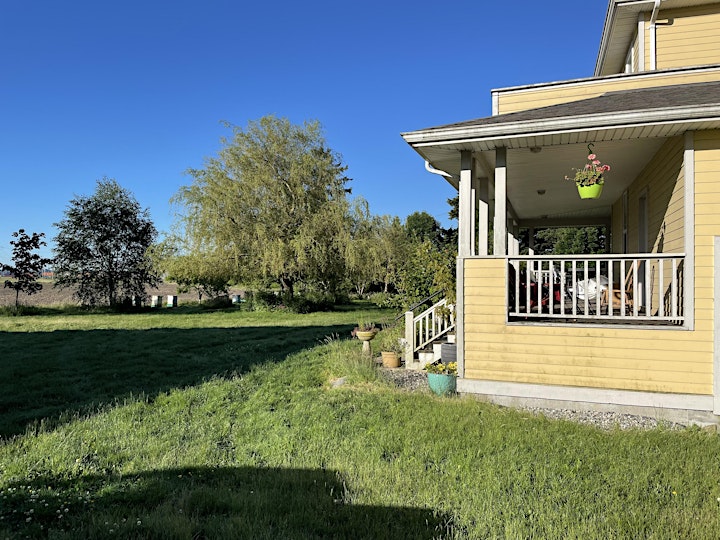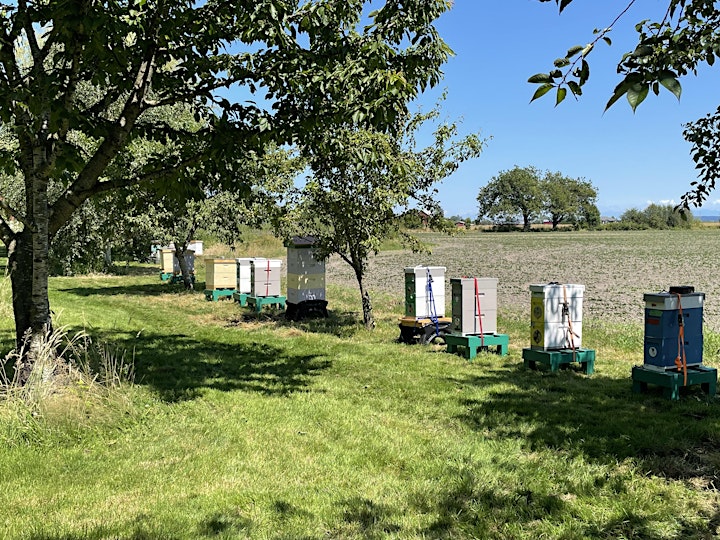 Above, in descending order: (1) the Urban Bee store front, (2) the yellow heritage house with a view to the hives nearby, & (3) a recent image of our educational apiary - these are the hives you will be working!
What is your COVID protocol?
At this time masks are not mandatory, though we encourage the use of masks in indoor spaces. We also ask attendees to please be mindful of personal space of other attendees, the instructor, and Urban Bee staff.
What will we do if the weather is poor?
Please note that field work is subject to adequate weather conditions and as such can not be guaranteed. In the unfortunate scenario that weather does not permit planned field work the workshop may by re-scheduled.
However, if conditions are only minorly adverse, it may be taken as a learning opportunity for handling bees under different conditions. As such, we encourage you to check the forecast prior to attending, and to bring clothing appropriate for the conditions if needed.
IMPORTANT NOTES (PLEASE READ PRIOR TO REGISTRATION):
This workshop requires you to bring your own protective clothing (suit/jacket/veil and gloves). It is required that your clothing be freshly laundered to prevent the spread of disease into the educational apiary.
Please anticipate that a mandatory waiver of liability will need to be filled prior to beginning participation in this workshop in recognition of the inherent dangers associated with field work and handling of honeybees and related equipment.
Hive tools and any other direct bee/hive handling equipment will be provided by instructor. This is required to prevent the spread of disease into the educational apiary. However, your freshly laundered protective clothing and a bee smoker are acceptable and encouraged.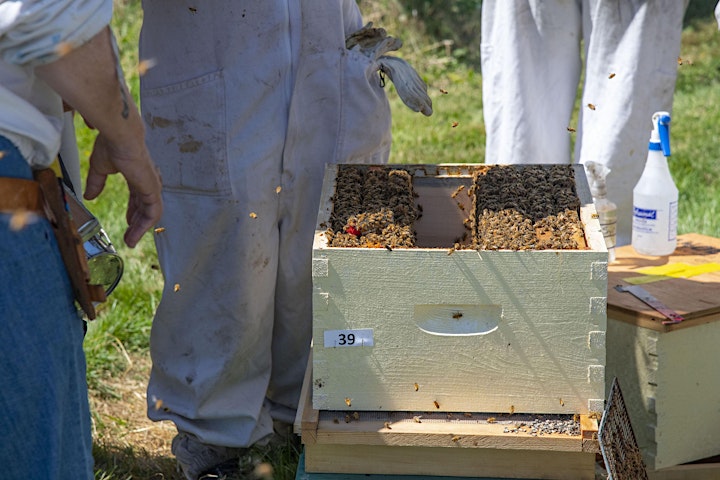 Above: field inspection at the Urban Bee educational apiary. (photo credits: Rusty Beekeeper)
Regarding cancellations:
Please note that if you register and must later cancel your registration for the class due to personal circumstances a full refund can be provided minus the Eventbrite fee. Cancellations must be received 48 hours prior to the start of the workshop to provide adequate time to find a new attendee. If the cancellation was requested less than 48 hours prior to the event and we are unable to fill the vacant attendee spot Urban Bee Supplies reserves the right to retain the workshop payment. Please note that the above does not apply in the case of a cancellation due to re-scheduling (such as due to weather conditions), and a full refund WILL be applied if you must cancel due Urban Bee Supplies rescheduling the event.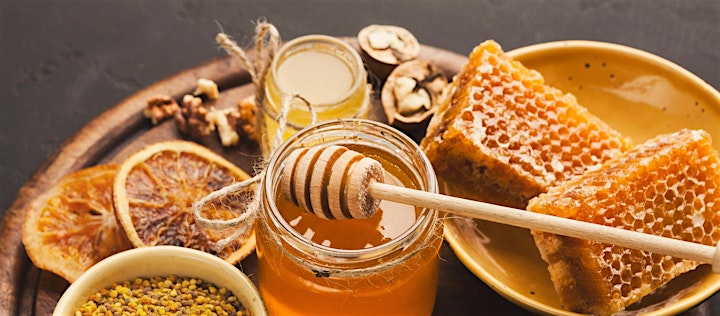 Above: We hope you are getting some of this in 2022!