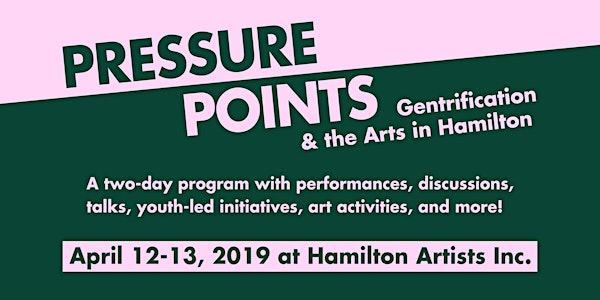 Pressure Points: Gentrification and the Arts in Hamilton
When and where
Location
Hamilton Artists Inc 155 James Street North Hamilton, ON L8R 2K9 Canada
Refund Policy
Contact the organizer to request a refund.
Description
Pressure Points: Gentrification and the Arts in Hamilton
Friday, April 12, 2019 from 7:00 – 11:00 pm
Saturday, April 13, 2019 from 10:30 am – 5:00 pm

Hamilton Artists Inc. (155 James St. N.)
Pressure Points is a two-day program exploring how gentrification has been unfolding in Hamilton, and the arts community's role in that process. What are the causes and consequences of gentrification? How can individuals and organizations work collaboratively to push for sustainable alternatives and mitigate harm to existing communities? Through performances, talks, discussions, and youth-led initiatives, Pressure Points will examine the systemic roots of urban injustices and economic disparity, and forge points of solidarity between affected populations and their allies.
Free event. Space is limited, please register in advance.
Snacks and meals will be provided. Child-care will be provided all day on Saturday, for kids aged 4-14.
How to register: No registration is needed for Friday's programs. You can register for Saturday's program through this page or call us at 905.529.3355.
Visiting and Accessibility: Hamilton Artists Inc. is a wheelchair accessible facility located at the intersection of James and Cannon Streets in downtown Hamilton. Our washrooms are gender neutral, but do not have automatic door buttons. Our space is within walking distance of local bus routes and Go Transit. Parking can be found along the street, or in paid lots nearby. Additional accessibility information is available here: http://www.theinc.ca/about/accessibility/

Full Program Details: http://www.theinc.ca/pressure-points/


---
Schedule
:
DAY 1: Friday, April 12, 2019, 7:00 – 11:00 PM
Please join us for the reception and launch of Pressure Points during art crawl. You do not need to register to attend any of the events on Friday evening.
The Hanging
Red Betty Theatre presents The Hanging, an immersive and interactive short spectacle based on verbatim text collected from the Hamilton Rent Strike interviews and recordings at Landlord Tenant Board hearings in Hamilton, riddled with flights of fancy by playwright Radha Menon. Directed by Tony Sciara, this performance was developed with Lori le Mare and the Hamilton Aerial Group, supported by Hamilton Tenants Solidarity Network.
Performance Start Times:
7:30 PM
8:15 PM
9:00 PM
9:45 PM
Each performance is roughly 10 minutes long. Please meet in The Inc.'s ArcelorMittal Dofasco Courtyard, which can be accessed through the gallery or via the Cannon St. gate entrance.
7:00 – 9:00 PM
Drop-in Children's Activities
Facilitated by artist and educator Annie Webber. Children of all ages welcome. Kids must be accompanied by an adult.
7:00 – 11:00 PM
Zine and Reading Corner
Grab some reading material to learn more about gentrification! Participate in the Recipe Cards art activity organized by the Workers Arts and Heritage Centre youth council. All the zines and resources are available free of charge.
Survival Guide to Gentrification

:

A new zine created by youth at RE-create Outreach Art Studio through a workshop with Sylvia Nickerson, with support from Hamilton Artists Inc.

Gentrification Glossary: A collaborative, community-sourced resource to understanding theories and effects of gentrification. Developed by Hamilton Artists Inc. and GAGED Hamilton.
The Art of Gentrification: A zine by artist Simon Orpana.
Feeling Tense?: A zine by artist Sylvia Nickerson, produced by CA$INO Press and Centre[3] for Print and Media Arts.
7:45 PM and 8:30 PM
Exhibition Tours
Attend one of the two guided tours of our current exhibitions, led by our knowledgeable staff and volunteers. Winter Garden explores the politics of spaces built to house living things. What we know to be true unpacks the complexities of power structures and dynamics of dominance. Same corner, same juys, same line of work draws on the history of 155 James Street North to grapple with the changing landscape of downtown Hamilton.
Meet in The Inc.'s James Gallery. Each tour is approximately 30 minutes long.

DAY 2:
Saturday, April 13, 2019
,
10:30 AM – 5:00 PM
Please join us for a full day of programming taking place at Hamilton Artists Inc. Meals and child-care provided. Space is limited, please reserve your spot through Eventbrite or call 905.529.3355.
10:30 – 11:00 AM
Doors open. Welcome and remarks.
10:30 AM – 5:00 PM
Child-care activities led by Annie Webber. Available upon registration for all children aged 4-14.
Annie Webber is an artist, educator and child advocate. Her works include animation, installation and immersive exploration of ideas, especially in community. Annie currently lives and works in Hamilton, Ontario, and is particularly interested in engaging groups in imaginative dialogue about art, life, and the construction of identities within a city. Perhaps most of all, Annie loves to swim.
11:00 AM – 12:30 PM
SESSION 1: The Nuts and Bolts
A brief overview of how gentrification is unfolding in Hamilton for new and long-time residents. This session will highlight the mechanisms that allow gentrification to take place, the role of the arts in that process, and the ongoing consequences for various communities.
Speakers: Shawn Selway and Sarah Wakefield
Facilitated by Kojo Easy Damptey
12:30 – 1:15 PM
Lunch (Vegetarian, vegan, halal, and gluten-free options available)
Recipe Cards: A Participatory Art Project by the Workers Arts and Heritage Centre Youth Council
1:15 – 2:45 PM
SESSION 2: Stakes and Strategies
How have individuals and local groups responded to gentrification? This session will introduce possible solutions, as well as a range of creative actions and strategies that could be used to resist both the root causes of gentrification, and its harmful effects.
Speakers: Danielle Boissoneau, C.A. Borstad Klassen, Stephanie Cox, Danica Evering, and Erika Morton
Facilitated by Tara Bursey
3:00 – 4:30 PM
SESSION 3: Collective Power
Facilitated by local artists, this session will encourage reflection and conversation through small group activities. How can we leverage our resources and collective power to help mitigate the harm of gentrification? How can we advocate for a city that truly includes everyone? This session will help us to imagine new or different ways of engaging with the neighbourhoods we inhabit.
Artist-facilitators: Michael DiRisio, Irene Loughlin, Simon Orpana, and Nea Reid
4:30 – 5:00 PM
Wrap-up & closing remarks.


---
Please direct any questions to Mashal Khan, Communications and Outreach Coordinator: community@theinc.ca or 905.529.3355


---
We'd like to acknowledge the ongoing suppport of our funders: Canada Council for the Arts, Ontario Arts Council, City of Hamilton, and the Incite Foundation for the Arts.

Many thanks to all our programming partners: GAGED Hamilton, Workers Arts & Heritage Centre, Hamilton Tenants Solidarity Network, Centre[3] for Print and Media Arts, Factory Media Centre, and RE-create Outreach Art Studio.