Pretty In Punk Presents: Alien To The Ignorant, The Lunatic Touch, and Tadoma
About this event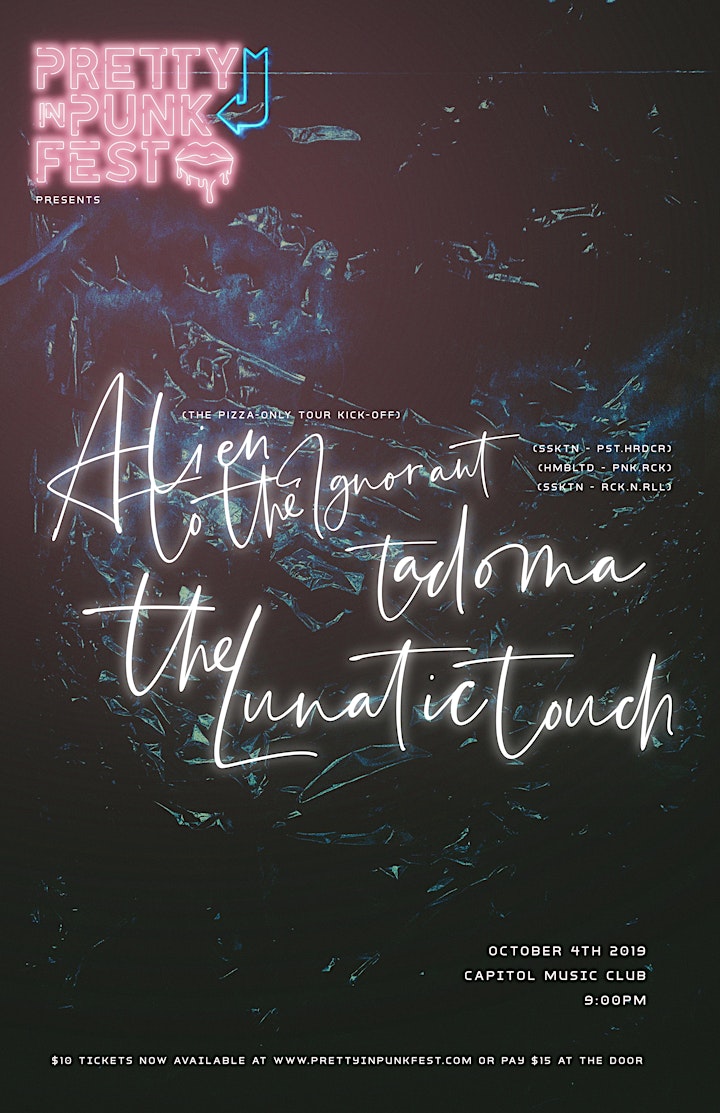 Pretty In Punk Fest is Saskatoon's new alternative music festival that celebrates creativity, originality, and activism. Set for September 2020, with more details to be released later this year, Pretty In Punk will also be host to monthly showcases and various events throughout the year, bringing in a variety of acts, workshop, and showing Saskatoon what it means to be punk.
Showcase One features Saskatoon-based Alien To The Ignorant, and The Lunatic Touch, as well as Humboldt's own TADOMA. Hosted by Capitol Music Club on October 4th. Doors at 9PM.
Swooping in from the flatlands of Saskatchewan, Alien to the Ignorant culminates influences like Senses Fail and The Fall of Troy, among many others, to create a unique and highly versatile punk rock sound featured on their new EP "Proteus II". Currently consisting of lead vocalist and guitarist Swade Orchard, bassist Myk Ulan-Hohol, and new drummer Andrew "Dynamite" Dynna, Alien to the Ignorant presents a strongly diverse set under the umbrella of rock music with the balance of both fresh originals and nostalgic covers. Their latest release bridges the gaps between pop-punk, math rock, and hardcore.
The Lunatic Touch is a Rock & Roll band from Saskatoon, formed August 2017. Ex-members of Sleaze Patrol, The Split Lips, and Shockflesh. Influences include The Gun Club, X, The Cramps, The Damned, The Saints, The Adverts, LOTNC, and The Birthday Party.
A Hard-Rock band from the heart of the praries, TADOMA puts a fire in the breadbasket. Their sound has been called Hardcore-Ska, Stoner Punk, or even Psycho Rock, but whatever you want to call it, IT IS LOUD! Behind powerful vocals blasting spooky stories at you, the Band offers loads of groove, stanky solos, and enough energy to wake you from the heaviest kush nap. Their first release 'Wendemo' came out spring of 2018, was self recorded and contains 7 original pieces (Now available on major AND minor streaming services). When these gentlemen hit the stage you will reach out and catch the vibe, indeed!
Organizer of Pretty In Punk Presents: Alien To The Ignorant, The Lunatic Touch, Tadoma