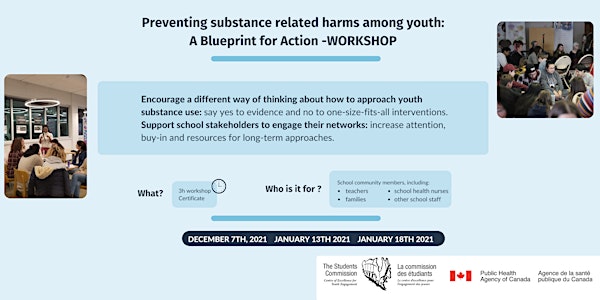 Preventing substance related harms among youth-WORKSHOP
Encourage a different way of thinking about how to approach youth substance use
About this event
The Blueprint for Action is a resource providing guidance to help inform comprehensive and concrete action plans and strategies at various levels of the Canadian education system to prevent substance-related harms among youth.
The Blueprint for Action also intends to:
Support school stakeholders to engage their networks: increase attention, buy-in and resources for long-term approaches.
Why should you attend?
Through this interactive workshop you will learn:
To inform comprehensive and concrete strategies to reduce substance-related harms.
To think differently about approaches to the prevention of youth substance use.
To support school stakeholders to engage with community partners to strengthen interventions.
You will have the tools to personalize your assistance to each youth, while effectively contributing to the students positively transitioning into a successful adulthood You will have the tools to personalize your assistance to each youth, while effectively contributing to the students positively transitioning into a successful adulthood
Who is it for ?
School community members, including:
teachers
families
school health nurses
other school staff
Information about the Students Commission of Canada
Founded in 1991, the Students Commission of Canada is a national charity that purposely works with others to ensure young people's voices are heard and valued. #CanadaWeWant #leCanadaquenoussouhaitons. At our core is the #4pillars: Respect, Listen, Understand and Communicate™
For more information please reach out to info@studentscommission.ca
Organizer of Preventing substance related harms among youth-WORKSHOP
La Commission des étudiants a été fondée en 1991 suite à une recommandation de jeunes lors d'une conférence nationale de la jeunesse. Le but de notre réseau est de contribuer à un monde où les jeunes sont valorisés, entendus et leurs idées pour s'améliorer, la vie de leurs pairs et des communautés est mise en action.
 En 2000, nous sommes devenus le centre d'excellence pour l'engagement des jeunes, qui regroupe des universitaires, des organisations de jeunes et des jeunes offrant de la recherche et de la formation afin d'améliorer les programmes jeunesse et l'engagement des jeunes au Canada.
Nous sommes un organisme indépendant, charitable, non gouvernemental et nous travaillons principalement à travers le Canada pour veiller à ce que les jeunes aient la possibilité de participer de manière significative dans les organisations, les gouvernements et leurs communautés. Nous utilisons le mot «Commission» parce que nous écoutons constamment les jeunes et que leurs idées sont mises en pratique. De plus, nous travaillons avec eux en tant que membres du personnel, en tant qu'étudiants coop et bénévoles dans tout ce que nous faisons. Certaines de nos activités de base comprennent : la programmation jeunesse, le renforcement des capacités et la recherche, et l'évaluation.
------
The Students Commission of Canada was founded in 1991 on a recommendation from young people at a national youth conference. We purposefully works with others to ensure that young people are valued, heard and their ideas for improving themselves, the lives of their peers and communities are put into action. 

In the year 2000, we became the lead of The Centre of Excellence for Youth Engagement, which networks academics, youth organizations and young people together to provide research and training to improve youth programs and youth engagement in Canada.

We are an independent, charitable, non-governmental network organization and we work primarily across Canada to ensure that young people have opportunities to participate meaningfully in organizations, governments and their communities. We use the word "Commission" because we listen to young people constantly and commission their ideas into action, working with them as staff, as co-op students and volunteers in everything we do. Some of our core activities include: Youth Programming, Capacity Building, and Research and Evaluation.