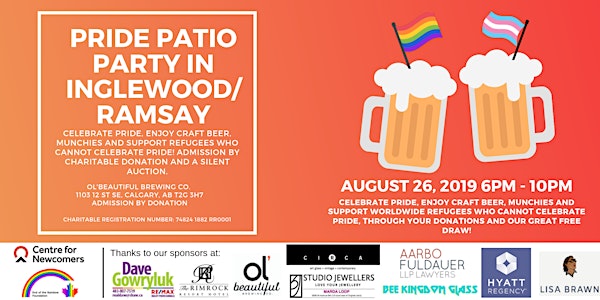 Pride Patio Party
Come out for some awesome summer vibes, craft beer, silent auction, and prizes all in support of LGBTQ+ refugees.
When and where
Location
Ol' Beautiful Brewing Co. 1103 12 Street Southeast Calgary, AB T2G 3H7 Canada
About this event
Come out and feel free to invite anyone you know that's LGBTQ2+ positive (this event is family-friendly).
Support the End of the Rainbow Foundation's work in bringing LGBTQ2+ refugees from life threatening situations to Calgary and then, along with the Centre for Newcomers, supporting them once here to restart their lives in safety and security, no matter who they choose to love.
Instead of charging an admission, we will ask for your charitable donation at the event - large, small, one-time, or recurring - To Donate Now Click Here. Donors who donate $25 or more will receive a charitable tax receipt. All proceeds go to the End of the Rainbow Foundation's "Calgary Rainbow Railway Station" – see more at https://endoftherainbow.ca/calgaryrainbowrailroadstation/
You may also support the YYCRR Station through the silent auction https://endoftherainbow.ca/auction/
Join us for an evening of craft beer, light bites, socializing, and positive summer vibes!
This evening would not be possible without our sponsors:
Westjet
Bee Kingdom Glass
VMediSp
Dale Kirschenman, Artist
Ol'Beautiful Brewing Co.
Rimrock Hotel
Studio Jewellers
RBC Royal Bank
Dave Gowryluk RE/MAX Realty Professional
Circa Vintage Art Glass
Aarbo Fuldauer LLP Lawyers
Village Ice Cream
Lisa Braun, Artist
Gorilla Whale Restaurant
POW Pizza
Made By Marcus
Hyatt Regency Calgary
espy Experience
The Nash
Thank you to the project founders Centre for Newcomers, End of the Rainbow Foundation, Rainbow Railroad, TD Bank, and the Calgary and Area Affirming Network of Faith Communities. Thank you as well to the Foundation of Hope for helping to support our refugees in the past year.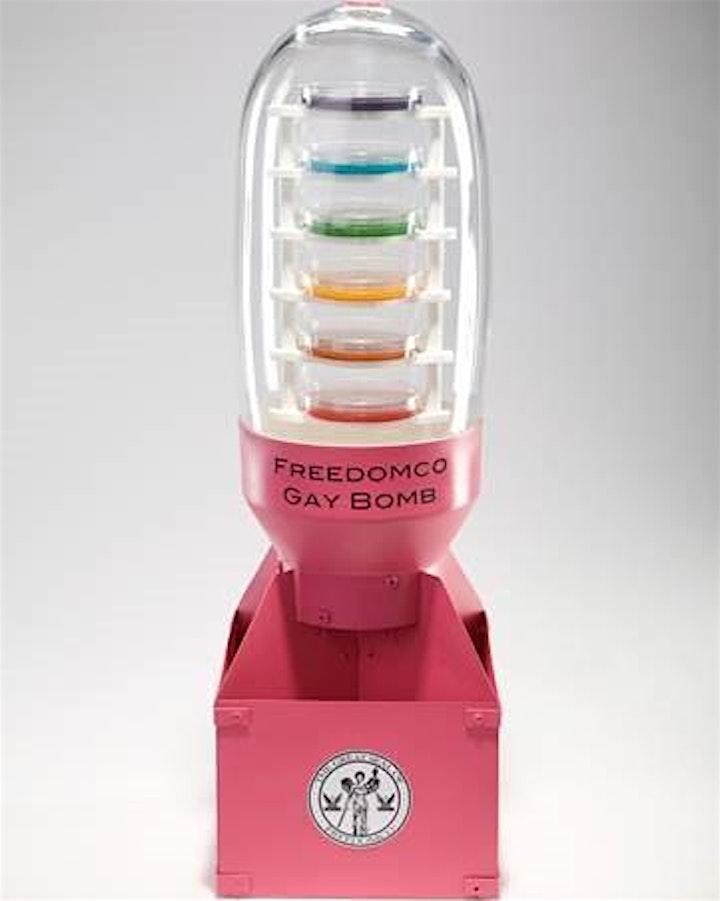 One of the things going on at the event will be the exhibition of the last of the Bee Kingdom's Gay Bombs. It will be given away to one identified supporter of the Calgary Rainbow Railroad Station. If between August 1 and November 30, 2019 you support the YYCRR station to a value of $200 or more, then you may be chosen to answer a skill testing question to win the last gay bomb. For each additional $100 donation beyond an initial $200 support, you will receive an additional qualification to be asked for a skill testing question. The last Gay Bomb will be given to the first person asked and who correctly answers the skill testing question. If you are incorrect in the answer another person will be asked until the correct answer is obtained.