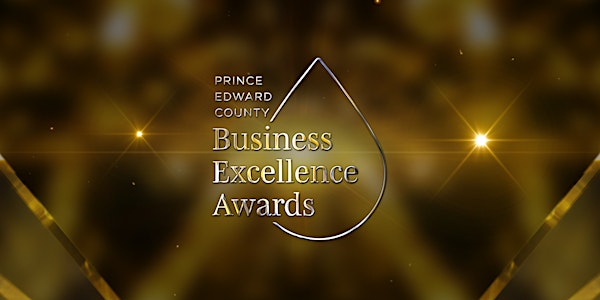 Prince Edward County Business Excellence Awards 2022
A celebration of the business-people and feature organizations that exemplify leadership and business excellence in our community.
By Prince Edward County Chamber of Commerce
Date and time
Thu, Jan 26, 2023 4:00 PM - 5:30 PM PST
About this event
Join us on January 26, 2023 at 7pm for a Business Excellence Awards celebration by the Prince Edward County Chamber of Commerce.
Ticket holders will be given exclusive access to the live, interactive event production. As a part of this one-of-a-kind experience, each ticket holder also will receive an Awards Night Gift Bag, showcasing a broad array of products from chamber members and the local business community (valued at $150) as well as be entered into a draw to win 1 of 5 door prizes (valued at over $1,000 total).
Help us celebrate the contributions of business-people and feature organizations that exemplify leadership and business excellence in our community and what made them successful.
The Award nominations are based on criteria that include outstanding business leadership, community involvement, entrepreneurship, environment, employee welfare, innovation and growth.
We are taking this event online bringing you a memorable and entertaining experience right into your home or wherever you choose to join from.
Get your tickets now!
* No refunds will be issued for this event
Thank you to our Sponsors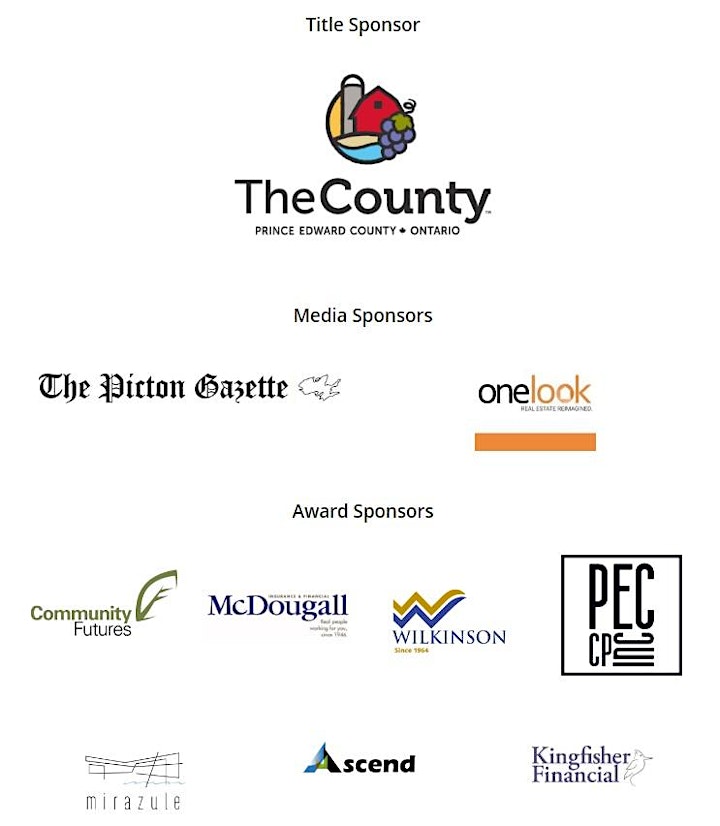 Beyond Business
In recognition of an individual in the business community who has contributed to the fabric of Prince Edward County through lifetime of community involvement, community support and volunteerism.
Business Of The Year
This award recognizes a lifetime of achievement in business as well as significant contributions to the business community. Letters of support, newspaper articles, etc. are highly recommended.
Employer Of The Year
In recognition of a business or organization that exemplifies excellence in its employee focus, which could include: job creation, diversity of hiring, training & support programs, morale initiatives, recognition & reward programs, workplace wellness, and a commitment to professional and personal development, as well as community involvement.
Contribution to the Arts
In recognition and celebration of the artistic achievements of an individual, organization or business that contributes to local art and culture.
Entrepreneurial Spirit
In recognition of a business or organization showing excellence in any of the following: new or innovative product or service, quality of merchandise/ customer service, job creation, growth potential, market served and community involvement.
Not For Profit
In recognition of a Not for Profit organization that exemplifies excellence and/or growth in programs and services, volunteer management (recruitment, training, recognition, etc.), fundraising initiatives, transparency/disclosure, and marketing & promotion; is innovative in their approach to community impact/service.
Environmental Practices
In recognition of a business or organization that displays environmental responsibility and who has adopted new practices and encourage the sustainable use of renewable resources, or protection of environmentally sensitive areas and has community involvement.
Keynote Speakers
Short Attention Spa (Lenny Epstein and Gavin North), Master of Ceremonies
Lesley Lavender, Chief Executive Officer of The PEC Chamber of Commerce
Duarte Da Silva, Chair, PEC Chamber of Commerce
Ryan Williams, MP
Todd Smith, MPP
Steve Ferguson, Mayor of Prince Edward County
Go to the Official Event Page
About the organizer
The PEC Chamber realizes the pressure on small business owners, so we work hard to ensure you are informed, trained, compliant and ahead of the game.