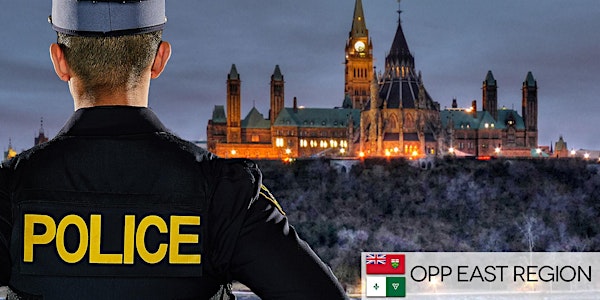 Prince Edward County - Constable Information Session
OPP is hiring Full-Time Constable positions!
About this event
THE OPP UNIFORM RECRUITMENT UNIT HIRES PROVINCIAL POLICE CONSTABLES.
YOU MUST PRE-REGISTER TO ATTEND.
If the website says "Sold Out" the event is FULL. Please do not contact the organizer.
There is no cancellation list for this event. Please check the website up to and including the day for cancellations and availability.
OPP Constable Information Sessions are hosted by Regional Uniform Recruiters. Presentation dates and details are added to the OPP Careers page (www.opp.ca/careers) on a regular basis. If registration is full, we look forward to meeting you at the next available event.
CANCELLATION POLICY
If you cannot attend, please cancel your reservation on Eventbrite so someone else may take your place.
No-shows who fail to cancel their registration are recorded and tracked.
Please Note: Events may be cancelled due to inclement weather or unforeseen circumstances. We recommend checking the website up to and including the day for changes or notifications.
NO ADMITTANCE FOR LATE ARRIVALS
Doors will open no sooner than 4:30 PM and close at 5:00 PM.
PLEASE BRING PHOTO IDENTIFICATION, it will be checked at the door.
PARKING - Complimentary parking will be available on-site out front of the detachment.
Entry will be through the front door of the detachment.
DRESS CODE - Professional business attire only. No jeans, shorts, hoodies, baseball caps, or ripped clothing.
BEFORE THE PRESENTATION, WE STRONGLY RECOMMEND READING:
OPP Constable Application Process www.opp.ca/careers and Frequently Asked Questions
Please Note: You do not need an O.A.C.P. Certificate of Results to attend this event, but we highly recommend bringing your own materials to take notes.
If you have questions, please email the OPP UNIFORM RECRUITMENT MAIN OFFICE at uniformrecruitment@opp.ca or call toll-free 1-877-OPP-HIRE. Business hours are Monday to Friday, 8:30 a.m. to 4:30 p.m., excluding holidays.
*** REGISTRATION BY February 24 AT 2PM IS REQUIRED. THOSE WHO HAVE NOT REGISTERED WILL NOT BE PERMITTED ENTRY INTO THE BUILDING. GOVERNMENT-ISSUED PHOTO ID IS ALSO REQUIRED ***
No late arrivals. No admittance after 5:00 p.m.
Thank you for your interest in the Ontario Provincial Police.
Have questions about OPP Constable INFO Session? OPP Recruitment at 1-877-OPP-HIRE
Organizer of Prince Edward County - Constable Information Session