Humber Wellness Series aimed at promoting virtual safe spaces for conversations on aspects of health and wellness - Open to Community
About this event
About this Event
The Principal's Office at Humber Lakeshore Campus, in partnership with the Human Resources and Organizational Effectiveness Team, is excited to continue the Principal's Office Wellness Talk Series for Humber members and the community. This series will occur once a month throughout the year, with the second talk being about Building Optimism and Resilience. Founder and president of the Canadian Positive Psychology Association, Louisa Jewell will lead the session.
A Bonus: **All attendees will receive an e-workbook with strategies on how to build optimism and resilience.
Topic: Building Optimism and Resilience
Date: November 5, 2020
Time: 12pm - 1pm
Speaker: Louisa Jewell, Founder, and President of the Canadian Positive Psychology Association
Microsoft Team - Session open to ALL - After registering, the relevant session link will be sent.
Louisa Jewell will introduce you to the fascinating topic of the scientific study of resilience: What makes us strong. As we face greater challenges with the pandemic, you need strategies that will allow you to maintain a positive and optimistic mindset, bounce back from adversity quickly, and respond to stress effectively. Positive Psychology is grounded in scientific evidence that optimism, resilience, engagement, and meaning are crucial to everyday performance and improved well-being. Louisa will introduce you to the 6 pillars of well-being and practical tools for building positivity, optimism, and resilience in your everyday life.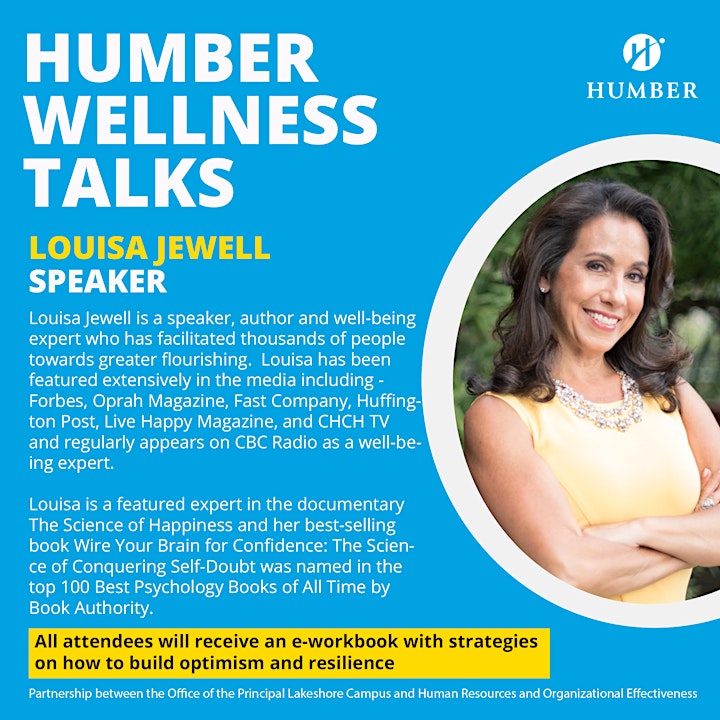 Speaker Full Bio
Louisa Jewell is a speaker, author, and well-being expert who has facilitated thousands of people towards greater flourishing. Louisa has been featured extensively in the media including - Forbes, Oprah Magazine, Fast Company, Huffington Post, Live Happy Magazine, and CHCH TV and regularly appears on CBC Radio as a well-being expert.
Louisa is a featured expert in the documentary The Science of Happiness and her best-selling book Wire Your Brain for Confidence: The Science of Conquering Self-Doubt was named in the top 100 Best Psychology Books of All Time by Book Authority.
Jewell is the founder and president of the Canadian Positive Association, was a professor at the University of Texas, and holds a Masters degree in Applied Positive Psychology from the University of Pennsylvania. For more information visit: www.louisajewell.com
Session Structure
The session will begin at 12:05 pm with a few introductory remarks followed by a 30-40 minute presentation and Q&A.
Organizer of Principal's Office Wellness Talk Series - Optimism and Resilience