Humber Staff Wellness Series aimed at promoting virtual safe spaces for Humber staff to focus on various aspects of health and wellness
About this Event
The Principal's Office at Humber Lakeshore Campus, in partnership with the Human Resources and Organizational Effectiveness Team, is excited for the Principal's Office Employee Wellness Series for all Humber staff. This series will occur once a month throughout the year. The first session of 2021 is about Art Therapy - Using art to rethink, refocus, and rebuild for 2021. It is being led by Jennifer Gordon from the Humber Galleries.
Topic: Art Therapy - Use art to rethink, refocus and rebuild for 2021
Date: January 27, 2021
Time: 12pm - 1pm
Facilitator: Jennifer Gordon
Microsoft Team - Session open to Humber employees only - Materials will be needed for this session.
After registering, the relevant session link will be sent
Learn how to use language and art to let go of what you don't need, envision a better future and to celebrate and build on what is beautiful around you.
We will be doing 3 short projects:
Painting away the negative
Painting in the positive
Building on and celebrating new growth and strength through collage
We look forward to having you there and stay tuned for other events in 2021.
Workshop Structure
The session will begin at 12:05 pm with an interactive presentation and interactive activities.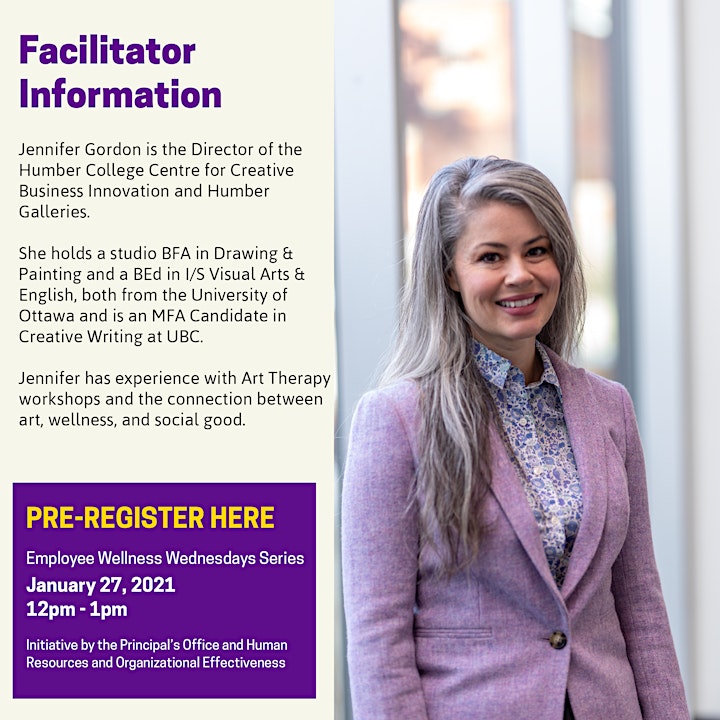 Facilitator Bio
Jennifer Gordon is the Director of the Humber College Centre for Creative Business Innovation and Humber Galleries. She holds a studio BFA in Drawing & Painting and a BEd in I/S Visual Arts & English, both from the University of Ottawa and is an MFA Candidate in Creative Writing at UBC. Jennifer has experience with Art Therapy workshops and the connection between art, wellness, and social good.