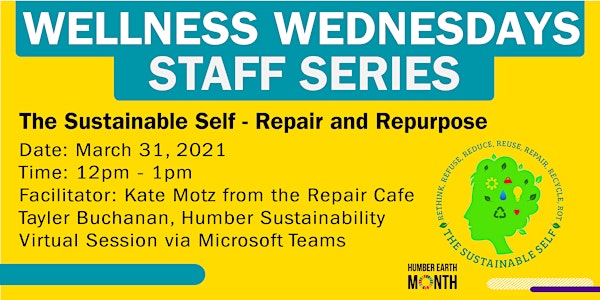 Principal's Office Wellness Wednesdays Series -Repair and Repurpose
Humber Staff Wellness Series aimed at promoting virtual safe spaces for Humber staff to focus on various aspects of health and wellness
About this event
The Principal's Office at Humber Lakeshore Campus, in partnership with the Human Resources and Organizational Effectiveness Team, is excited for the Principal's Office Employee Wellness Series for all Humber staff.
The workshop will explore the link between living sustainability and health/wellbeing. The fashion industry is the second most polluting industry in the world. Repairing and repurposing your old clothing is a sustainable option that can also add some flare to your wardrobe. This facilitator-led session will introduce you to mending; by using simple hand stitching, garments can last longer, be stronger, and bring you more joy!
Using three basic stitches for construction and decoration, you will practice together and go over the next steps for anyone looking to dive deeper into mending.
Topic: Sustainable Consumption and Production
Date: March 31, 2021
Time: 12pm - 1pm
Facilitator: Kate and Tayler Buchanan
Microsoft Team - Session open to Humber employees only - Materials will be needed for this session.
After registering, the relevant session link will be sent
We look forward to having you there and stay tuned for other events in 2021.
Workshop Structure
The session will begin at noon with a short introduction/presentation about sustainability and fashion followed by a 30-minute guided mending session.
Workshop Agenda
Introduction & Land Acknowledgement
Sustainability/ Responsible Consumption & Production (SDG 12)
Mending techniques activity – embroidery stitches, sashiko, etc. (3-4 examples)
Q&A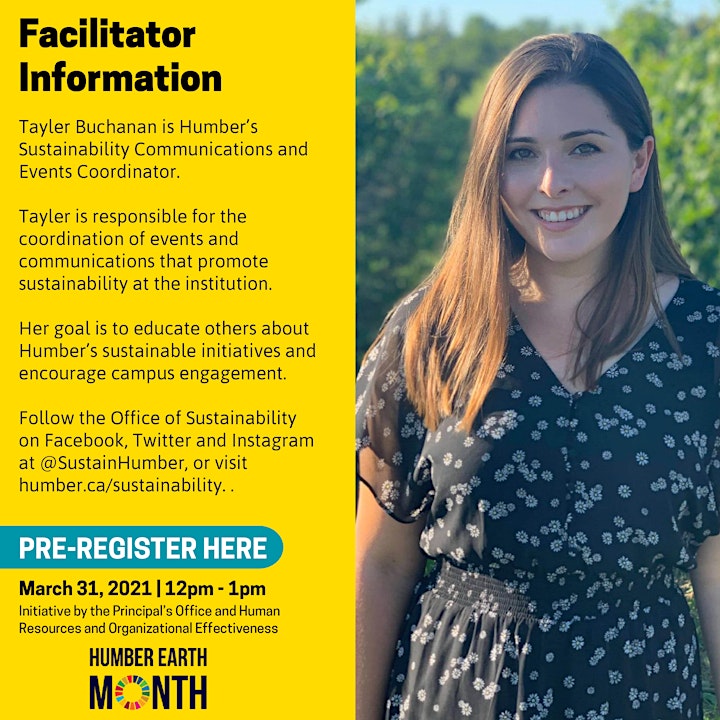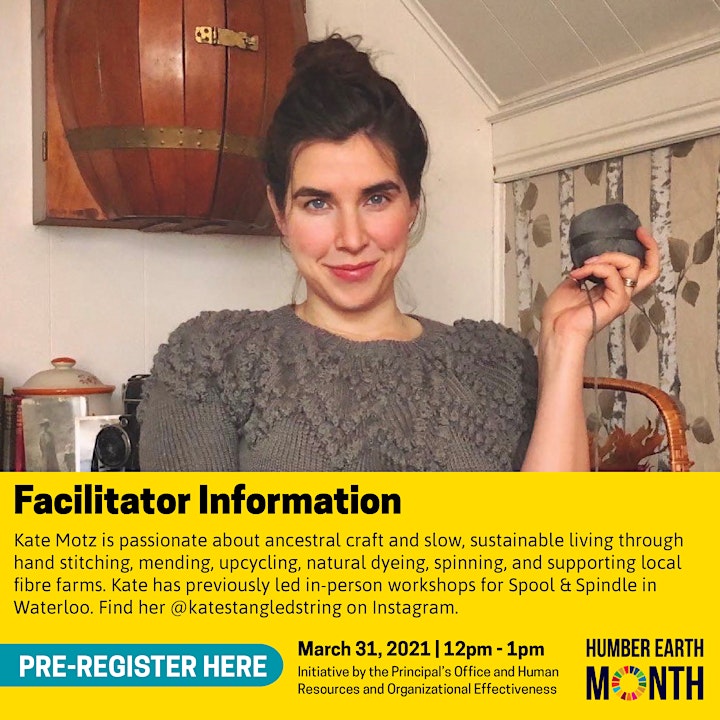 Facilitator Bios
Tayler Buchanan
Tayler Buchanan is Humber's Sustainability Communications and Events Coordinator. Tayler is responsible for the coordination of events and communications that promote sustainability at the institution. Her goal is to educate others about Humber's sustainable initiatives and encourage campus engagement. Follow the Office of Sustainability on Facebook, Twitter, and Instagram at @SustainHumber, or visit humber.ca/sustainability.
Kate Motz
Kate Motz is passionate about ancestral craft and slow, sustainable living through hand stitching, mending, upcycling, natural dyeing, spinning, and supporting local fibre farms. Kate has previously led in-person workshops for Spool & Spindle in Waterloo. Find her @katestangledstring on Instagram.