PrintForum West 2017

Wednesday, 14 June 2017 from 10:00 AM to 5:00 PM (PDT)
Event Details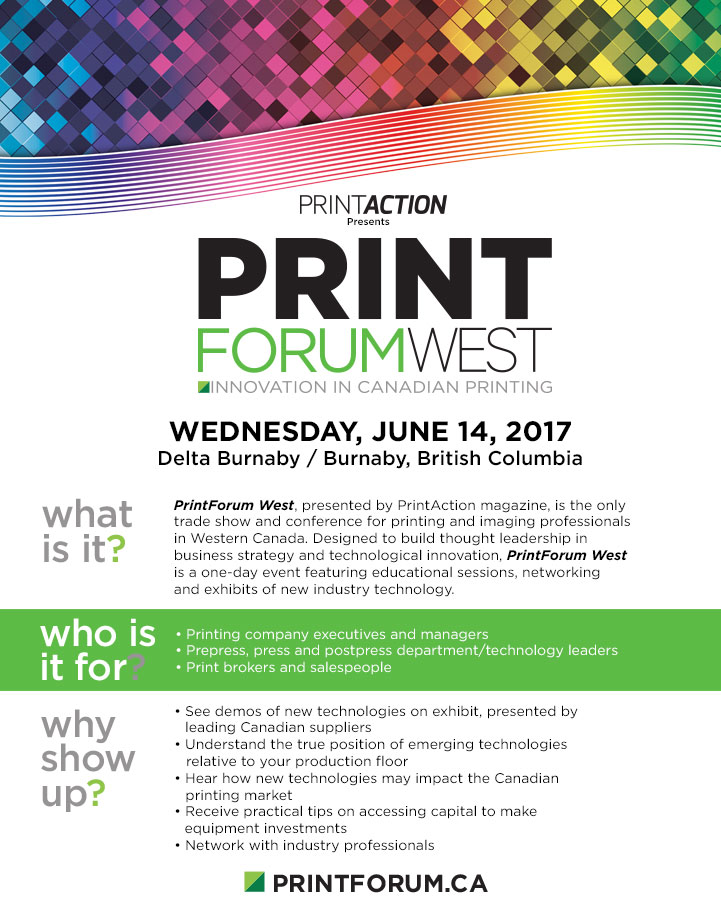 Do you have any dietary or accessibility needs? Please contact Tara Patterson tpatterson@annexbizmedia.com or call 1-800-268-7742 x6833 and let us know how we can help!
During the event, you may be photographed or appear in our promotional video footage. Read our video disclaimer.
When & Where

Delta Hotels by Marriott Burnaby Conference Center
4331 Dominion St
Burnaby, BC V5G 1C7
Canada

Wednesday, 14 June 2017 from 10:00 AM to 5:00 PM (PDT)
Add to my calendar
Organizer
Since 1961, PrintAction has been providing comprehensive analysis of local and global issues affecting the people in the graphic communications industry.  Each month PrintAction through its parent company, Annex Business Media, delivers unmatched content about the strategies and aspirations of Canada's most innovative and technologically sound printing companies. Combining independently researched news with the most interesting personalities and applications, PrintActionis the magazine read most by the professionals of Canada's graphic arts industry.
PrintAction sources editorial contribution from some of North America's most respected analysts and writers, who together provide insight for surviving in the graphic arts industry. From premedia to finishing and from data-centric printing to offset, sales, workflow process, finance and management strategies... PrintAction provides real-world expertise for the graphic arts professional and business owner. 
PrintAction delivers monthly departments such as Interview, where we investigate the motives and moves of an industry innovator. Our News section covers only the most important events for our readers, including equipment installations, personnel appointments, acquisitions and important trends. Each issue also includes contributions from columnists with insight from varied disciplines. MarketPlace is our classified advertising forum where real-world business opportunities can be found. Last but definitely not least, our back-page features the Archive department, where every month we take a look back at the events which shaped the industry we are in today.