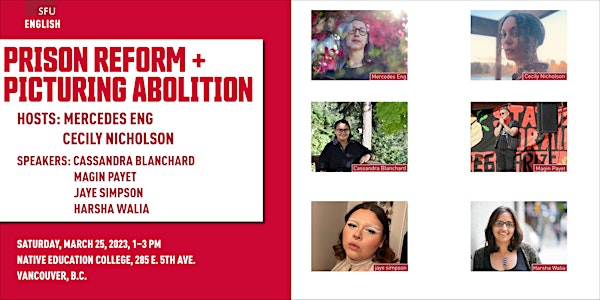 Prison Reform + Picturing Abolition
Join us for an informal conversation on prison reform & abolition on Saturday, March 25th (1 PM) at the Native Education College.
By Simon Fraser University Department of English
Date and time
Sat, Mar 25, 2023 1:00 PM - 3:00 PM PDT
Location
NEC Native Education College 285 East 5th Avenue Vancouver, BC V5T 1H2 Canada
About this event
Event Description:
"You have to act as if it were possible to radically change the world and you have to do it all the time." (Angela Davis)
Co-hosted by Mercedes Eng and Cecily Nicholson, this event features Cassandra Blanchard, Magín Payet, jaye simpson, and Harsha Walia. Together, they will talk and think through radical reform, transformative justice, the expansion of the carceral state, and the possibility of abolition. This event is free and open to all.
Important Information:
COVID Protocol: Masks are required and will be provided at the event venue.
Venue and Accessibilty: This in-person event takes place at the Native Education College. Entrance doors and washrooms are at ground level, and one ground-level washroom is wheelchair-accessible.
Host and Speaker Bios:
Hosts:
Mercedes Eng is the author of Mercenary English, a poem about sex work, violence, and resistance in the Downtown Eastside neighbourhood of Vancouver, Prison Industrial Complex Explodes, winner of the Dorothy Livesay Poetry Prize, and my yt mama, which documents a childhood lived under white supremacy in Canadian prairies. She is dreaming and planting towards the destruction of carceral systems.
Cecily Nicholson is the author of four books, and past recipient of the Dorothy Livesay Poetry Prize, and the Governor General's Literary Award for poetry. She teaches at Emily Carr University of Art + Design and collaborates with community impacted by carcerality and food insecurity.
Speakers:
Cassandra Blanchard was born in Whitehorse, Yukon and is a part of the Selkirk First Nation. Her debut book Fresh Pack of Smokes won the 2020 Relit Award. She currently resides in Duncan, Vancouver Island.
Magín Payet (he/him/his) is an abolitionist organizer living on unceded Musqueam, Squamish, and Tsleil-Waututh Territories for over two decades. He has previously organized with No One Is Illegal, and currently organizes with Defund 604 Network, Vancouver Prison Justice Day Committee, Stark Raven Media Collective and is a director at the New Page Foundation. In recent years he has become known for his striking banners (often affixed to abandoned lots in east van), cheeky wheatpastes, and even a few piñatas.
jaye simpson (she/they) is an Indigenous trans woman from Sapotaweyak Cree Nation on both her mother and father's side. They are a multidisciplinary artist, dreamer of utopia and overall killjoy. they write, they dream, and most importantly scheme. she resides on the unceded and therefore stolen territories of the Musqueam, Squamish, and Tsleil-Waututh peoples.
Harsha Walia is a Panjabi writer and organizer who has been involved in migrant justice, feminist, anti-racist, abolitionist, anti-capitalist, and anti-imperialist movements for over two decades on unceded lands.