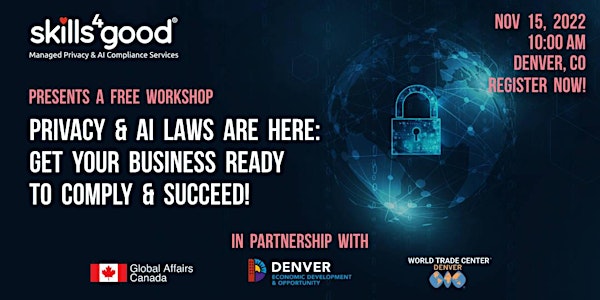 Privacy & AI Laws Are Here: Get Your Business Ready To Comply & Succeed!
Privacy & Responsible AI Workshop for the Denver Entrepreneurial Ecosystem
When and where
Location
Denver Energy Center Tower II 8th Floor, 1625 Broadway Denver, CO 80202
About this event

Skills4Good AI is providing a free, interactive workshop on: PRIVACY & AI LAWS ARE HERE. GET YOUR BUSINESS READY TO COMPLY & SUCCEED.
New US state and international privacy & AI laws are coming into effect in 2023. As a small & medium business (SMB) owner or startup founder, you know your business needs to comply with privacy and AI laws to succeed nationally and globally. Noncompliance with the law can lead to business failure.
This workshop is designed for Denver's globally oriented small & medium businesses (SMBs), startups, and the VCs, Angel Investors, and Accelerators that invest in them.
Attendees will learn about the risks associated with privacy and AI compliance and how to mitigate them to achieve business success.
THIS IS AN IN-PERSON EVENT
When: Tuesday, November 15, 10 am – 11:30 am
Where: 8/F, Denver Energy Center Tower II, 1625 Broadway Denver, CO 80202 United States. Enter the building through the 16th St Mall Entrance.

Josephine Yam is the CEO and Co-Founder of Skills4Good AI. As an AI lawyer, AI ethicist, and tech entrepreneur, Josephine has received several awards, such as the Top 100 Brilliant Women in AI Ethics, Top 21 Asian Entrepreneurs Shaking Up Canada, RBC Top 25 Canadian Immigrant Award, and Most Influential Filipina Woman in the World.
Josephine graduated from Stanford University Business Executive Program. Leveraging her Master's degree in Law and her Master's degree in Philosophy (AI Ethics), she serves on the Standards Council of Canada's Artificial Intelligence Committee. She has also authored peer-reviewed journal articles on Trustworthy & Responsible AI. She is also an AI Policy Specialist with the Washington, DC-based Center for AI & Digital Policy. Before co-founding Skills4Good AI, she was a lawyer with the international law firm Baker McKenzie and senior counsel with the government's Justice Department.
As a woman, person of color, and immigrant entrepreneur, Josephine passionately advocates for equity, diversity, and inclusion in AI to create a human-centered AI world
About Skills4Good AI
Skills4Good AI is a one-stop global managed service provider for Privacy and AI compliance solutions for small & medium businesses (SMBs) and startups. Our AI-powered, customized "Done For You" privacy & AI compliance packages leverage robotic process automation with best-in-class consulting. We eliminate the pain of global privacy & AI compliance seamlessly and cost-effectively so entrepreneurs can focus on growing their businesses.