Description
Book a private morning Sound Healing session with Amber Arnold at the Clemmons Family Farm in the beauty and quiet of the historic Barn House.
Please register for time slots with the times listed on Saturday September 28 or Sunday September 29. Reserve a 30-minute session for $45. Please email us at clemmonsfamilyfarm2art@gmail.com or call and leave a message at 765-560-5445 if you would like to reserve a 1 hour sesion for $75.
---
WHAT IS SOUND HEALING?
The human body vibrates at healthy and unhealthy frequencies. Sound healing helps to restore low + heavy vibrations of energy in the body to balanced frequencies. During a sound bath carefully tuned singing bowls and other healing instruments are played in concert, while participants lie comfortably, allowing the sounds to wash over them, creating a shortcut to deep meditation. Specific tones are used to sync brainwaves and cause a shift in the vibrational frequency of the cells in the human body. These vibrations help the left brain and right brain synchronize and rebalance quickly and simultaneously.
Generally speaking, 30 minutes to 1-hour of sound healing per week (via sound bath or private sound healing sessions) can bring you the same relaxed healing experience as hours of daily meditation. Sound healing has been used for thousands of years for many different reasons and in many different ways. You may have heard or experienced going to the doctor to remove a kidney stone by blasting it with ultrasound. By matching the frequency of diseased and imbalanced cells in the body and raising that frequency, sound creates an environment in which diseased cells are unable to function. Sound re-patterns the vibration of these cells, and allows them to vibrate at their naturally healthy frequency with regular sound healing sessions.
---
ABOUT THE ARTIST
Amber Arnold is a Sound Healer certified by the International Academy of Sound Healing, a Reiki Practitioner, Folx Medicine Maker, Ritual and Sacred Ceremony Curator, with various trainings in a wide variety of healing modalities ranging from Embodied Movement, Somatics, Reiki, Vibrational Therapy, and more. Born in Somerville Massachusetts, Amber lived throughout the state of Massachusetts with her mother who is an artist and therapist, and her father who is a musician. Amber spent part of her childhood in Nashville, Tennessee where she was fully immersed in the music scene. Her first experience with the healing power of sound was while learning to play the violin as a child. She attended the Community College of Vermont to study business, and eventually found herself exploring various healing modalities that supported her passion for bringing collective healing to people in her community through vibrational therapy, plant medicine, and cultural somatic practices. Amber draws on intuition and deep-rooted wisdom from her ancestral lineage to bring a multi-dimensional healing approach to those with whom she works.
Now based in Brattleboro, Vermont, Amber is the founder of Sacred Vibrations Sound Healing. She joins the Clemmons Family Farm in the Fall of 2019 as an artist-in-residence to use her healing arts for creative placemaking and build a multicultural community on one of the rare African-American owned farms in Vermont.
---
ABOUT THE CLEMMONS FAMILY FARM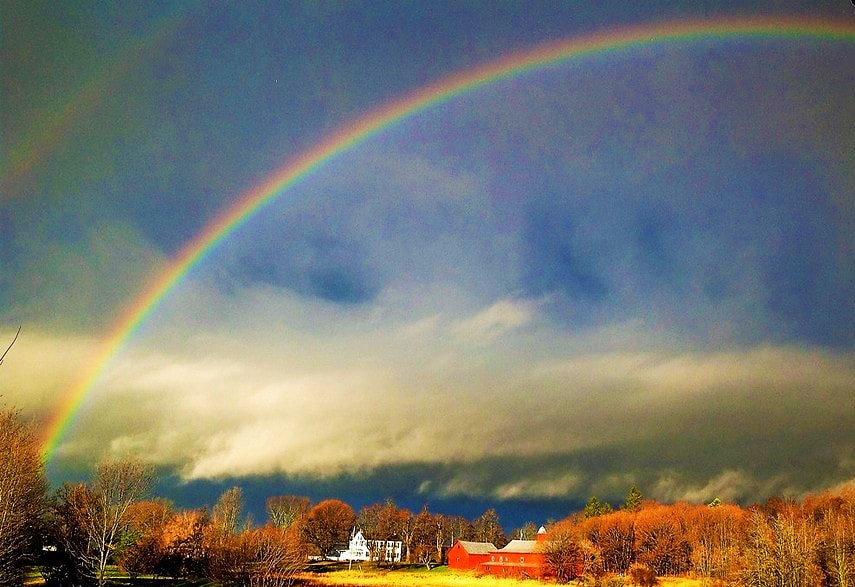 Located in Charlotte near beautiful Lake Champlain, the Clemmons Family Farm is ​one of the largest African-American-owned historic farms in Vermont today. The farm includes 6 historic buildings (circa late 1700s-1800s), a spacious 1990's residence, and 148 acres of prime farmland and forests, ponds and streams abundant with wildlife.The Clemmons Family Farm is among the less than half of one percent (0.4%) of all farms in the United States are African-American-owned. Over the past century, African-American land ownership in the U.S. has decreased by 93%: from a combined total of 41 million acres in the 1920's to just 3.5 million acres today. There are nearly one billion acres of farmland in the United States.According to the 2012 United States agriculture census, of the nearly 7000 farms in Vermont, only 19 are African-American-owned or operated. Of the 1.2 million acres of farmland in Vermont, only 740 acres are owned or principally operated by African Americans.By attending our events or giving donations to the Clemmons Family Farm you help us to preserve one of the rare African-American owned farms in the state of Vermont and in New England as a cultural heritage asset for the community.
---
FAQ
Where do I park?
The Barn House address is located on the west side of the road at 2122 Greenbush Road, Charlotte Vermont 05445. Please park in the barnyard at the "Big Barn" located across the street (east side) from the Barn House. You will see an "Event Parking" sign indicating the area where you can park. Additional parking is located south of the Big Barn-- look for more "Event Parking" signs at 2213 Greenbush Road.
What do I do if I cannot walk down and up the hill to the Barn House?
Please contact us before the event at clemmonsfamilyfarm2art@gmail.com or call (765) 560-5445 and leave a message so that we can arrange for a car to drive you down (and up) the hill. Also, the Barn House has an access ramp for those who may have difficulty using the stairs at the main entrance.
How can I contact the organizer with any questions?
Please contact us if you have any questions about the event. You can reach us at clemmonsfamilyfarm2art@gmail.com or call (765) 560-5445.
Where can I learn more about the Clemmons Family Farm?
Check out our website, subscribe for updates on our new arts and culture events, and like us on Facebook!