Looks like this event has already ended.
Check out upcoming events by this organizer, or organize your very own event.
Private Surface Family Event - Calgary IT Pro Community Association

Tuesday, 24 September 2019 from 6:00 PM to 8:00 PM (MDT)
Event Details
About Our Topic
Modern work demands modern devices and services. You want a device that can:
Add

pride

to your business

Protect

 your personal and customer data

Lift your personal and professional 

productivity

to new heights

Bring 

peace of mind

by providing the support you need

Exceptional

performance

everywhere they need to perform
Interested in learning more about Microsoft Surface for Business? Join us at the Microsoft Store for a private Surface Family event exclusively for the Calgary IT Pro Community Association. Guests interested in learning more about Microsoft Surface products and the Calgary IT Pro Community are welcome to attend this FREE event.
Network, explore our Surface devices + Microsoft 365 Business and meet our Business Sales Specialist and Business Expert to learn more about our value adds including support options for business, Office, and much more.
Complimentary refreshments and light snacks will be provided.
We look forward to meeting you and empowering your team to achieve more!
PLEASE REGISTER BOTH HERE AND ON EVENTBRITE TO ATTEND:
https://www.microsoft.com/en-ca/store/event_registration/?eid=2015352724&locid=96950
About Our Presenters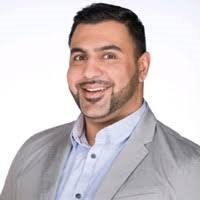 Neddal Assaf
Neddal Assaf is a sales professional, father, and entrepreneur that has worked in Calgary, Beirut-Lebanon, and Jeddah-Saudi Arabia. Neddal has been at Microsoft for almost 4 years as a Business Solution Specialist and came from a commercial background from Xerox and Telus. With both print technology and telecom as previous pillars in Neddal's career, Microsoft stood out as the place to evolve.
Neddal carries a strong history of End-to-End sales and marketing success, new relationships have been created through a customer obsessed approach to land prospective B2B relationships. Neddal has demonstrated ability to work with Enterprise as well as SMB customers internationally leading with cutting edge technology.
Neddal can assist in procurement of devices and software services Microsoft offers as well as on-premise assessments and consultations with new and existing customers.
With over 8 years of sales and marketing acumen, productive and efficient work habits for Neddal are second nature. As a hybrid offsite/onsite employee there is an Individual effort in attaining new business while managing a business team. Neddal is enthusiastic, approachable, and easy to communicate with. If your business requires digital transformation, connect with Neddal to explore your options.
Nigel D'Souza
Nigel D'Souza is the Business Expert at Microsoft. Nigel has been with Microsoft for almost a month and comes from a project management background in Oil & Gas. Working at a small EPC, Nigel worked on facility and pipeline projects from conception to completion. Nigel oversaw a multi-disciplined project team and it was his priority to keep the clients apprised on project work, give them the best solution and complete the project on time and within budget.
Nigel is bringing those same client driven behaviours to Microsoft to give existing business clients a high level of service and to build new business relationships. Nigel can assist new and existing clients in choosing the best Microsoft devices and services for their business needs. Nigel is approachable, attentive and ready to help!
EVENT DETAILS
Date:         Tuesday Sep 24 2019
Time:         6:00 PM - 8:00 PM
Place:        Microsoft Store on Main Level at North End of Chinook Centre Mall
Cost:         FREE for all attendees (Guests & friends are welcome to register for this free event)
                  Come Check Out the New Line of Surface Devices and Learn More About CIC.
                  If you decide to join:
                  New CIC Regular Membership: $30 (through Dec 31 2019)
                  New CIC Student Members: $6 (through Dec 31 2019) – Valid Student ID is Required
Payment:   Visa/MasterCard via Eventbrite (Note: S/C & Eventbrite fees apply)
                  Interac e-Transfer to programs@calgaryitpro.org
                  Cash/Cheque at the door.
Note:         Complimentary Light food & refreshments will be available for attendees.
About Our Sponsors
iTech – Platinum Sponsor
iTech is Canada's leading portfolio of IT technology conferences and exhibitions focusing on Infrastructure, Cloud, Security, Data Centre, Virtualization & Mobility.
At iTech you will have the opportunity to; discover new cutting edge products & services, network & meet new people in the industry, stay up-to-date on the latest technology trends, see technology in action through live demonstrations, attend conference seminar sessions, research information to enhance your IT strategy, enjoy this Local event right in your backyard!
IBM Canada – Meeting Venue
In 2017, IBM was 100 years old in Canada. This century has been driven by innovation that matters to our clients, our people, our country and the world. We are proud to be part of a company that has dedicated a century to finding solutions to contemporary challenges with a vision of the future. Innovation, transformation, and pioneering have always been part of our culture. This second century of IBM will continue to change the world.
IBM Canada donates free use of their meeting rooms for our regular monthly technical meetings. CIC recognizes and thanks IBM Canada for their valuable in-kind sponsorship.
Inter Pipeline Inc – Board Meeting Venue
Inter Pipeline is a major petroleum transportation, storage and natural gas liquids processing business based in Calgary, Alberta, Canada. IPL owns and operates four business segments in western Canada and Europe. Their pipeline systems span over 7,800 kilometres in length and transports over 1.4 million barrels per day (b/d).
Inter Pipeline also operates 23 strategically located petroleum and petrochemical storage terminals in Europe, which have a combined storage capacity of approximately 37 million barrels. IPL's NGL business is one of the largest in Canada, processing an average of 3.3 bcf/d in 2018, with the capacity to produce over 240,000 b/d of NGL.
IPL allows CIC Directors free use of their facilities for their monthly meetings. CIC recognizes and appreciates IPL as a valued in-kind sponsor.
True North Group Inc – Various
True North Group Inc. provides exclusively Canadian integrated cloud, managed IT and security services as well as professional IT consulting to small and mid-market enterprises. True North Group has provided door prizes at many events as well as contributions toward CIC's operational funding.
Microsoft – Office 365
Microsoft supplies the Calgary IT Pro Community Association with a free 25-seat Office 365 E3 subscription for the leadership team and committees.
When & Where

Microsoft Store
Chinook Centre - North End of Mall on Main Level
6455 Macleod Tr SW
Calgary, AB T2R 1R9
Canada

Tuesday, 24 September 2019 from 6:00 PM to 8:00 PM (MDT)
Add to my calendar
Organizer
About us:
The Calgary IT Pro Community Association ["CIC"] is a registered not-for-profit society incorporated April 28 2008 under the Alberta Societies Act.
Purpose
The purpose of the Calgary IT Professional Community Association ["CIC"] is to provide information technology professionals and consultants in Southern Alberta with opportunities for professional development, social networking and sharing knowledge with peers in a non-competitive environment.
Vision
Our vision is to become the leading IT professional user group community in Canada
Mission
Our mission is to present quality technical programs, offer unique special-interest groups for technical and business practice areas, cultivate strategic partnerships with leading vendors and encourageactive member participation through volunteer engagement and social interaction opportunities.
Values
Our values hinge on honesty, integrity and trust in everything we do.Our members strive to honour every commitment they make to the best of their ability and to meet or exceed expectations when delivering on those commitments.
We value balance in one's work, family and community – providing good service and expertise for fair compensation so that families are supported and nurtured and our communities are enriched through the work and volunteer efforts of our members.
Membership Information:
Membership in CIC is open to anyone interested in joining and contributing to the organization. Regular meetings are usually held on the 3rd Tuesday of each month. You are encouraged to attend and participate actively.
Membership dues for 2019:
Regular Members: $120 (Jan 01 – Dec 31)
Students w/ ID: $24 (Jan 01 – Dec 31)