Description
Braid St Studios Pro-D Day Arts & Crafts Day Camp
October 24 9-3pm
Ages 7-12 $40+ GST
Our day camps are designed to encourage and support the art skills your child already has and to help them learn about some of the world's greatest artists and influencers in art history. The focus for this day camp will be Picasso and children will participate in a variety of mixed media activities such as painting, print making, drawing, and a variety of other projects. Story-telling and physical activity will be incorporated into the daily tourine. All materials included.

Your child will have a number of projects to bring home that they can be proud of. Teachers also give specific commendation at the end of the day to the child & let parents/guardians know what areas they feel the child excels in so this talent can be encouraged in the future.

Camp days run rom 9:00am - 3:00pm daily. Doors open at 8:45. Please provide a lunch and two snacks for the day. We also ask that you exclude anything with nuts to avoid any concerns with allergies.
Please register early to ensure a spot. Registration ends November 7 at 9:00pm.
REFUNDS & CANCELLATIONS

We realize that "life" sometimes happens. If something serious comes up please give us a call at 778-886-5391 to let us know about the situation. We generally do not provide refunds unless classes are cancelled by 100 Braid St Studios but we will most certainly issue a credit for another 100 Braid St class or program.
PAYMENT
Option #1: Payment can be made throught the website and eventbrite-the most secure & quickest way to ensure your child has a spot.
Option #2: Payment can be made in person at the studio through Square prior to the event to ensure your child's spot.
Option #3: Payment can be made in person at the studio with cash prior to the event. Please call us first at 778-886-5391 to get the exact amount as we do not have or keep cash on the premises.

FAQs
Why do some classes have age requirements?
We provide classes for all age groups: adults, youth, and children. Some events are 16+, because of both subject and dexterity; others are geared toward children or youth and others are for the entire family where everyone can work together (no age restrictions).
Do your teachers have criminal records checks?
Yes. All of our teachers and staff are required to have criminal records checks completed. 100 Braid St Studios is a working art studio and there may be artists who working in their individual studios during class time. Studio space is separated from the class/workshop areas however there are common areas. We do not require artists to have a criminal record check.
What are the benefits of having kids art classes in an actual studio or gallery?
Here at 100 Braid St we provide unique insights into the world of art. Our mission is to serve as an inclusive, creative learning centre.
Our studio layout is such that all of the working artist studios can be viewed from our class/workshop area and serve as inspiration for many of the things we do. One of our philosphies is to demystify art and to make it accessible to all so we find that when students are surrounded by art it becomes less intimidating, more approachable and doable. It often makes them more willing to experiment and try new things.

Secondly, all of the teachers who lead classes are either emerging or professional artists or artisans themselves & many of them have a working studio within the space. Throughout the classes our teachers emphasize that they too are artists and still learning--in fact the learning never stops & art is all about experimenting, growing and changing.

Thirdly, when other100 Braid St Studio artists come to work in the studio during class times there is the opportunity for students to meet them and ask questions. At times impromptu art lessons and discussions happen which can have profound effects on students and their confidence. Meeting "real" artists who make a living at their art is a unique experience not readily available in any other venue in the lower mainland.

What is your refund and cancellation policy?
We realize that "life" happens. If something serious comes up please let us know & we will see what we can do. We generally do not provide refunds unless classes are cancelled by 100 Braid St Studios. If a child misses a class or the purchaser cancels, a credit may be able to be issued for another 100 Braid St program.
What are my transport options getting to the studio?
By Car: The studios are conveniently located just off of Hwy 1 on Braid St between Rousseau and Brunette. There is a small parking lot in front of the building where you can drop off your child. Parking is available during Strike camps in the back parking lot only.
By Skytrain:
Millenium Line: Braid St Station.
100 Braid St Studios is about a three minute walk across the street from the Braid St Skytrain station. The station is the major interchange with skytrain for many Coquitlam and New Westminster bus routes.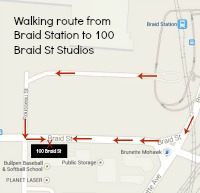 By Bus:
Many Coquitlam and New Westminster bus routes meet at the Braid Station interchange and then it's just a short walk to the Studios.

How can I contact the organizer with questions?
Please email at: 100braidststudios@gmail.com
Phone: 778-886-5391
Hours of operation:
Monday - Friday 9:00am - 9:00pm
Saturday 1:30am - 9:00pm
We look forward to seeing you!
Read what others have said about our programs:



Art School during teachers strike: Last week our daughters 9 and 10 went to art school for the whole week, A couple of their friends came for a couple of days and were as enthused as our girls. They could hardly wait for the next day and came home in joyful exuberance. The teachers encouraged, followed and develop

ed the creativity of each child. Every day the children studied an artist then made their own work in that style. The program included art history, colour theory, and techniques. At days end the children participated in clean up, willingly. The last day the gallery was hung with the little artist's work and they hosted their "opening". Just as good as school. Tekla
Took the kids here for the day and they had a blast! They brought home many good art pictures. Definitely will bring them back again. Julie
We are so impressed with how well the kids have done this week. We've watched their skills develop each day due to your teaching and building their confidence. Sincerely, A