Proactive Planning: Best Practices for Virtual & Hybrid Meetings - Donnelly
Proactive Planning: Best Practices for Virtual and Hybrid Meetings, with Shelagh Donnelly
About this Event
Proactive Planning Amid New Norms: Best Practices for Virtual and Hybrid Meetings - 75 minutes
Our world has changed, and so have meeting practices. As people around the globe shifted away from office environments and began working remotely, you and your colleagues had to quickly adapt. In many instances, that meant learning to use new technology.
Virtual meetings have become a fact of life. Whether you're currently supporting and recording meetings in person or remotely, it's reasonable to anticipate that the former status quo may well be replaced by hybrid meeting practices. It's anticipated that a significant number of people will continue to work remotely, at least some of the time. Even if you're supporting meetings in the office with some participants seated at the table, there's a good likelihood you'll find others wanting to participate at least occasionally via web platforms.
2020 meeting practices may have reflected a reactive mode. Now, you have an opportunity to be proactive in contributing to the identification and adoption of best practices for meetings. Join Shelagh to look at best practices that can help position colleagues to be prepared, present and participating – and help you focus on recording meetings even while managing multiple screens and stakeholders.
Key learning points
1. Rethinking agendas and logistics
2. Meeting dynamics and etiquette
3. Protocols
Included with your registration
30-day access to recording of our session
PDF companion workbook, to download and use as you watch the recording
certificate for your professional development portfolio
About your trainer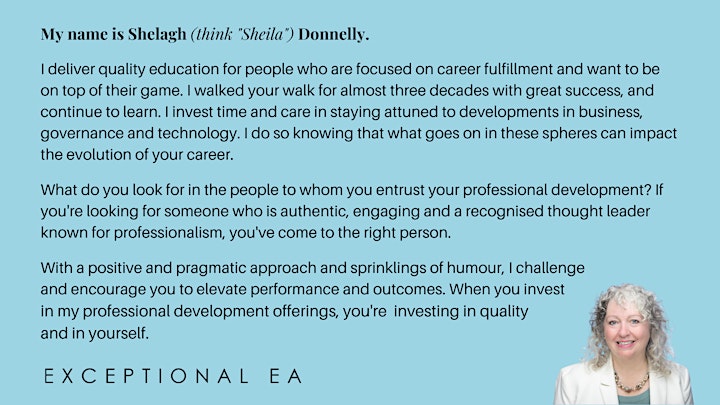 Invest in your career with someone who's walked the walk and presents on current best practices
Shelagh is trusted and respected by assistants and employers around the globe. She has been publishing her Exceptional EA website since 2013, and writes for other publications. An in-demand trainer, Shelagh works with conference organisers, professional associations, government bodies, higher education and businesses, including corporations such as the NBA.
For Shelagh's bio and a sampling of clients and references, please click here.
Registration fee
The fee for each webinar in this pandemic series is $55 US. Depending on currency fluctuation rates, that's approximately £44, or €50.
Canadian residents registering for this webinar will see that GST of $3.52 CAD is included in the cost.
What's included in this registration fee?
This is a live, 75-minute webinar that Shelagh will present via GoToWebinar. You'll receive your unique access link via a GoToWebinar email within 24 hours of registration.
After the webinar, Shelagh will email you a certificate of attendance that will come in handy for tracking and showcasing your professional development.
You'll also have access to a recording of the webinar for 30 days post-event. This can come in handy if you'd like to review a concept, and if time zones or people throw your schedule for a loop the day of a webinar.
As well, Shelagh has prepared a companion workbook for you. Shelagh publishes this along with the session recording, and it's ideal to download and have at hand as you watch the recording.
Speaking of time zones ..
Check out the weekday and time in your time zone. You'll find some time zones shown below, and it's always helpful to use an online converter; click here to access one.
DATE SHOWN ABOVE
10:00 a.m. MST, PDT |  11:00 a.m. MDT |  12:00 p.m. CDT |  1:00 p.m. AST, EDT |  2:00 p.m. ADT, BRT |  18.00 BST, WEST |  19.00 CEST, SAST |  20.00 TRT |  22.30 IST
NEXT DAY IN THESE TIME ZONES
01.00 HKT |  02.00 JST |  03.00 AEST |  05.00 NZST
Date and Time
Location
Refund Policy