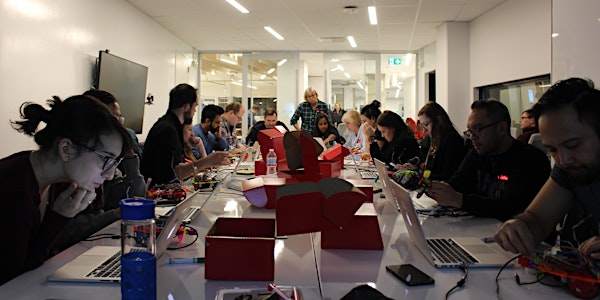 Processing Community Day @ RTA
Join us for this drop in style event featuring workshops and object explorations on creative code led by New Media students, staff & faculty
When and where
Location
122 Bond St 122 Bond Street Toronto, ON M5B 1E9 Canada
About this event
Processing Community Day:
A focus of this project is to make learning how to program and make creative work with code accessible to diverse communities, especially those who might not otherwise have access to these tools and resources. The first Processing Community Day (PCD), organized by Taeyoon Choi and the Processing Foundation in 2017 was one of our efforts to improve diversity within the art and programming community. Taking place at the MIT Media Lab, PCD 2017 drew community members from all over the east coast to get together in person to meet, share what they're working on, to learn, and collaborate.
The reach and impact of this community has been broadened by organizing with hundreds of Processing communities around the world. We are taking part as one of the Node organizers for PCD 2020. Learn more about what we have to offer below!
Choose Your Own Adventure Coding
This self led workshop will feature various coding explorations and support persons for deeper knowledge and understanding of the power of processing and p5.js
Networked Object Exploration
Learn about connecting disparate physical spaces via code by interacting with Processing Community Day participants across the city at InterAccess gallery through our networked object experience.
Coding Beautiful Imagery in Processing
Workshop led by 4th year New Media student Megan Schoeppich. Images below

Processing is a free and open-source software platform for code within the context of the visual arts, created by Casey Reas and Ben Fry. It is complemented by a web version, called p5.js, created by Lauren McCarthy. To date, Processing and p5.js are used by a worldwide community of artists, coders, educators, and students.
Additional information on Processing Community Day can be found at day.processing.org