Description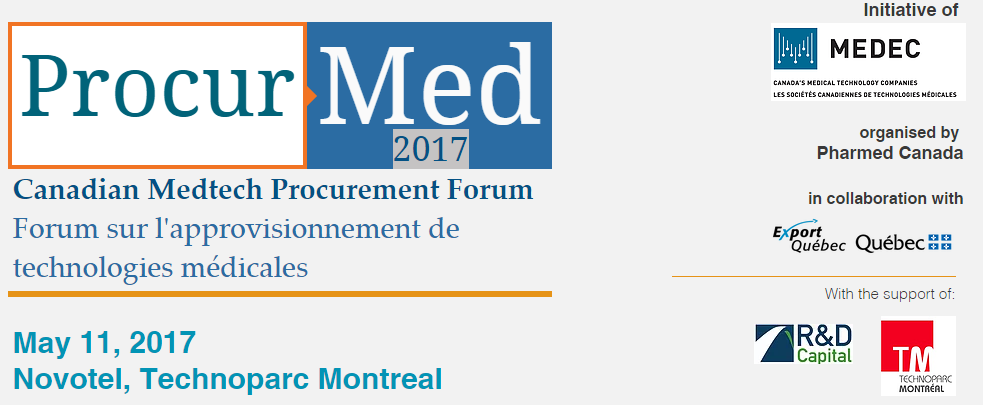 ProcurMed is a one day MEDEC initiative (www.medec.org), organized by Pharmed Canada (www.pharmedcanada.ca), in collaboration with Export Québec . A hundred attendees are expected to participate at this second edition.
The objective of the Forum is to give medical technology suppliers (SMEs in particular) an opportunity to learn about the medical devices, equipment and supplies purchasing processes throughout Canada. Participants will come mainly from Ontario and Quebec.
To that end, purchasing groups' representatives from different provinces will be on site to share their procurement process for medical technologies to a wide range of vendors. Other speakers will be onsite to provide useful information to the participants as well.
Procurmed est une inititave de MEDEC, l'association canadienne de l'industrie des technologies canadiennes, en collaboration avec Pharmed Canada, le réseau des fabricants et sous-traitants de l'industrie de la santé et de Export Québec.
Ce premier forum vise à faciliter l'accès des PME canadiennes et québécoises de technologies médicales aux marchés des réseaux publics de santé au Canada.
Il vise à aborder également la question des processus d'approvisionnement intelligent (Smarth Procurement) afin de permettre aux réseaux publics l'accès aux nouvelles innovations en santé et aux nouvelles pratiques de prestation de soins de santé intégrant les nouvelles technologies.
A cette occasion, des représentants et décideurs des principaux regroupements canadien d'achats de technologies médicales viendront présenter les processus d'acquisition et de leurs politiques en matière d'expériementation et d'intégration de nouvelles innovations en santé.