Description
Speakers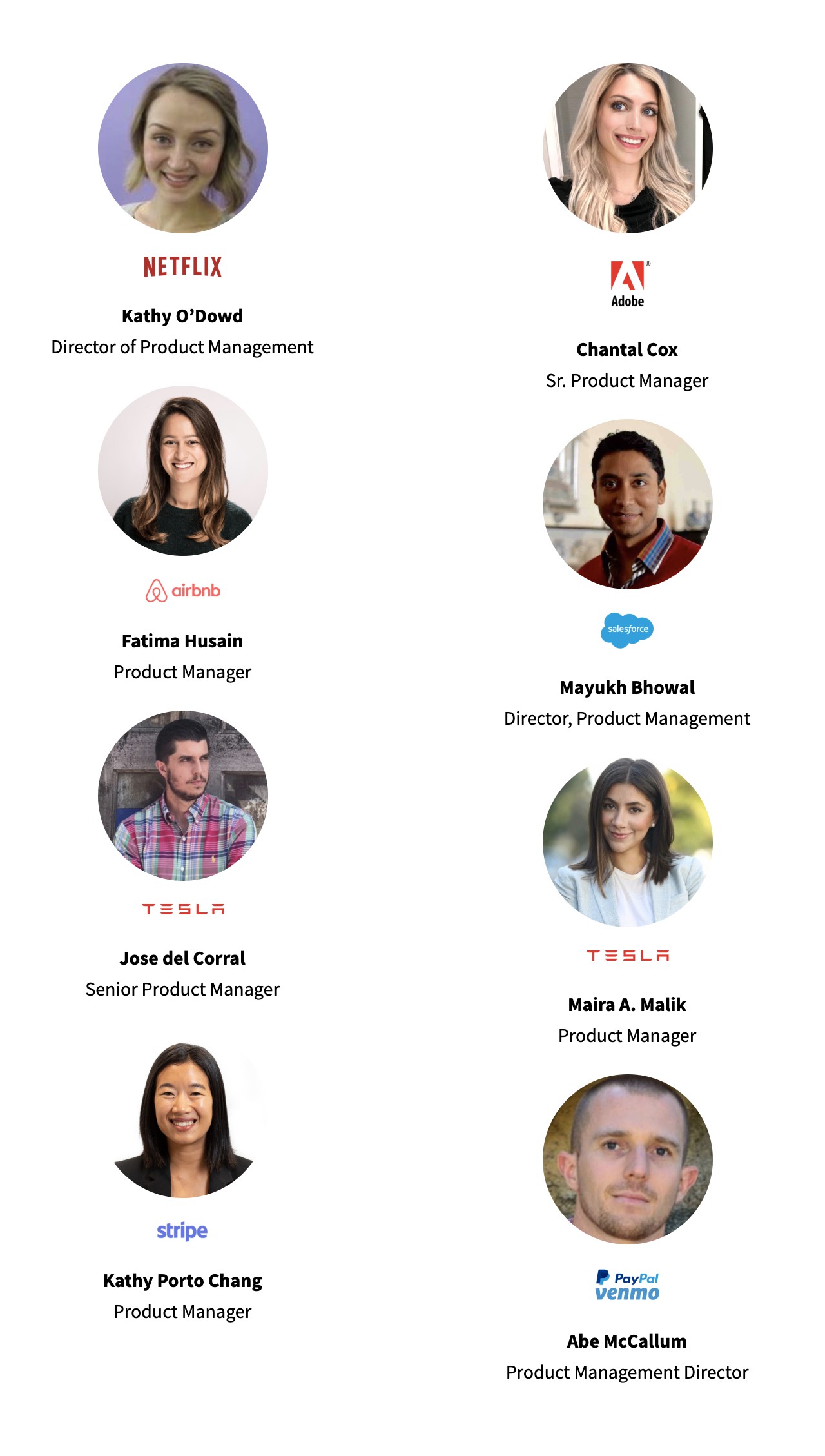 Why attend?
This is where the world's leading product people share practical advice on building products that users love and how to become great product leaders. Some of the most talented minds in the industry will come together and share case studies, tactics, strategies, and insights to give you a new perspective on product management.


Schedule

9:30 AM
Registration

10:30 AM
Kathy Porto Chang, Stripe

Prioritizing User Delight. It can be hard to figure out what product features will delight your users -- and even harder to prioritize them in your full roadmap. Learn about when and how to introduce features that are focused on delighting your users.

11:00 AM
Jose del Corral, Tesla

11:30 AM
Chantal Cox, Adobe

I am currently leading the Photoshop growth squad of at Adobe focusing on the Activation part of the funnel. I will be talking about our vision, strategy and how we run experiments in several "Surfaces" to and drive key insights that allow us to launch successful features and products.

12:00 PM
Lunch

1:30 PM
Maira A. Malik, Tesla

2:00 PM
Abe McCallum, Venmo / PayPal

2:30 PM
Fatima Husain, Airbnb
Building a paid growth engine: An interconnected system of marketing, ad technology and robust data infra reaching millions of people, inspiring them to take action, and empowering companies to drive acquisition efficiently and at scale.

3:00 PM
Coffee Break

3:30 PM
Mayukh Bhowal, Salesforce
AI is quietly transforming the product management role. There is an evolution in Product Management correlated with the shift from the digital revolution to the AI revolution. As AI and ML eat software, more and more PMs need to level up their skills to manage these products and provide requirements and specifications which will add value to the data engineering and data science teams. This will lead to actually solving customer pain points and not just building a cool technology solution.

4:00 PM
Kathy O'Dowd, Netflix

Building products for a high-growth company. Kathy O'Dowd talks about how the Netflix MarTech team builds to support Netflix's rapidly growing Marketing team in their quest to make the best of the company's $2B and rising annual global marketing budget.

4:30 PM
Reception


Are meals included in the ticket price?
Yes, delicious meals will be provided to you all day.

Can I change the name or other details on my tickets?
Yes, you are free to change your ticket details up to 7 days before the conference, including name, title, etc. Please do make sure these details are correct as they will be what we show on your badge. Just log in to eventbrite and make the changes, following these instructions.

Can I get a refund?
We offer a full refund up to 30 days before the conference. Simply log in to eventbrite and request the refund following these instructions.