ProductCamp Ottawa 2014

Saturday, 1 November 2014 from 8:00 AM to 4:30 PM (EDT)
Event Details
ProductCamp Ottawa is the premiere event for Product Managers and Product Marketers in the Ottawa-Gatineau area.Tickets are going fast, don't miss out on this annual event! 
Please register your interest and get in the loop for future communication. 
Date:

Saturday, November 1, 2014

Location:

CaseWare Offices @ St. Laurent Shopping Centre (1200 St Laurent Blvd, Unit 004)

Attendance is limited to 120 so register early! 

ProductCamp Ottawa is currently seeking speaker submissions! 
Interested in presenting an idea, leading a session, or facilitating a discussion at ProductCamp?
---
About Product Camp
Organized by the Ottawa Product Management Association (OPMA), ProductCamp Ottawa is a free, user-driven, collaborative unconference for Product Managers, Marketers, and related professions.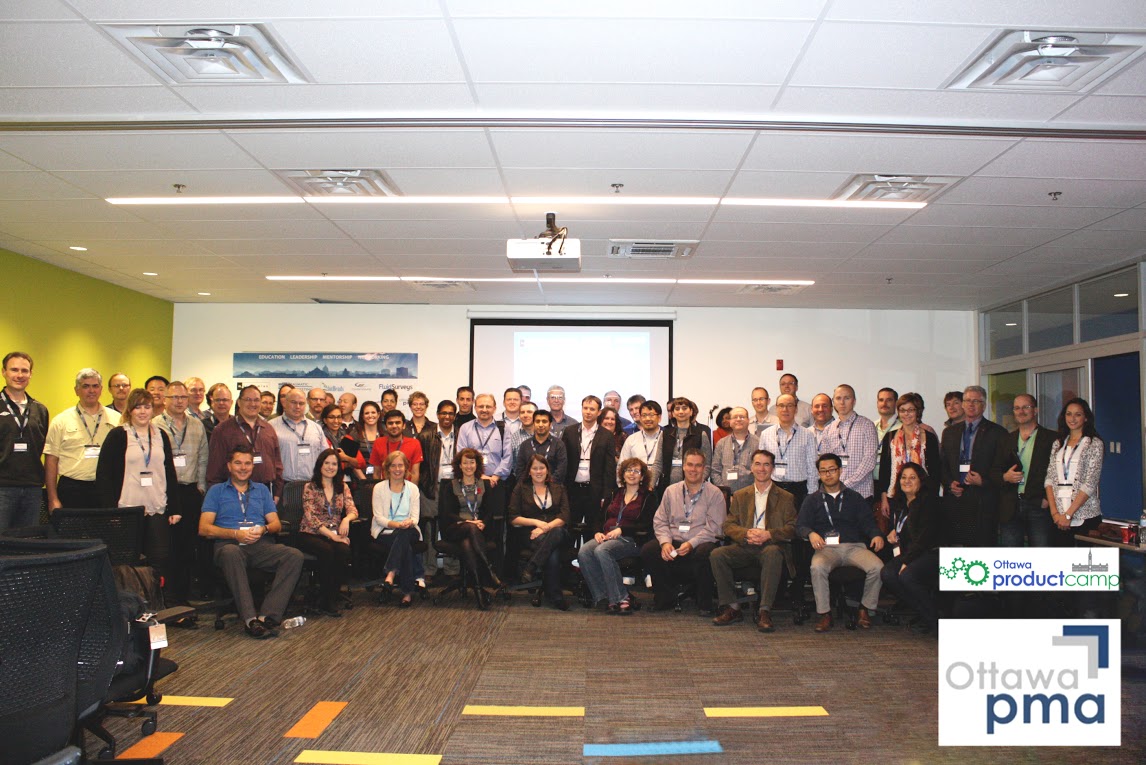 ProductCamps have been gaining momentum around the world. Camps have taken place in the US, in the Netherlands, Russia, Germany, Australia,  and the United Kingdom. In Canada there are camps in Vancouver, Toronto and Montreal.
While they all follow the ProductCamp ethos each is uniquely different, driven by the participants themselves. This is our second event and we are looking to you, the Product Management Community in Ottawa-Gatineau, to show the world that Ottawa-Gatineau is not only the place to go for R&D talent but for Product Management expertise also.
ProductCamp Ottawa represents a great opportunity to network with like minded people, learn and have fun. More than that It provides a much needed platform for you to share your views and lead the discussion on issues facing our Product Management community - it can't do your personal or company brand any harm either!   
•Keynote Speakers and Topics:
Scott Annan, Founder & CEO of Guides.co.,"Why Ottawa is the Last Place on Earth to Build a Great Product" 

Michael Hughes, Founder of NfR Consulting Group and known as THE Networking Guru "The Value of Relationships and Networking" 

Peter R Fillmore, CEO & Founder at SmartFunnel.com, "The Brutal Truth - Smart Funnel, The Real Story of a New Product in a New Company"
•Workshops & Presenations 
View proposed sessions HERE
•Coffee, light snacks and lunch provided! 
The key to a successful event is the level of participation by the attendees (participants as they are known). If you have something to say (and as a Product Manager we know you do!) visit our ProductCamp Ottawa website to submit your proposal. If you can't commit to leading a session, no problem, we will be just as happy for you to come as a regular participate.  
When & Where

CaseWare Office, Ottawa (top floor of St Laurent Shopping Centre)
1200 St Laurent Boulevard
Unit 004A
Ottawa, ON K1K 3B8
Canada

Saturday, 1 November 2014 from 8:00 AM to 4:30 PM (EDT)
Add to my calendar
Organizer
Ottawa Product Management Association (OPMA); leaders in commercialization
OPMA facilitates education, mentoring, and networking opportunities. Our membership includes hundreds of product managers, marketing professionals and executives from many leading companies and institutions in the Ottawa-Gatineau region.
OPMA; share, learn, grow
Monthly network meetings with on topic keynote speakers.
Each month, guest speakers and/or panellists SHARE their personal experiences while cover pressing issues impacting business, innovation and our local community: Please visit our events page to see past presentations: www.ottawapma.org
Annual ProductCamp Ottawa
Providing like-minded individuals charged "with making it happen" the opportunity to network, share experiences and LEARN from each other
Mentoring
Online discussion boards and mentorship program with face-to-face meetings that help our members to GROW their business skills and knowledge
Our Sponsors
Many thanks to our sponsors, without their help our events would not be possible, if you are interested in finding out about the many benefits of becoming an OPMA sponsor, please visit the sponsorship page on our website: www.ottawapma.org
OPMA Platinum sponsor: http://www.pragmaticmarketing.com/
OPMA Silver Sponsor and monthly networking meeting host:  http://www.bitheads.com/
OPMA Sponsor in kind; annual ProductCamp Ottawa host:  https://ribboncommunications.com
OPMA Sponsor in kind; member & association software provider: http://www.member365.com
OPMA Sponsor in kind; ProducCamp twitter wall provider: http://www.tweetbeam.com