Description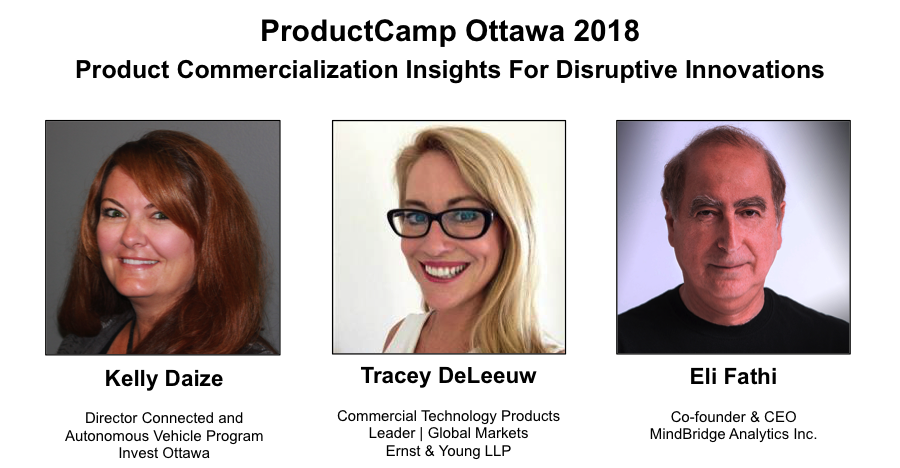 ProductCamp Ottawa 2018 brings you "Product Commercialization Insights For Disruptive Innovations" with expert keynote speakers knowledgeable in innovative ventures. They will share insider stories and tips on how to manage and scale disruptive products in areas such as Artificial Intelligence (AI), Smart Cities, Autonomous Vehicles (AV) and other innovations. Attend and learn from industry experts, listen to inspirational talks, participate in interactive sessions, and enjoy quality networking throughout the day.
Because it is an "unconference", ProductCamp Ottawa gives you the chance to share your experience, expertise and lessons learned with attendees, providing they vote for your topic. Interested in taking the lead? Then check out the session submission process here.
Learn, Share and Grow!

Who should come?
ProductCamp is ideal for professionals and entrepreneurs working in product commercialization, including business development, marketing, sales, product management, UX, research & design etc. It's also a great opportunity for those who wish to learn more, expand their knowledge and network within this community.
Agenda
Hear from notable keynote speakers about the latest disruptive innovations, join breakout sessions, tackle specific topics and themes, and end the day with a networking social.
Keynote Speakers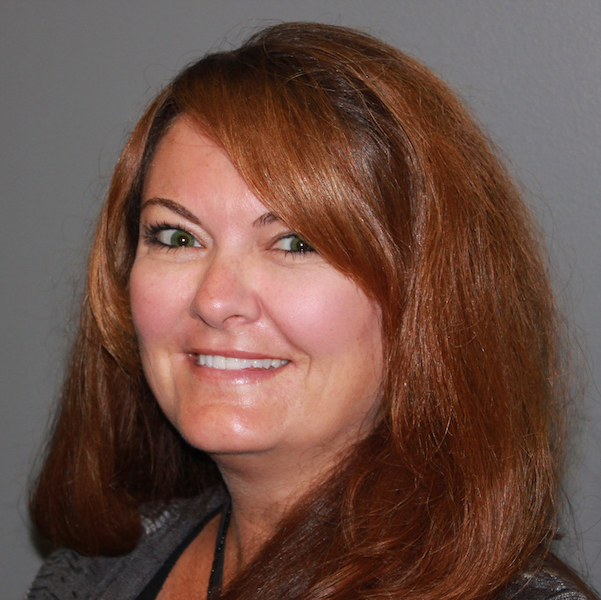 Kelly Daize
Director of Autonomous and Connected Vehicle Program, Invest Ottawa
Kelly has over 20 years of experience in both technology companies and not-for-profit organizations. In her role at Invest Ottawa, Kelly has been responsible for the attraction of investment, companies, and people to the region; additionally, the branding and marketing of Canada and support for the growth of ICT companies in Ottawa. She has successfully won and managed large government programs, and has a proven track record working with all levels of government. Kelly has an extensive network of contacts, both in Canada and abroad, and has led trade missions to high technology centers around the globe.
Prior to joining Invest Ottawa, Kelly has held progressively senior roles in legal, sales and business development in organizations such as QNX, Corel Corporation, Nortel spinoff NetActive and CENGN.

Tracey DeLeeuw
Commercial Technology Products Leader | Global Markets
Ernst & Young LLP
Tracy is an innovation champion. In her current role, she co-drives EY global revenues, co-creates revenue generating global commercial technology products with the Digital Products and Solutions group, and helps the adoption of existing and new solutions.
Her strength is building long-lasting relationships, and applying the design thinking process throughout the product/service lifecycle.
Her achievements include starting one of Canada's first eCommerce companies, designing an innovative smart building platform, co-implementing the 'intelligent post office', and creating the first crowdsourcing skills platform in Canada. She speaks regularly about tech and entrepreneurship.

Eli Fathi
Co-founder & CEO, MindBridge Analytics Inc.
Eli is the co-founder and CEO of MindBridge AI, a company that uses artificial intelligence and machine learning technologies to uncover errors in financial data. He is motivated by bringing recognition to Ottawa's artificial intelligence sector, providing opportunities to those that may otherwise be overlooked and is passionate about giving back to the community.
A tech veteran and a serially successful entrepreneur recognized with multiple awards and featured in numerous publications., Eli has a master's degree in computer engineering from the University of Ottawa and was the 2016 Alumnus of the year at Algonquin College.
Sessions by YOU! Take the Lead at ProductCamp!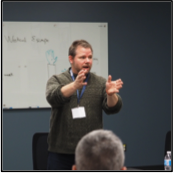 As a member of the product commercialization community, you are encouraged to share your knowledge by proposing to lead a 30-40 minute session on a topic of interest to the audience.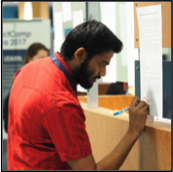 Proposed sessions undergo a voting process by the attendees on the day of the event. You get to present your session if it gets top votes. Interested?
To learn more check out http://ottawapma.org/product-camp-ottawa/submit-a-session/
Networking
Practice your elevator pitch at a fast-paced, high-energy speed networking session where you'll get a chance to make a meaningful connection with a handful of people, share a few laughs, gain some insights, and rev yourself up for our afternoon workshops. All that in 30 minutes or less!
Prizes
Invite your friends to join you at ProductCamp and enter a draw to win $100 each. All they have to do is list your full name in the referral box during their online registration.
Bring your business card… enter it in a draw at the registration desk on site for a chance to win a door prize at the end of the day. Remember you need to be present to win.
Food
Enjoy continental breakfast…
Delicious and healthy lunch (chicken and vegetarian)
Refreshments during breaks
Live Jazz
Relax at the end of the day with a drink, and chat with friends while listening to premium live music played by Davina Pearl Duo, led by accomplished saxophone player and band leader, Davina Pearl!
The day cannot get better than thatJ
Tickets
Don't miss this unique, informative, interactive and fun event!
This event is very popular and seats are limited. Reserve your seat now before its too late!
Want to Help?
To help out with ProductCamp as a sponsor, session leader or volunteer, please contact halahawa.pmp@gmail.com.
Many thanks to our generous host, Ribbon Communications (formerly GENBAND).