Event Information
Location
Edward Johnson Building
80 Queens Park
Toronto, ON M5S 2C5
Canada
When Youth Musicking is Play
About this event
Dear friends and colleagues,
We cordially invite you to attend our fourth event of the 2021-22 Music Education Colloquium Series: "When Youth Musicking is Play," a guest talk by Professor Leslie Stewart Rose from the Ontario Institute for Studies in Education (OISE).
About the talk
Prof. Leslie Stewart Rose will share insights from her quest to understand why music is so important to youth. Drawing on the sophisticated ways that youth describe their musicking, she will explain her understanding of how play-based musicking contributes to learning and wellbeing. Finally, within the context of today's collapsing music education programs in Ontario, she will raise important implications for educators—especially classroom music educators.
About Prof. Leslie Stewart Rose
Prof. Leslie Stewart Rose is an Associate Professor, Teaching Stream in the department of Curriculum, Teaching, and Learning at OISE. Her teaching and research focus on play, games & learning, critical pedagogy, well-being, dialogic inquiry, music education and teacher professional learning. She served as a director in two of OISE's teacher education programs, and is currently the faculty advisor to the OISE Student Success Center, and founding director of The Play Lab.
Suggested readings
Stewart Rose, L., & Countryman, J. (2021). When youth musicking is play. Research Studies in Music Education, 43(3), 465–480. https://doi.org/10.1177/1321103X20936380
Countryman, J., & Stewart Rose, L. (2017). Wellbeing in the secondary music classroom: Ideas from hero's journeys and online gaming. Philosophy of Music Education Review, 25(2), 128–149. https://doi.org/10.2979/philmusieducrevi.25.2.03
Stewart Rose, L., & Countryman, J. (2013). Repositioning 'the elements': How students talk about music. Action, Criticism, and Theory for Music Education, 12(3), 45–64. http://act.maydaygroup.org/articles/RoseCountryman12_3.pdf
The colloquium coordinators are happy to provide a PDF copy of these texts upon request.
Event details
Due to COVID-19 restrictions, this event will take place online exclusively. A Zoom link will be sent to your email upon completing this registration.
Our video-conference streaming will include auto-generated captioning. In addition, a recording of the event will be available upon request to anyone registered but who cannot join us live due to a care-taking responsibility, a scheduling conflict, or other. If you require any additional accessibility accommodations, please, let Prof. González Ben know in advance so that we can arrange accordingly.
With best wishes for the new year,
Antía González Ben, Ph.D. (she & ella), Series Coordinator, a.gonzalezben@utoronto.ca
Esther Khew (she/her), Assistant Coordinator, esther.khew@mail.utoronto.ca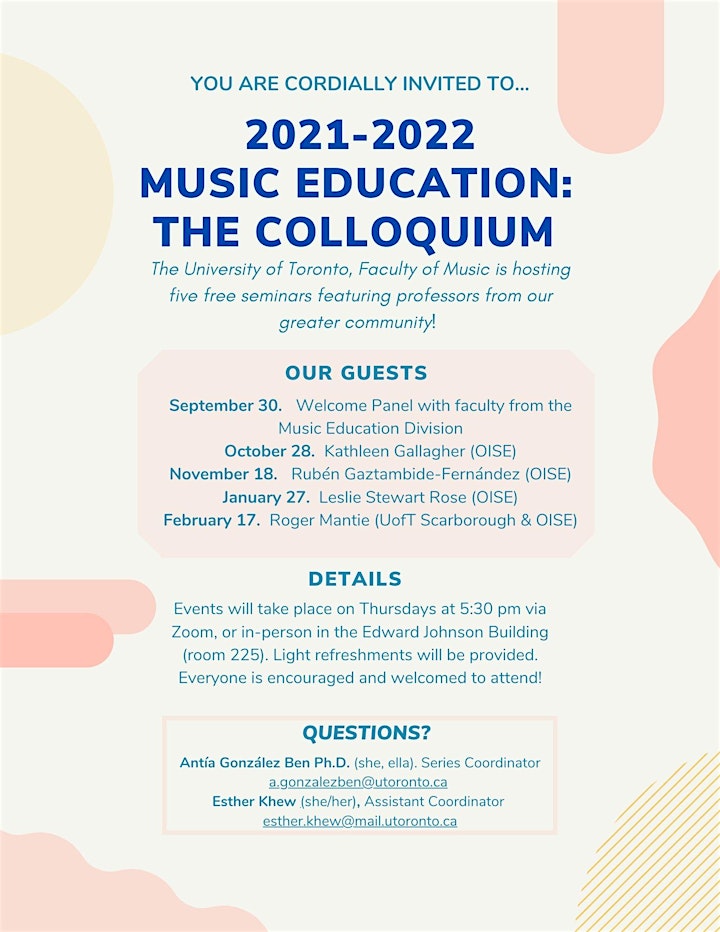 Date and time
Location
Edward Johnson Building
80 Queens Park
Toronto, ON M5S 2C5
Canada