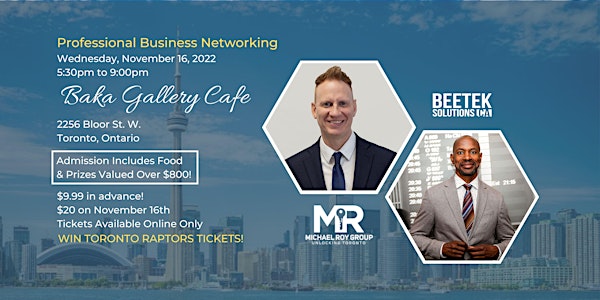 Professional Business Networking
One of Toronto's best events is back! Professional Business Networking, brought to you by MichaelRoyGroup.com and BeetekSolutions.ca
When and where
Location
Baka Gallery Cafe 2256 Bloor Street West Toronto, ON M6S 1N6 Canada
About this event
Please be advised that when tickets are sold out online, tickets will NOT be available at the door. No more guests will be allowed into the event once tickets are sold out online!!! We're sincerely thankful for your interest in our events and will do our best to accomodate everyone at our next event!
This will be a fun and professional business mixer, where your admission includes some of the best food on Bloor West Village, plus prizes valued over $800 with a chance to win Toronto Raptors Tickets, sponsored by MichaelRoyGroup.com and a Digital Marketing Package to help your business reach over 5,000 people, sponsored by BeetekSolutions.ca. The event is on the 2nd floor of Baka Gallery Café. We look forward to meeting some of Toronto's finest entrepreneurs and helping you grow your network!
SCHEDULE
5:30pm event starts for mingle and networking.
6:30pm there will be prize giveaways!
8:00pm there will be more prize giveaways!
9:00pm event ends.
EXHIBITOR OPPORTUNITY
Make a big statement for your brand in your own 5' x 5' exhibit space! Each space comes with one 3' x 3' table and one chair. If electrical power is required please bring your own extension cord that's at least 5 feet long. There will be 2 exhibit spaces available at $35 EACH. Exhibit space payment includes general admission for 2 people!
NOTE: No advertising materials can protrude outside the exhibit space. Exhibitors are not allowed to put any advertising materials on the walls and must not fastened anything to tables or chairs. Music or loud noise is prohibited in exhibit spaces. Business owners must get authorization to exhibit BEFORE purchasing exhibit space by providing full description of all products, services and activities that will take place in exhibit spaces . Failure to provide this information may cause cancellation of exhibit space and refund to the business owner. The event organizers reserve the right to shut down exhibit spaces WITHOUT refund if exhibitors fail to follow exhibiting rules! For authorization send email to support@beeteksolutions.ca
TICKETS & AGREEMENT
$9.99 EARLY BIRD PRICE! Ticket price goes up to $20 on November 16, 2022. ALL SALES ARE FINAL! NO REFUNDS! All guests are being advised that they may be photographed or video recorded at this event. Video and photography images may be used for marketing and advertising purposes by the event organizers, and their affiliates. By registering and attending this event guests agree that photo, and video images may be used for advertising purposes. By registering and attending this event guests agree to be added to our email list, and will receive event invites and other important information. We do not send junk mail and subscribers can opt out at anytime. A coat rack with hangers will be onsite at the event and guests are encouraged to not leave valuables in unattended coats. Event organizers and the venue are not responsible for lost or stolen coats, or items inside the coats.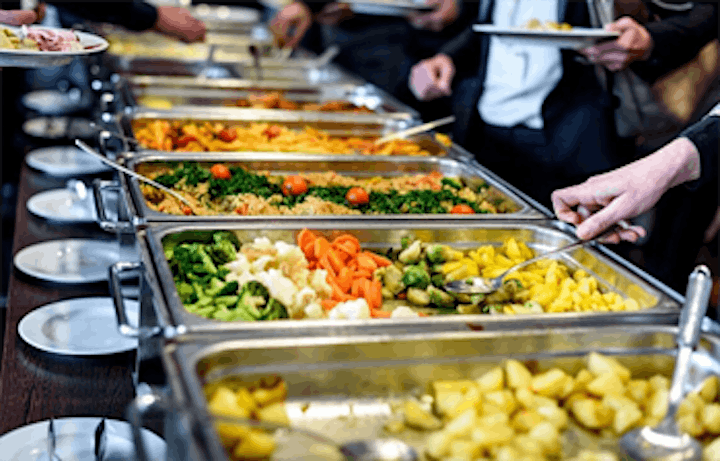 GUEST CHECK-IN
All guests must show government issued I.D. that matches the name on their ticket. Nobody will be allowed entry without I.D. matching the name on their ticket. There will be no refunds for anyone that fails to follow this simple rule.
HEALTH & SAFETY
Rude behavior and violence will not be tolerated. There is no mandatory vaccines or mask requirements for this event. However, if you are feeling ill DO NOT attend. Anyone that is obviously ill or causing any type of disturbance will be asked to leave and\or escorted off the premises.