About this Event
Hôtel William Gray presents;
PROHIBITION
Make indulgence your 2019 resolution!
A night of pure extravagance awaits you at Hôtel William Gray this December 31st, where everything prohibited is allowed. Cheers to the new year at our lavish party including decadent finger food stations and three cocktails per person before midnight. Put on your fancy attire and come dance with us!
When? Join us on December 31st at 9pm
Come as you are, but come in style.
Tickets are $200 per person, taxes and service included.
MENU
Bites
Arancinis, crab cakes, pulled duck burgers, pastry of goat cheese, edamames and beets, tomatoes & bocconcini, prosciutto & melon
Seafood station with animation
Lobster tails, shrimp, two sesames tuna tatakis, oysters
Salad bar
Pasta salad, quinoa salad, chef's green salad
Butcher's station with animation
Rib roast, roasted porchetta, caramelized onion marmalade, apple sauce
Vegan option available
*Served with vegetables et potatoes
Station of charcuteries and cheeses
Selection of local Quebec cheeses, selection of charcuterie : coppa, sopressata & prosciutto
Sweet table
Profiterol bar, pastry Chef's sweet verrines, donut Bar, fruit platter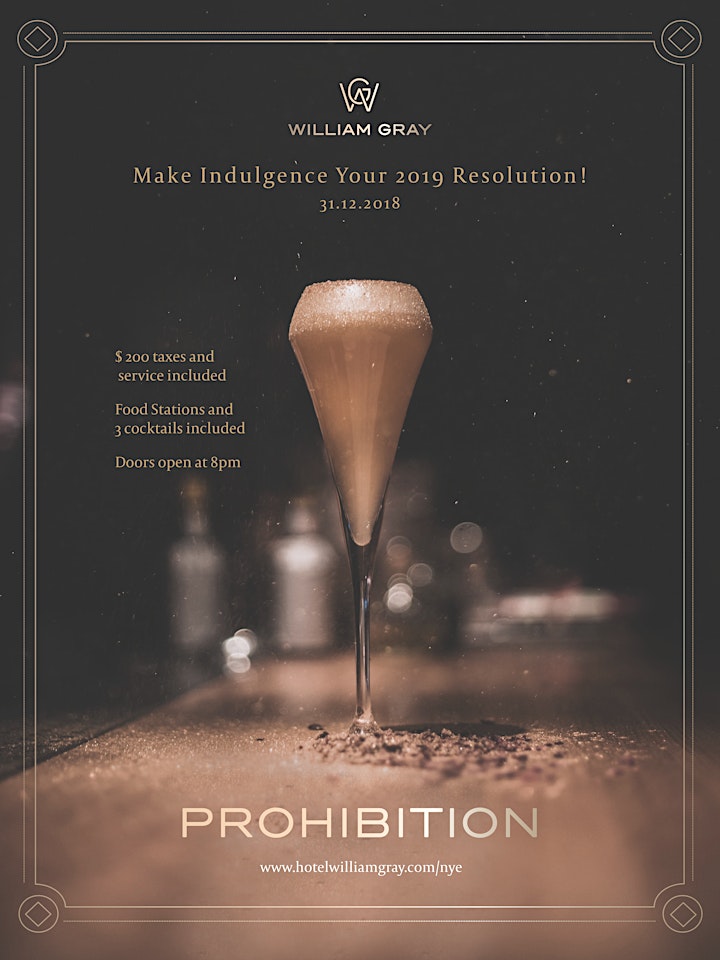 L'Hôtel William Gray présente;
PROHIBITION
Se faire plaisir, la résolution de 2019!
Une nuit de pure extravagance vous attend à l'Hôtel William Gray ce 31 décembre, là où tous les interdits sont permis. Venez célébrer la nouvelle année à notre soirée somptueuse et profitez de multiples stations aux canapés décadents ainsi que de trois cocktails par personne jusqu'à minuit. Enfilez votre tenue festive et venez danser avec nous!
Quand? Rendez-vous le 31 décembre à 21h
Soyez vous-même, mais avec style.
Les billets sont 200$ par personne, taxes et service inclus.
MENU
Canapés
Arancinis, crab cakes, carré d'agneau, burgers de canard effiloché, tartelettes au fromage de chèvre, edamames et betteraves, tomates et bocconcini, prosciutto et melon
Station fruits de mer avec animation
Queues de homard, Crevettes, Tataki de thon aux deux sésames, Huîtres
Bar à salade
Salade de pâtes, salade de quinoa, salade verte du Chef
Station du boucher avec animation
Côte de bœuf, Porchetta rôtie, marmelade aux oignons caramélisés, sauce aux pommes
Option végan disponible
*Servies avec légumes et pommes de terres
Station charcuteries et fromages
Sélection de fromages du Québec, sélection de charcuteries : coppa, sopressata & prosciutto
Table sucrée
Bar à Profitéroles, verrines sucrées du Chef pâtissier, bar à beignes, plateaux de fruits