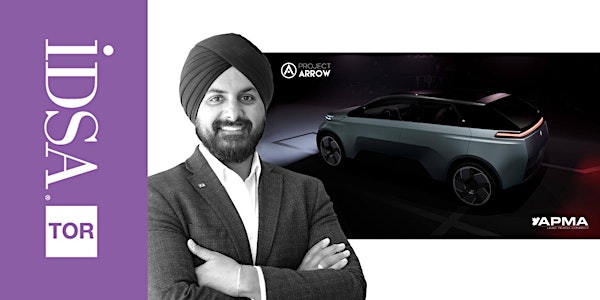 Project Arrow: Annual Mobility Design Competition- Colin Dhillon
Colin shares examples of past winning entries and discuss plans for the 2023 competition open to students in design programs across Canada.
About this event
IDSA-Toronto chapter has partnered with APMA, Autodesk, Meta and Pininfarina in this year's Project Arrow student design competition and welcomes Colin as he discusses past entries and the theme for the 2023 competition.
Background:
In 2020, the Automotive Parts Manufacturers' Association (APMA) of Canada launched the first, original, full-build zero-emission concept vehicle named Project Arrow.
An all-Canadian effort, it will be designed, engineered and built by our world-class automotive supply sector and post-secondary institutions. To answer the Prime Minister's call for a Zero-Emissions future by 2050, this project will bring together the best of the best of Canada's electric-drive, alternative-fuel, connected and autonomous and light-weight technology companies.
Colin will share entries from past competitions and outline the 2023 competition theme, open to students in post-secondary design programs across Canada.
Bio:
Colin Singh Dhillon is one of Canada's leading automotive innovation and design authorities, a globally sought-after voice on the ever-changing future of mobility and the holder of multiple patents. Today, as the Chief Technical Officer for Canada's Automotive Parts Manufacturers' Association and the Project lead on Project Arrow: Canada's first electric concept vehicle. His work in the fields of Connected, Autonomous, Security and Electrification of mobility (CASE) allows Colin to guide the automotive sector through the digital revolution.
Outside of work, Colin is the President of the Sikh Heritage Museum of Canada, and a #1 Best-selling author of the book, The Three Houses, A Journey to a Better Life.