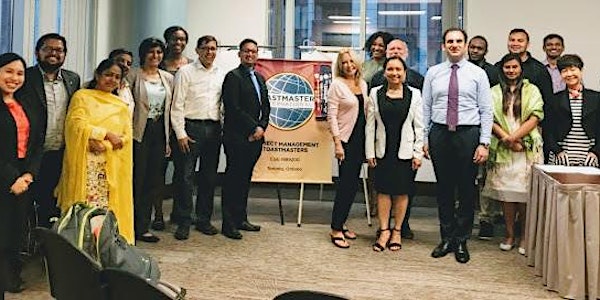 Project Management Toastmasters Club Meeting (PDU for each meeting)
PMTMC is a unique combination of Toastmasters and Project Management that creates a dynamic and invaluable opportunity for you!
About this event
• Earn valuable Toastmaster designations based on speaking, listening and leadership accomplishments;
• Earn Professional Development Units (PDU's) or training credits for PMP certification for attending meetings including the PM Forum; and
• Earn additional PDU's or training credits for developing a PM Forum presentation and delivering the PM Forum.
The goal of this Meet Up group is to help people interested in project management to become better and stronger leaders and communicators.
When you join PMTMC you will:
• Presentation and interpersonal skills, as well as develop strong command of the room, precisely during meetings;
• Receive immediate constructive feedback;
• Practice leadership skills and enhance PM knowledge;
• Network, recount anecdotal experiences and become a better PM practitioner; and
• Succeed in our friendly environment that allows you to learn at your own speed all while earning PDUs!
Seize the Opportunity to achieve your personal and professional goals!