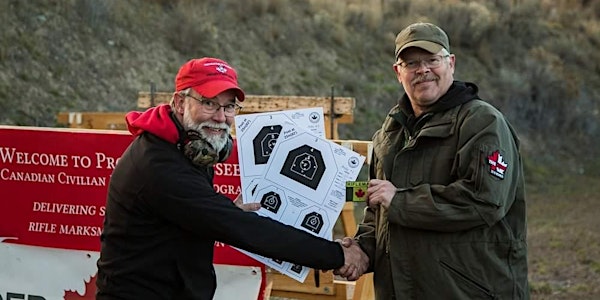 Project Mapleseed - Aug 29, 2020 at Kamloops (KTSA) .22 Rimfire Only
A Project Mapleseed event is designed to provide structured and safe rifle fundamentals to hunters and shooters of all ages
Date and time
Sat, Aug 29, 2020 8:00 AM - 5:00 PM PDT
Location
Kamloops Target Sports Association (KTSA) Hillside Drive , Short Range 50.666334,-120.430896 Kamloops, BC Canada
About this event
A Project Mapleseed event is designed to provide structured and safe rifle fundamentals to hunters and shooters of all ages and provides a solid framework of basic rifleman skills that benefits new and experienced shooters alike. For the new shooter we can teach you to use your rifle safely and also be able to hit your target. For the seasoned shooter we can teach you to shoot more accurately - even out to 500 yards.
The emphasis on teaching traditional rifle marksmanship within Project Mapleseed centers around traditional rifle marksmanship techniques using a rifle sling coupled with a concept termed "natural point of aim" (NPOA). Project Mapleseed uses reduced size scaled silhouette targets that enable a shooter to assess their effective range with their rifle using a reduced length shooting range only 25 meters (82 feet) long, while simulating firing at full size targets at ranges up to 400 yards.
The ultimate goal of a "Mapleseed" is to teach students to maintain a 4 minutes of angle (MOA) precision and accuracy, This translates into being able to put all shots into a 20 inch at 500 yards. Qualification targets are shot to evaluate progress and for score. The goal is to score 210 points or better on a 40-shot course that has 250 possible points. This earns the coveted Rifleman's Patch and is equivalent to scoring Expert on an Army qualification course.
COVID Restrictions
We're working with existing Coronavirus restrictions, so we've modified what we're able to do.
1. All Mapleseed events will have a cap based on achieving minimal social distancing as per provincial event restrictions. Participants will have to maintain 2 meters of social distancing during events unless they live in the same home.
2. Children 13 years old or younger will not be able to attend events as we will be unable to work closely with them due to the 2 meter distancing. We look forward to relaxed restrictions in the future so that we are able to work with youth again soon.
3. Only participants will handle their firearms.
4. Participants are recommended to bring their own PPE such as mask & hand sanitizer. We will be providing sanitization spray bottles to clean common surfaces.
Please do not attend events if:
You have a fever, cough, or are feeling ill
You are elderly, immunocompromised, or are otherwise at risk
You live or have frequent contact with people in the above category
You've been out of the country or have been in contact with people out of the country
If you have any questions at all, please email us at info@mapleseedrifleman.com
Project Mapleseed Members are entitled to a $5 discount off of your registration fee. Your $5 will be refunded upon check-in at the Project Mapleseed event. Please remember to bring your membership card.
To become a member click on the link below:
Project Mapleseed Annual Membership
FAQs
What rifle and sights can I use?
Mapleseed participants are free to use whatever rifle they have or can borrow. The most common rifle is a magazine-fed, semi-automatic .22 rimfire with a scope. This provides new shooters with a low-cost, low-recoil training platform that allows them focus on fundamentals. Magazine-fed rifles are usually recommended as there are mandatory mag changes during the qualification course of fire and is less complicated for new shooters. The action is typically less important than the magazine type and capacity.
The KAMLOOPS KTSA event will have calibre restriction of .22lr.
Sighting mechanism are also up to the shooter. You are free to use whatever you prefer. We will cover sight alignment using all of the typical types.
Bottom line? Bring the .22lr rifle you have, the shooting fundamentals taught focus on the shooter not the rifle. The goal is to learn and have fun.
Note: Some events may be held on private land and as such will be limited to non-restricted rifles. Events with such limitations will be clearly identified.
Refund Policy
Project Mapleseed will refund registration / range fees in the event that an event is cancelled. Individual refunds will not be provided. Please ensure your availability prior to booking. Individuals who cannot make the event may transfer their registration to another individual.
If you are unable to attend an event due to COVID restrictions, please contact us.
Liability Release
Project Mapleseed is a non-profit educational organization dedicated to preserving and protecting the tradition of practical rifle marksmanship and history. In order to hold shooting events like today's session,
I understand that using firearms can be inherently dangerous and I assume for myself and/or for the child(ren) participant(s) all risk associated therewith. I acknowledge that others also will be using firearms at this event and will exercise all due caution both in my and/or the child(ren) participant('s/s') use, and in following all of the safety rules, regarding firearms. In exchange for being permitted to attend and/or participate in any Project Mapleseed event, I, having reached the age of majority, do for myself and on behalf of 1. my heirs, family members, and assigns, as well as 2. the child participant, if said child is a minor or below the age of majority, do hereby release, discharge and agree to hold harmless Project Mapleseed, its members, employees, directors, officers, agents, and affiliates from any and all liability, claims or demands for personal injury, sickness or death, as well as property damages and expenses, of any nature whatsoever which may be incurred by the undersigned and/or the child participant, for whom the undersigned assumes full responsibility and liability, that occur while present at any Project Mapleseed event. Furthermore, I (and for or on behalf of the child participant, if said child is a minor or under the age of majority) hereby assume all risk of personal injury, sickness, death, damage and expense as a result of participation in any and all Project Mapleseed events. I also agree to hold harmless and indemnify Project Mapleseed, its members, directors, officers, employees, affiliates, and agents, for any liability, including all legal and other expenses incurred attendant thereto, sustained by PROJECT MAPLESEED or the above referenced individuals as the result of any acts or omissions by myself or the child(ren) participant(s) regardless of whether such acts or omissions are reckless, negligent or intentional. I acknowledge that this liability waiver is intended by the parties to be a complete and unconditional waiver of all potential causes of action that I might be able to bring in any jurisdiction, in either my individual or representative capacity, against Project Mapleseed, its members, directors, officers, employees, affiliates, and agents, and that this waiver is intended by the parties to be effective for a period of ten years from the date of execution as recited below. I certify that my presence in Canada is lawful and that I am not affiliated with any entity that promotes, supports, or encourages taking up arms against the citizens or government of Canada or any other form of armed insurrection. I also understand that Project Mapleseed was formed solely to revitalize Canada's heritage of rifle marksmanship and to promote Canadian history. Project Mapleseed is not a paramilitary organization, does not provide instruction or training for the purposes of causing or furthering a civil disorder, and does not teach or otherwise demonstrate techniques of guerrilla warfare or sabotage. I acknowledge that I am responsible for obeying all local, provincial and federal laws as they pertain to the firearms that I bring to any Project Mapleseed event and I further certify that I am lawfully permitted to possess and utilize such firearms.
Model ReleaseI, the participant, on my behalf and on behalf of any child participant registered under my responsibility, do hereby give permission to PROJECT MAPLESEED to use my photographic likeness, voice, or both, in any video, photograph, or audio recording, captured or taken at today's Project Mapleseed event, without attribution or compensation, in media for advertising, trade, and any other lawful purposes. I warrant that I have the full right and authority to grant this consent. I also waive any right to inspect or approve the finished photograph or video or audio recording. I understand that this consent is perpetual, that I may not revoke it, and that it is binding on me, any listed child participant, my heirs and assigns. I further attest that I have read this form and fully understand its contents.
You will be prompted to independently accept or decline the liability and model release during the registration process.
About the organizer
Project Mapleseed is an apolitical rifle marksmanship training program that focuses on teaching traditional rifle marksmanship from standing, sitting/kneeling, and prone positions in a one day shooting clinic for what is termed a "Mapleseed".  We are a non-profit, all volunteer run organization committed to helping preserve Canada's firearms heritage by delivering safe and effective rifle marksmanship training to Canadians.