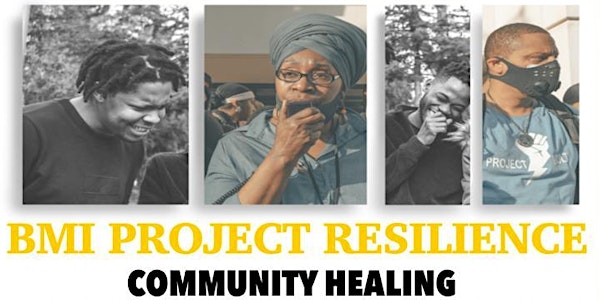 Project Resilience: Community Healing
BMI Project Resilience, Community Healing Session
About this event
Please join us on October 5th from 6:00 pm to 7:30 pm EST for a Community Healing session, part two of the BMI's Project Resilience. This is an opportunity for individuals of all backgrounds to hear, learn, and join in community healing to undo the harms of racism, anti-black oppression and discrimination.
The impacts of our deep-rooted histories of violence, anti-black racism, and injustice against Indigenous, Black, and Racialized peoples have left scars and trauma on our communities. When faced with trauma and adversity, it is prevalent to feel as if you are alone in what you are experiencing. However, you are not alone. When we come together, we heal together.
This community healing session aims to provide opportunities for community members to identify with those with similar experiences of racism in their everyday lives and learn strategies for healing and creating safe zones around them.
Please join us to hear from the industry and community professionals: Our host and executive director Evangeline Chima, Chief Mentor Woman, 2021 Women of Inspiration Winner and Queens Platinum Jubilee Community Service Award Winner, keynote speaker Natasha Bowman, Authur, President Performance ReNew, Social Media Influencer, Kadon Douglas, Executive Director BIPOC TV & Film, David Chima, President @ Chimcicks, BMI Program Assistant, and Nkechi Nwafor-Robinson CEO & Founder, Empowered In My Skin Inc.