Projection gratuite de DANS MA PEAU de Marina de Van! Free screening of Marina de Van's IN MY SKIN!
About this event
Inoubliable premier long métrage de Marina de Van, alors connue pour ses collaborations avec François Ozon, DANS MA PEAU est un des films de genre français les plus audacieux et puissants que vous verrez de votre vie. Racontant l'histoire d'une femme prospère qui commet de plus en plus d'actes d'automutilation après un accident – au point où elle doit se cacher pendant des jours pour satisfaire ses pulsions impossibles à dissimuler – c'est une plongée infernale dans l'angoisse et le traumatisme, ancrée par une performance hallucinante de Marina de Van elle-même, qui signe également le scénario. Un drame d'horreur corporelle à son meilleur (de bien des façons un précurseur de GRAVE de Julia Ducournau), DANS MA PEAU a remporté le Prix du public du meilleur film international à Fantasia, où la projection a été rendue particulièrement mémorable par l'intervention d'ambulanciers après que quelqu'un dans la salle se soit évanoui. Il est devenu difficile de trouver le film au fil des ans, alors sautez sur cette occasion de le redécouvrir.
Présenté en version originale française avec sous-titres anglais.
Veuillez noter que même si cette projection est gratuite, nous devrons scanner votre code QR Eventbrite (sur appareil mobile ou sur papier) à l'entrée du cinéma, alors assurez-vous de le conserver! Nous exigeons aussi une preuve de vaccination (VaxiCode) et une pièce d'identité valide. Merci d'arriver en avance.
Cliquez ici pour plus d'informations sur la série de projections FANTASIA EN FÊTE.
The unforgettable feature directorial debut of Marina de Van, then renowned for her collaborations with François Ozon, DANS MA PEAU (IN MY SKIN) is one of the boldest and most powerful French genre works you'll ever encounter. The story of a successful woman who becomes primally drawn to escalating acts of self-mutilation following an accident—to the point where she needs to hide away for days to satiate her increasingly impossible-to-conceal habit—it is a hellish descent into anxiety and trauma, anchored by an extraordinary performance from de Van herself, who also scripted. The definitive body-horror drama (and in many ways a more affecting and personal precursor to Julia Ducournau's RAW), DANS MA PEAU (IN MY SKIN) won Fantasia's Audience Award for Best International Film and had a uniquely memorable screening here that culminated in the arrival of paramedics after an audience member fainted. It's become a difficult film to see over the years, one that's particularly ripe for re-discovery.
Presented in its original French version with English subtitles.
Please note that while this screening is free, we will need to scan your Eventbrite QR code (on a mobile device or on paper) at the theatre entrance, so make sure not to lose it! We will also require proof of vaccination (VaxiCode) and a valid government-issued ID. Please arrive in advance.
Click here for more information on the FANTASIA EN FÊTE screening series.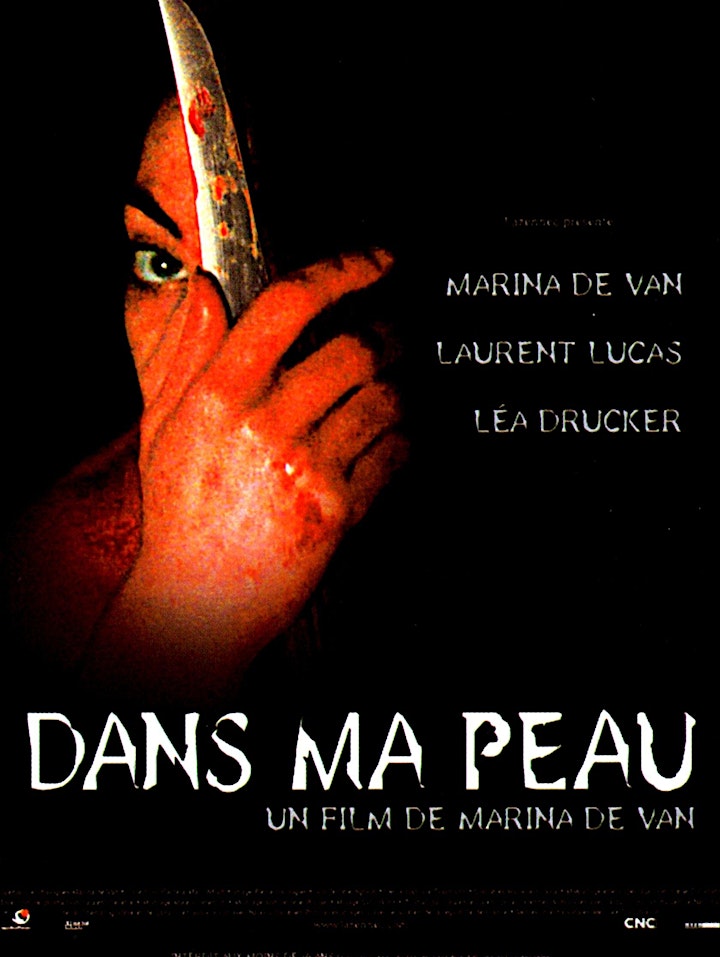 Présenté grâce au soutien de la Ville de Montréal.
Presented with the support of the City of Montreal.
Organizer of Projection gratuite: DANS MA PEAU | Fantasia en fête!