Projection gratuite du film LE MARTIEN DE NOËL de Bernard Gosselin! Free screening of Bernard Gosselin's LE MARTIEN DE NOËL!
About this event
Un petit village québécois se prépare aux Fêtes alors que des citoyens sont témoins de phénomènes inexplicables. Katou et François, deux enfants en congé scolaire explorent la forêt environnante à la recherche d'un beau sapin. Un peu par hasard, ils vont découvrir un OVNI et faire la connaissance d'un rigolo extra-terrestre coloré (Marcel Sabourin) qui, comme eux, aime le jeu et la découverte. Les enfants vont aider le martien à réparer sa soucoupe, mais ce dernier devra d'abord affronter la colère des villageois. Le film de Bernard Gosselin est un des premiers films de genre produit localement et l'un des premiers films québécois produits par Téléfilm Canada. Cette comédie pour la famille est « l'ancêtre » des CONTES POUR TOUS que produira Rock Demers quelques années plus tard. LE MARTIEN DE NOËL est une œuvre ludique qui combine toute la folie et l'imaginaire des séries pour enfants réalisées par Radio-Canada dans les années 60.
Veuillez noter que même si cette projection est gratuite, nous devrons scanner votre code QR Eventbrite (sur appareil mobile ou sur papier) à l'entrée du cinéma, alors assurez-vous de le conserver! Nous exigeons aussi une preuve de vaccination (VaxiCode) et une pièce d'identité valide. Merci d'arriver en avance.
Cliquez ici pour plus d'informations sur la série de projections FANTASIA EN FÊTE.
While a small Quebec village prepares for the holidays, citizens witness unexplainable phenomena. Katou and François, two children on school break, explore the surrounding forest in search of the perfect pine tree. Somewhat by chance, they discover a UFO and meet a funny, colourful alien (Marcel Sabourin) who, like them, loves to play and discover. The children help the Martian to repair his saucer, but first he has to face the anger of the villagers. Bernard Gosselin's film is one of the first locally produced genre films and one of the first Quebec films produced by Telefilm Canada. This family comedy is the "forerunner" of TALES FOR ALL, which Rock Demers produced a few years later. LE MARTIEN DE NOËL is a playful ride that combines all the madness and imagination of the children's series produced by Radio-Canada in the 1960s.
Presented in its original French version without subtitles.
Please note that while this screening is free, we will need to scan your Eventbrite QR code (on a mobile device or on paper) at the theatre entrance, so make sure not to lose it! We will also require proof of vaccination (VaxiCode) and a valid government-issued ID. Please arrive in advance.
Click here for more information on the FANTASIA EN FÊTE screening series.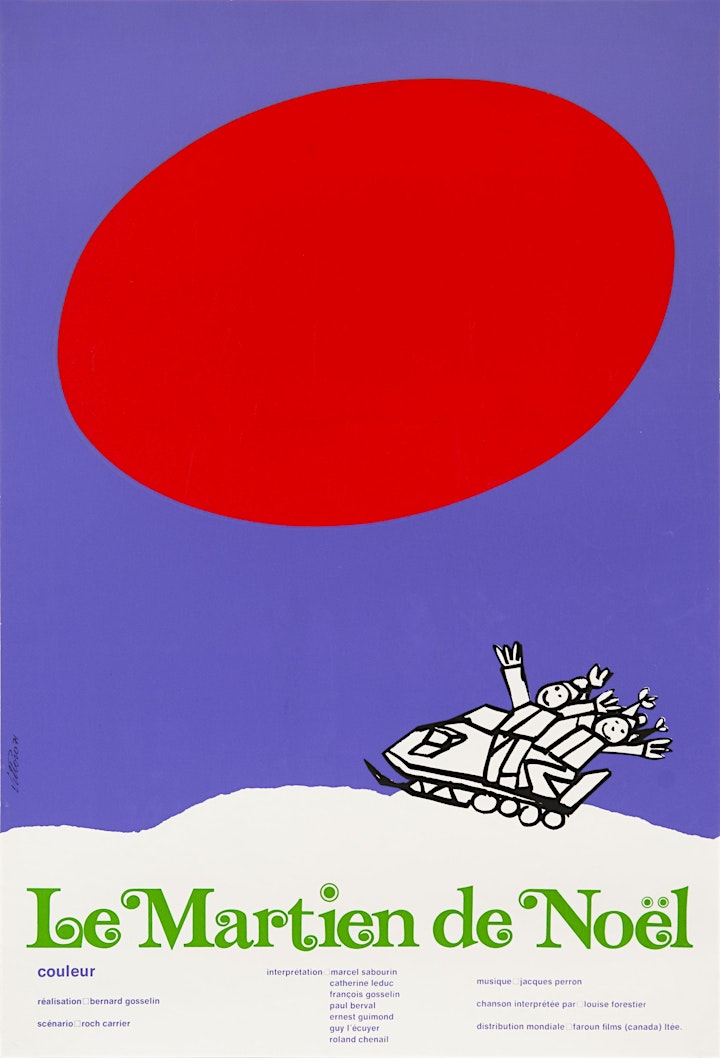 Présenté grâce au soutien de la Ville de Montréal.
Presented with the support of the City of Montreal.
Organizer of Projection gratuite: LE MARTIEN DE NOËL | Fantasia en fête!