Sales Have Ended
Registrations are closed
Thank you for registering! We look forward to seeing you at the event.
Sales Have Ended
Registrations are closed
Thank you for registering! We look forward to seeing you at the event.
Description
For small businesses and non-profits alike, defining a social media strategy can be a daunting task. With the emergence of new trends, a constantly-shifting digital landscape, and an ocean of information available on the subject, it's hard to know where to start.
Join digital marketing strategist and TEDx speaker Ernest Barbaric as he breaks down what's happening in social media, and how your organization can simply and effectively engage your audience.
This session will discuss 9 specific tactics and best practices for using social media in non-profit and small business organizations. Ernest will review the current digital environment and trends, then go over specific and actionable insights you can implement in your organization.
Participants will:
Understand the trends shaping the current social and digital environment.
Create focus in their social presence, and design a simple content strategy.
Discover how to actually engage their audience, outside of sharing links.
Learn how to adopt a mobile-first approach to marketing.
Bring your lunch, business cards, and a readiness to learn - we'll provide refreshments.
PLEASE NOTE:
Please ensure you register under YOUR NAME. For security reasons, McDougall Centre will not allow anyone who is not on the list into the premesis. If you need to change the name on the ticket, please contact us.

Doors will open at 11:30AM with the session starting at 12:00PM. The session will take place in the Rosebud Room on the 4th floor.
Taking public transit is highly recommended to avoid downtown parking costs and delays. Plan your trip at http://www.calgarytransit.com/plan-a-trip.
AGENDA
11:30-Noon Check in and connect
Noon-1:00 Workshop
1:00-1:30 Continue connections
PRESENTER BIOS
Ernest Barbaric is a digital marketing strategist, educator, podcaster, and TEDx speaker. His work and projects have been featured in Forbes, USA Today, CBC, GlobalTV and Canadian Business. Ernest founded the Social Media for Business certificate at Mount Royal University, and now helps brands and entrepreneurs lead in the changing digital landscape.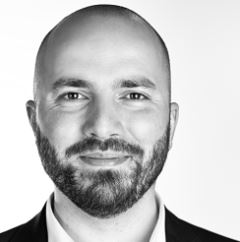 ABOUT PROMISECONNECT
The PromiseConnect Series is a new initiative from Alberta's Promise featuring monthly brown-bag learning events. Featuring a new topic each month, PromiseConnect will unite the business and non-profit sectors as we come together to learn.