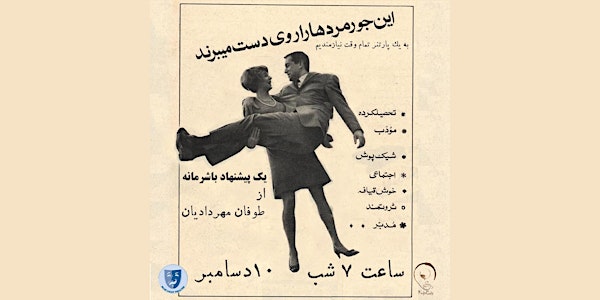 Proposal Dec10
A Comedy Theater about fair proposal and relationship.
When and where
Location
Koja Cafe کافه کجا 239 St Georges Ave. North Vancouver, BC V7L 4T4 Canada
About this event
اگر شبها خوابتون نمی‌بره
اگر به دنبال یک پارتنر بالقوه هستید
اگر علاقمند به رابطه موثر هستید
اگر از صادق هدایت خسته شده‌اید
اگر سینما رفتن به تنهایی راضی‌تان نمی‌کند
لطفا فرصت را از دست ندهید...
یک پیشنهاد با شرمانه
از
طوفان مهردادیان
دهم و یازدهم دسامبر
ساعت هفت شب
در کافه کجا
First Come, First seat.
Twin Towers Customer Parking
به دلیل رعایت پروتوکول، برای هر نفر می بایست صندلی جداگانه تهیه شود.